Biography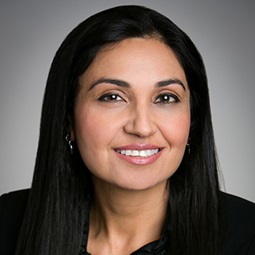 Charan Sandhu is Co-Head of Weil's Technology & IP Transactions practice and a member of the Firm's Privacy & Cybersecurity group and is based in New York. Charan concentrates on the areas of complex technology transactions and intellectual property. She represents clients in matters relating to technology transfer and the development, acquisition, use and commercial exploitation of technology and intellectual property. She has extensive experience in a wide variety of complex technology transactions, including technology development and licensing agreements, joint ventures, strategic alliances, professional services agreements, outsourcing arrangements, distribution agreements and settlements of IP litigation.
Charan is ranked Band 1 for Technology & Outsourcing in New York by Chambers USA, where clients note "having her on the team is like having the best of both worlds, with the resources of outside counsel and the insights and understanding of in-house counsel" and praise her for her "practical and extremely knowledgeable" approach to IP and technology transactions and her "ability to get deals done and to understand the issues and their place in the wider corporate context." Charan is recommended for Healthcare: Life Sciences by Legal 500 US. She is also recognized as a "Leading Lawyer" for Technology Transactions and for Patents: Licensing by Legal 500 US, where clients note she "is a great strategist and has a deep understanding of her client's business needs." Charan is also recognized by IAM Licensing 250's "World's Leading Patent & Technology Licensing Lawyers," named a "Global Leader" in New York by IAM Patent 1000 Global Leaders Guide and "Highly Recommended" by IAM Patent 1000, where she is described as an "amazing lawyer and an outstanding drafter. She is great at building relationships with counterparties." Charan was named the 2023 "Practitioner of the Year" for IP Transactions in the U.S. by Managing Intellectual Property Americas Awards. She was named among the 2023 "Top 250 Women in IP" and is recognized as an "IP Star" for IP Transactions and as an "IP Star" for IP Transactions and Trademarks by Managing Intellectual Property and a "Life Sciences Star" by LMG Life Sciences Guide. Charan was ranked fifth for handling 15 deals in the 2021 "Top Intellectual Property Lawyers in North America" by MergerLinks. She was named among the 2022 "Notable Asian Leaders" and 2019 "Notable Women in Law" by Crain's New York Business, named Minority Female Lawyer of the Year at the Chambers USA 2018 Women in Law Awards, named among the 2015 "Top Women" for Intellectual Property in New York by Super Lawyers and shortlisted in the "Best in Technology" category at Euromoney Legal Media Group's Americas Women in Business Law Awards in 2016.
Charan is a member of the Firm's Pro Bono Committee, Corporate Department Pro Bono Steering Committee, Asian Affinity Group Steering Committee and Women of Color Steering Committee, and is the recipient of the Firm's Ira M. Millstein Award for Excellence in Public Service. She regularly handles pro bono work for Sikh Coalition, Start Small Think Big and Kids in Need of Defense (KIND). Charan was inducted into the YWCA's Academy of Women Leaders for her outstanding professional achievement, civic commitment and leadership. She was also featured in Profiles in Diversity Journal's 11th Annual WomenWorthWatching® issue. Charan currently serves on the Board of Governors of the South Asian Bar Association.
Representative Experience
Transaction Committee of the Board of Directors of Reynolds American Inc. in Reynolds' $60.6 billion sale to British American Tobacco p.l.c. (BAT) of the 57.8% of Reynolds stock that BAT did not already own.
MSP Recovery, LLC in its $32.6 billion business combination with Lionheart Acquisition Corp. II, a SPAC sponsored by Lionheart Equities.
IMS Health Holdings, Inc. in its $17.6 billion all-stock merger of equals with Quintiles Transnational Holdings Inc.
Scripps Networks Interactive, Inc. in its $14.6 billion merger with Discovery Communications, Inc.
Nortek, Inc. in its $2.8 billion merger with Melrose Industries PLC.
QLT Inc. (n/k/a Novelion Therapeutics Inc.) in its acquisition of Aegerion Pharmaceuticals, Inc. and its minority investment in Aralez Pharmaceuticals Plc.
Willis Group Holdings plc in its $18 billion merger of equals with Towers Watson & Co.
IHS Inc. in its $13 billion merger of equals with Markit Limited.
Foley Trasimene Acquisition Corp. II, a SPAC sponsored by an affiliate of Trasimene Capital Management, LLC and led by William P. Foley II, in a $9 billion business combination with Paysafe Limited.
Foley Trasimene Acquisition Corp., a SPAC sponsored by Bilcar FT, LP and Trasimene Capital FT, LP., in its $7.3 billion combination with Alight Solutions LLC.
Getty Images Inc. in its approximately $4.8 billion business combination with CC Neuberger Principal Holdings II, a SPAC formed by a partnership of CC Capital and Neuberger Berman.
Discovery, Inc. in its joint venture with Magnolia, the home and lifestyle brand led by Chip and Joanna Gaines, in the formation of the Magnolia Network.
General Electric Capital Corporation:

in its $32 billion sale of its global Commercial Distribution Finance, North American Vendor Finance and North American Corporate Finance platforms to Wells Fargo & Co.
in its $6.9 billion sale of its United States, Mexico, Australia and New Zealand fleet businesses to Element Financial Corporation, and in the sale of its European fleet businesses to Arval Service Lease S.A.

General Electric Company:

in its $3.4 billion sale of GE Water to SUEZ.
in its $2.6 billion sale of GE Industrial Solutions to ABB.
in the development of policies, procedures and template license and development agreements for GE's Global Research Center.
in the creation of a clean technology partnership and financial joint venture with the Government of Abu Dhabi. The partnership encompassed a broad range of cutting-edge clean and renewable energy initiatives, including development of R&D capacity in Abu Dhabi and collaboration on Abu Dhabi's world-leading alternative energy project in Masdar City, a carbon neutral, zero-waste city currently under development.
on-going representation in connection with a proposed technology joint venture with Aviation Industry Corporation of China to develop and market integrated avionics systems for commercial aircraft customers, including multiple inter-related technology transfer, license and other IP agreements.

MGM Resorts International (MGM Resorts):

in its $17.2 billion sale of MGM Growth Properties LLC to VICI Properties Inc.
in its $4.25 billion sale of the Bellagio to a joint venture MGM Resorts formed with Blackstone Real Estate Income Trust and its planned leaseback of the Bellagio.
in its $1.625 billion acquisition of the operations of The Cosmopolitan of Las Vegas.
in its $1.075 billion sale of the operations of The Mirage Hotel & Casino on the Las Vegas Strip to Hard Rock International.
in its pending $450 million sale of the operations of Gold Strike Casino Resort in Tunica, Mississippi to CNE (a subsidiary of Cherokee Nation Businesses).

Froneri International Limited (a joint venture between Nestlé and PAI Partners) in its $4 billion acquisition of Dreyer's Grand Ice Cream Holdings, Inc.
Advent International in the $3 billion merger of its portfolio companies Clearent LLC and Transaction Services Group Limited to form Xplor Technologies.
GS Acquisition Holdings Corp II, a SPAC sponsored by an affiliate of Goldman Sachs, in its $2.6 billion business combination with Mirion Technologies, Inc. (at the time, a portfolio company of Charterhouse Capital Partners).
Front Yard Residential Corporation in its $2.5 billion take-private by a partnership formed by Pretium Partners and Ares Management.
CVC Capital Partners in its acquisition of a significant minority stake in CFGI, in a transaction that valued CFGI at $1.9 billion.
ABD Insurance and Financial Services, Inc. in its $1.35 billion merger with Newfront Insurance, Inc.
Marquee Raine Acquisition Corp., a SPAC sponsored by an affiliate of The Raine Group LLC and Marquee Sports Holdings SPAC I, LLC, in its $1.2 billion business combination with Enjoy Technology, Inc.
SiriusXM in its acquisitions of 99% Invisible Inc., Simplecast, Stitcher, Team Coco and a minority stake in SoundCloud Ltd.
Clearhaven Partners in its acquisition of Wowza Media Systems, LLC.
Goldman Sachs in the sale of its Personal Financial Management unit to wealth management firm Creative Planning.
Goldman Sachs Merchant Banking Division in its acquisition and subsequent sale of Restaurant Technologies, Inc.
Ministry Brands, LLC:

in a significant investment by Insight Venture Partners with PSG exiting and Genstar retaining a significant minority position.
in its acquisitions of Abila, Inc., Aptify Corporation and the Faith Division of The ACTIVE Network Inc., including Fellowship One.

Brookfield Asset Management Inc. and Brookfield Property Partners L.P. (BPY) in BPY's $14.4 billion acquisition of the approximately 66% of common stock that it did not already own of GGP Inc. (f/k/a General Growth Properties Inc.).
Brookfield Asset Management in its $2.8 billion acquisition of all of the outstanding common shares not already owned by Brookfield Property Partners L.P. of Rouse Properties, Inc.
OMERS Private Equity in its acquisition of TurnPoint Services.
Acquiring Consortium that includes MBK Partners, The Crawford Group and Ctrip Investment Holdings in the Consortium's $850 million take-private of eHi Car Services Limited.
Iron Mountain Incorporated in its acquisition of ITRenew, Inc., a transaction that implied an ITRenew enterprise value of $925 million.
Elizabeth Arden, Inc. in its $870 million sale to Revlon, Inc.
American Securities in its $850 million acquisition of the Interior Products Business of Beacon Roofing Supply, Inc.; its acquisitions of FullBloom Education and LaserShip, Inc.; and LaserShip, Inc. in its acquisition of OnTrac Logistics, Inc.
QuickChek Corporation in its $645 million sale to Murphy USA.
Montagu Private Equity in its $490 million acquisition of the original equipment manufacturing (OEM) and tissue processing businesses of RTI Surgical, Inc.
EQT Partners in its sale of Dorner Manufacturing Corporation.
SumUp Payments Limited in its $317 million acquisition of Fivestars, Inc.
TruArc Partners (f/k/a Snow Phipps Group) and its portfolio company Brook & Whittle Limited (B&W) in the sale of B&W to Genstar Capital.
TPG Global, as co-lead investor (along with Thoma Bravo), in a $420 million investment in project44, Inc. (a portfolio company of OpenView Venture).
TPG Growth, as lead investor, in a $300 million investment in MX Technologies, Inc. and a $124 million investment in Prodigy Education.
TPG Tech Adjacencies, as lead investor, in a $300 million funding round for Age of Learning, Inc.
Advent Global Technology, as lead investor, in a $160 million investment in Zenoti, resulting in a post-investment basis valuation for Zenoti of over $1 billion; an investment in Cyware Labs, Inc.; a preferred stock funding round for HYPR Corp.; and an investment in Salt Security, Inc.
Advent International, as lead investor, in a $260 million investment in Thras.io, Inc. (n/k/a Thrasio, LLC), resulting in a pre-investment basis valuation of $1 billion.
Vivial Media Holdings, Inc. (f/k/a Vivial Media, LLC) (a portfolio company of Blackstone) in its sale to Thryv Holdings, Inc. (a publicly traded company backed by Mudrick Capital Management, Goldentree Asset Management and Paulson & Co.).
Exide Holdings, Inc. in its $179 million sale of substantially all of its Americas operations to Atlas Holdings LLC, in connection with its chapter 11 proceedings.
Aquiline Capital Partners in its acquisition of Ontellus.
Aurora Resurgence Management Partners and Equity Group Investments in the sale of SIRVA, Inc.
Cornell Capital Partners in its acquisitions of INW Manufacturing LLC and kdc/one Development Corporation, Inc. (kdc/one); the acquisition by INW Manufacturing LLC of Capstone Nutrition; kdc/one in its acquisitions of Benchmark Cosmetic Laboratories, Inc. and Zobele Holding S.p.A.; and the business combination of kdc/one and HCT Group Holdings Limited.
Microsoft on a variety of IT and intellectual property transactions.
Sanofi in connection with potential acquisitions.
Exelixis in connection with on-going various drug development collaborations.
Lantheus Medical Imaging in connection with on-going various supply, manufacturing, licenses and marketing agreements, including negotiations with Covidien, Cardinal Health and a subsidiary of Boehringer Ingelheim.
PDL Biopharma in connection with its $25 million patent litigation settlement agreement and license agreement with Alexion Pharmaceuticals regarding PDL's patents related to the humanization of antibodies and Alexion's humanized antibody, Soliris (eculizumab).
Primoris Services Corporation in its acquisition of Willbros Group, Inc.
Ontario Teachers' Pension Plan Board in its acquisition of a majority stake in Vantage Elevator Solutions and the sale of a substantial minority stake in Flexera Software LLC.
Providence Equity Partners in its acquisitions of GlobalTranz Enterprises, Inc. and TimeClock Plus and its sale of Vector Solutions.
TCV, as lead investor, in a $550 million preferred stock financing round for Peloton Interactive Inc. and a $200 million investment in Aviatrix Systems, Inc.; its preferred stock investment in Venafi, Inc.; its acquisition of a minority stake in Sojern Inc.; and the sale of NewVoiceMedia Limited.
Irving Place Capital Management and Agiliti Holdco, Inc. (f/k/a Universal Hospital Services, Inc.) in Agliti's combination with Federal Street Acquisition Corp. (FSAC), a SPAC sponsored by Thomas H. Lee Partners, in a new holding company formed by FSAC named Agiliti Health, Inc. (n/k/a Agiliti, Inc.), having an implied enterprise value of approximately $1.74 billion.
Lee Equity Partners in its acquisition of a majority stake in Unlimited Technology, Inc. and its investment agreement with McLarens.
Trive Capital in its $330 million acquisition of EarthLink, LLC.
Applied Biosystems in various settlement, licensing and transactional matters.
Arrow International Limited and certain of its affiliates in a transaction to collaborate with King Pharmaceuticals to commercialize novel formulations of Altace (ramipril).
GE Healthcare in connection with GE Healthcare's joint development agreement with the NFL to jump start the development of imaging technology that would detect concussions and encourage the creation of materials to better protect the brain from traumatic brain injury (TBI). As part of the program, GE hopes to develop machines that will predict who might sustain a concussion and show the degree of injury and the rate of recovery in real-time. The initiative also includes an open innovation challenge in which inventors, entrepreneurs, scientists, and academics will submit ideas on how to diagnose TBI and how to improve safety equipment to reduce head injuries.
General Electric Company and GE Healthcare on the sale of a majority stake in its Homeland Protection business to The Safran Group for $580 million.
Estée Lauder in a joint venture with Allergen for the development and distribution of a line of product marketed through dermatologists, plastic surgeons and other doctors.
Warner Chilcott in the analysis of development and co-promotion agreements.
MedPointe Pharmaceuticals in various licensing and transactional matters.
CBS Corp. in the $1.8 billion acquisition of CNET Networks, Inc.
Yildiz Holding AS in the $850 million acquisition of Godiva Chocolatier Inc. from Campbell Soup Company.
Avista Capital Partners in the $525 million acquisition of Bristol-Myers Squibb Medical Imaging division from Bristol-Myers Squibb Company.
Bertelsmann AG (Case No. 06-15886 (9th Cir. 2006); Case No. 06-72515 (9th Cir. 2006); MDL 1369 (MHP) (N.D. Cal. 2003) in litigation over the former Napster service; successful settlements in the single largest copyright infringement case in U.S. history.
CBS Corporation in the division of Viacom Inc. into "New Viacom" and CBS Corporation.
Arca Continental, S. A. B. de C.V. in its acquisition, via a $2.7 billion joint venture with Coca-Cola Refreshments USA, Inc., of bottling operations in Texas and parts of Oklahoma, New Mexico and Arkansas.
Awards and Recognition, Speaking Engagements, Guides and Resources, Firm News & Announcements
Charan Sandhu Recommended for Healthcare: Life Sciences

Award Brief — Legal 500 US

Charan Sandhu Named "Practitioner of the Year" for IP Transactions in the U.S.

Award Brief — Managing Intellectual Property Americas Awards 2023

Charan Sandhu Named Among 2022 "Notable Asian Leaders"

Award Brief — Crain's New York Business

Charan Sandhu Named a "Leading Lawyer" for Patents: Licensing

Award Brief — Legal 500 US

Charan Sandhu Named a "Global Leader" in New York

Award Brief — IAM Patent 1000 Global Leaders Guide

Charan Sandhu "Highly Recommended" for Transactions in New York

Award Brief — IAM Patent 1000

Charan Sandhu Named an "IP Star" for IP Transactions and Trademarks in New York

Award Brief — Managing Intellectual Property IP Stars

Charan Sandhu Recognized as a "Life Sciences Star"

Award Brief — LMG Life Sciences Guide
Firm News & Announcements