Biography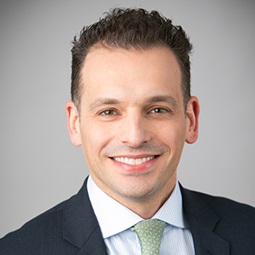 Brian Parness is a partner in Weil's Private Equity practice and is based in New York. Brian advises clients on a wide range of corporate transactions, including mergers and acquisitions, leveraged buyouts, joint ventures, GP-led secondary transactions and minority investments.
Brian has broad experience counseling alternative investment management firms on transactions and other matters of strategic importance and is a frequent author and speaker on topics affecting the private equity and alternative asset management industry.
Brian was named to the 2021 "40 Under 40: Future Leaders of Private Equity" list by Private Equity International, where he was only one of just four honorees from leading law firms recognized. Brian was also named a 2022 "Emerging Leader" by The M&A Advisor and a 2022 "Rising Star" for M&A by Expert Guides. He is also recommended for M&A/Corporate and Commercial: Private Equity Buyouts by Legal 500 US. Brian was named a 2020 Secondaries "Next Generation Leader" by Secondaries Investor, where clients note he is "…a star and would not consider a transaction without him as counsel."
Prior to joining Weil, Brian spent over six years at Goldman Sachs where he was responsible for executing strategic M&A on behalf of Goldman Sachs Asset Management and advised multiple business units (growth equity, secondaries and GP-stakes) on investing activities and private fund matters.
Experience*
Asset Management and Financial Services
Regular representation of sponsors and the "buy-side" on GP-led secondary transactions and GP-stake sales
Brookfield Asset Management in various matters, including:

the separation of Brookfield Corporation and Brookfield Asset Management Ltd. and the listing of a 25% interest in Brookfield Asset Management Ltd, resulting in a standalone asset management business with a $50 billion market capitalization as of the separation date
the $4.8 billion acquisition of a 61.2% stake in Oaktree Capital Group, LLC
the acquisition of DWS' Private Equity Secondaries business

Goldman Sachs in various matters, including:

the sale of its Personal Financial Management unit to wealth management firm Creative Planning
as the founding and largest shareholder of Global Atlantic Financial Group Limited, in KKR's acquisition of a controlling interest in Global Atlantic in a transaction valued at approximately $4.7 billion
the acquisition of NextCapital Group, Inc.
the acquisitions of Rocaton Investment Advisors, Aptitude Investment Management, Honest Dollar, Imprint Capital, Pacific Global Advisors' OCIO business, Verus Investors' OCIO business and Deutche Bank's stable value business and the dispositions of GSAM Australia's equity business to TA Associates and GSAM India's mutual fund business to Reliance Capital (as in-house counsel)

TPG in various matters, including:

its pending approximately $2.7 billion acquisition of Angelo, Gordon & Co., L.P.
its $1.1 billion initial public offering and related reorganization and governance matters
its agreement with Sixth Street Partners, to become independent, unaffiliated businesses, with TPG retaining a passive minority economic stake in Sixth Street
its TPG NEXT platform

Sculptor Capital Management Inc. in its pending sale to Rithm Capital Corp.
CBAM in the sale of a portfolio of its assets to The Carlyle Group, in a transaction valued at approximately $800 million
Genstar Capital, together with TA Associates, in the acquisition of Orion Advisor Solutions and the simultaneous acquisition of Brinker Capital
InfraRed Capital Partners in its $396 million sale of a majority stake to Sun Life Financial Inc.
Thomas H. Lee Partners in the sale of THL Credit Advisors LLC to First Eagle Investment Management, LLC
Allied Capital Corp. in its $650 million all-stock merger with Ares Capital Corporation
IPC Holdings in its $1.7 billion sale to Validus Holdings
Sempra Energy in the sale of its RBS-Sempra natural gas and power trading joint venture to J.P. Morgan
Consumer
AB InBev in connection with its sale of Busch Entertainment to Blackstone for $2.3 billion
Bridgeport Partners, as co-investor with Orangewood Partners, in Orangewood's acquisition of Pacific Bells, LLC
Campbell Soup Company in its $2.2 billion sale of Campbell International to KKR and its sale of Kelsen Group A/S
Gildan Activewear in connection with its acquisitions of GoldToe Moretz from Blackstone for $350 million and its acquisition of Anvil for $88 million
Stripes Group, as sponsor, in the formation of Stripes Continuation Fund I, LP and in such fund's single asset acquisition of Stella & Chewy's, LLC
Healthcare
Alcon and Alcon's independent directors in connection with its sale of Nestle's Alcon stake to Novartis and Novartis' acquisition of the remaining publicly held minority interest in Alcon for $52.9 billion
Avista Capital Partners in the acquisition of WellSpring Consumer Healthcare and WellSpring's acquisition of a portfolio of over-the-counter skin care brands including A+D, Solarcaine, Cortate and Complex 15 from Bayer AG
Cimarron Healthcare Capital in the formation of a single asset continuation vehicle for Advanced Medical Pricing Solutions Inc.
UnitedHealth in connection with its acquisition of XLHealth from Matlin Paterson
TMT
AT&T in the sale of its Advertising Solutions and AT&T Interactive businesses to Cerberus
CIC International, Boyu and CITIC Capital, as lead investors, in connection with the equity financing of Alibaba's repurchase of Yahoo!'s stake in Alibaba
GS Acquisition Holdings Corp II, a SPAC sponsored by an affiliate of Goldman Sachs, in its $2.6 billion business combination with Mirion Technologies, Inc. (at the time, a portfolio company of Charterhouse Capital Partners)
Verifone Systems in its $1 billion acquisition of Point and the acquisitions of ChargeSmart, Global Bay Mobile Technologies and the assets of Show Media 
Brian received his J.D., magna cum laude and as a member of the Order of the Coif, from New York University School of Law and his B.A., magna cum laude and Phi Beta Kappa, from the University of Delaware.
*Includes matters handled prior to joining Weil.
Awards and Recognition, Speaking Engagements, Guides and Resources, Latest Thinking, Firm News & Announcements
Brian Parness Recommended for M&A/Corporate and Commercial: Private Equity Buyouts

Award Brief — Legal 500 US

Brian Parness Named a 2022 "Emerging Leader"

Award Brief — The M&A Advisor

Brian Parness Named a 2022 "Rising Star" for Mergers & Acquisitions

Award Brief — Expert Guides
Sahar Global Summits' 4th Annual Secondaries & Co-Investments Summit

Speaker(s): Brian Parness

September 22, 2022 — New York, NY — Weil Private Equity partner Brian Parness interviewed keynote speaker Michael Bego, Founder & Managing Partner of Kline Hill Partners, as part of Sahar Global Summits' 4th Annual Secondaries & Co-Investments Summit.
Firm News & Announcements