August 10, 2015
The world presents severe challenges for people without the resources to defend themselves from adversity and injustice. It is our core belief that it is our duty – and privilege – to assist the most vulnerable in our society in dealing with what are, all too often, overwhelming legal, social, and economic difficulties. We fulfill that responsibility both by representing individual pro bono clients and by assisting organizations whose mission is to help those who have been excluded or unjustly treated. These include children with disabilities, the elderly poor, refugees, the homeless, the wrongfully convicted, and many more. Pro bono service is ingrained in our DNA; without it, we could not be a great firm.
As Weil has expanded internationally, so has our pro bono work. Ten of the 43 matters highlighted in this report were handled by Weil attorneys based outside of the United States. In a highly interconnected world, we have a moral obligation to use our skills to attack endemic poverty, gender and racial discrimination, human trafficking, inhumane judicial punishment, and other such ills wherever they occur. Weil operates significant pro bono programs in our offices around the world, and we have rededicated ourselves to strengthening and expanding our global pro bono activities.
To ensure that this network produces significant results and that our attorneys experience the challenges and rewards of pro bono service, our goal is that all lawyers in the Firm perform 50 hours of pro bono work each year. Toward that end, every partner is expected to work on a pro bono matter every year, and every new attorney – including lateral partners – is required to take on a pro bono matter. Last year alone, Weil performed more than 61,000 hours of pro bono work, the equivalent of about 40 full-time lawyers; and we are nearing 1 million hours of pro bono service since our current program was launched in August 2005.
Delivering effective pro bono service depends on the dedication, empathy, and ability of the attorneys who represent our clients in need. It also hinges on close collaboration with our partner organizations to reach common goals in such areas as criminal justice reform, human rights, community and economic development, children's welfare, civil and constitutional rights, environmental issues, and asylum.
Last year, Weil attorneys once again demonstrated their compassion and skill. Together with our partner organizations, we changed many lives for the better. Successes included protecting the rights of tenants on the brink of homelessness; pursuing relief for prisoners held in inhumane conditions; aiding unaccompanied immigrant children who have suffered neglect or persecution; blocking laws that would restrict voting rights; and supporting the search for solutions to the world's ecological problems. We invite you to explore a sampling of these achievements, confident that it will be apparent why we consider the time we spend on pro bono work "our finest hours."
Peter King
Co-Chair
Pro Bono Committee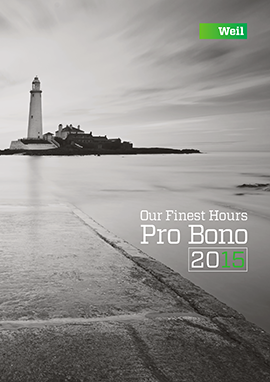 View the 2015 Pro Bono Annual Report
---
Many Weil attorneys and paralegals dedicated 50 hours or more to pro bono service in 2014:
View the list of 50-Hour Plus Performers.
---
For more information on our
Pro Bono
practice, please contact:
Miriam Buhl
Pro Bono Counsel
New York
Last year alone, Weil performed over 61,000 hours of pro bono work, the equivalent of about 40 full-time lawyers."