Q&A with Jacqueline Marcus

Q: How did you get involved in Diversity & Inclusion efforts at Weil?
I've been involved with the Firm's Diversity Committee for more than 20 years. I first started as the counsel representative when now-retired partner Andrea Bernstein was heading up the committee. Andrea was a true pioneer in this area so I've had some big shoes to fill. I took over from Andrea as Chair in 2015. As of 2018, Adé Heyliger took over the Co-Chair role from me. With respect to gender diversity, I became Co-Chair of TOWER, the Taskforce on Women's Engagement & Retention, in 2014.
Q: Describe the committees and what your roles entailed.
The Diversity Committee consists of partners, counsel and senior staff in Weil's offices around the world, and we work closely with our very talented Global Diversity team, led by Weil's Global Diversity, Equity & Inclusion Director Meredith Moore. Because we currently have TOWER dedicated to gender diversity, the Diversity Committee is focused on race, sexual orientation, gender identity, veterans, disability, and other forms of diversity. It's really a collaborative effort to leverage everyone's ideas. In each of these committees, we are focused on recruitment, retention, development, and advancement. We discuss metrics, feedback from recent programs and initiatives, and ideas for new efforts. In addition, I often worked with other groups like Business Development and Legal Recruiting, for example, because issues of diversity and inclusion are relevant and important in every area of our Firm. I tried to go to recruiting events as often as I could to show support and importance for diversity to new recruits. I also tried to attend a number of affinity group meetings and events so that I can learn, firsthand, what is important and impactful for our diverse associates.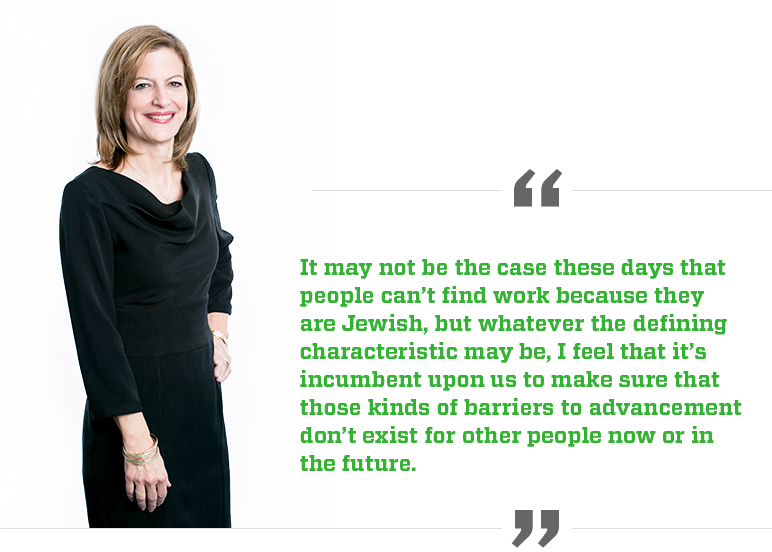 Q: Do you receive feedback on programs and initiatives from lawyers and staff who aren't involved specifically with the Diversity Committee?
Yes, we're always looking for feedback. While we love the positive feedback, negative feedback can be helpful too. It's wonderful that Weil has been doing diversity programming and events for so long. There is a risk, however, that people can get "diversity fatigue," so it's a challenge to keep things interesting and current. Many of the programs we embark on are based on or inspired by feedback. Our Upstander initiative, for example, was developed in part because we heard from many of our people that they wanted to do more for inclusion but didn't know how. Mentoring circles developed because of feedback from female associates that some wanted more access to female partners, some to male partners, and others to female senior associates. The program incorporated elements of all three (one female and one male partner, and five to six female associates across levels). As time went on, some female associates wanted male associates to participate, so now more than half of the circles include equal numbers of men and women.
Q: What's an example of a recent program or initiative that you feel was particularly successful?
As a result of recent and ongoing events, we as a Firm wanted to be more forthright about addressing racial issues, so we devoted our 2017 annual diversity training to "Talking Boldly About Race: Being an Upstander in a Time of Cultural Unrest." Because the sessions were so interactive, there were differences in the subjects that were raised and the individual experiences that were shared. We followed up with a session open to all where the facilitator, Verna Myers, shared her insights from the 30 sessions we held at the Firm. A lot of people attended and participated in discussing what they had learned during the diversity training and in the months since. This is also a great example of our efforts to keep our ideas for programming fresh and to maintain the momentum over time. Diversity isn't just about race, ethnicity or gender, it's also ways of thinking about things – perspectives and perceptions, so our 2017 diversity month theme was "Diversity of Thought." I think we can sometimes forget that not everyone has the same opinions as we do or thinks the same way that we do.
Q: Why do you think diversity and inclusion are so important at Weil?
It truly is ingrained in Firm culture – the Firm was founded by three gentlemen who couldn't find work because of their religion, so I think it's particularly incumbent upon us to "pay it forward." It may not be the case these days that people can't find work because they are Jewish, but whatever the defining characteristic may be, I feel that it's incumbent upon us to make sure that those kinds of barriers to advancement don't exist for other people now or in the future. And the Firm and its clients reap the benefit of our diversity efforts – research reflects diverse work groups produce better work product.
Q: How important do you think diversity is to clients?
Law firms have been completing diversity surveys for years, and I think sometimes in the past, clients' inquiries regarding the diversity of their law firms was simply about "checking a box." What's changed in the past several years is that companies are actually withholding work if your survey results aren't adequate. The other thing that's changed is that clients and potential clients are not only asking for diversity statistics firmwide, but what they really want is diverse teams working on their matters. We believe that diverse teams bring a greater array of skill sets, experiences, and creativity, and allow more voices to be heard in terms of approach, which ultimately generates a better work product. In addition, many of our clients are international and global, so it's important to have teams that can be sensitive to issues all over the world.
Q: In addition to being involved in Weil's diversity efforts, you were also one of the Firm's first flex-time partners. Can you explain what the flex-time program is?
You could say that career path diversity is another way we strive to be inclusive at the Firm. Weil created the role of "flex-time partner" in 2007, which is available for both women and men who have made a long-term career choice to work on a flexible schedule. I was among the first in that class, which also happens to be the first time that women comprised more than one-half of the new partner class at the Firm. Now I'm currently one of four flex-time partners at the Firm. Additionally, the Firm has a long-standing flex-time program for associates to adopt a reduced work schedule while continuing their commitment to practicing law.
Q: Why did you choose to work as a flex-time partner and how has it worked out for you?
What prompted me to be flex-time was my personal upbringing. I was brought up in a Sephardic Jewish family with strong pride in the traditions of our culture. It was highly unusual for a woman to get an education or have a job. While my parents were very supportive and encouraging, at the same time, these cultural traditions were ingrained in me. When I had my first child, I didn't feel comfortable working full-time, so that's when I started flex-time. I was an associate at that time and after several years I did become counsel and eventually partner. I'm eternally grateful to the Firm for making that flex-time option available for me. What's interesting and different these days is there's much more focus on work-life balance, and much more effort by the firms to make working easier for men and women with families. Maybe this will mean that less people will opt for the flex-time arrangement, and instead utilize these other programs and be able to juggle the demands of work and family more easily.

Q: What's next for Diversity & Inclusion at Weil?
From a diversity and gender point of view, I think we're generally doing a pretty good job of bringing people into the Firm, although we need to maintain a focus on this area. Where we are redoubling our efforts is making sure that everyone has the tools and the opportunities to thrive at the Firm, so that you'll see the percentages of female, people of color, and LGBTQ+ partners accelerate over time. Our work is far from over, but we're up for the challenge!