Biography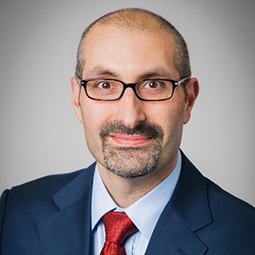 Ted Tsekerides is a partner in Weil's Litigation Department, where he concentrates his practice in product liability/mass torts, complex commercial litigation, and bankruptcy litigation matters, as well as risk avoidance counseling and strategy.
Ted is currently ranked by Chambers USA as a leading lawyer for Product Liability & Mass Torts, where clients note that he is "a wonderful lawyer" who is "easy to work with, smart, competent and charming." He also has been recognized by Benchmark Litigation as a national "Litigation Star" for Product Liability and as a "Local Litigation Star" in New York, and by Legal 500 as a "recommended" lawyer nationwide for Product Liability and Mass Torts, and General Commercial Disputes.
Ted has over 25 years of litigation and trial experience representing companies in high-stakes matters that threaten their reputations and businesses. He has extensive experience in multi-district litigation, class actions, and individual actions, and has represented clients in federal and state courts throughout the country at all stages of the litigation process, including often acting as coordinating national litigation counsel. For example, he:
Serves as lead bankruptcy litigation counsel for Johnson & Johnson in connection the chapter 11 cases of Imerys Talc America and related debtors who had supplied J&J with talc for use in J&J products.
Represented Discovery Communications, LLC in a variety of disputes with distributors, production companies, and talent, including: a multi-million dollar breach of contract case brought by a former satellite distributor regarding distribution of Discovery programming, which he tried to a favorable bench ruling in Maryland federal court and won on appeal before the Fourth Circuit; and the defense of a breach of contract, copyright, and trademark infringement suit in California federal court arising out of Discovery's termination of its relationship with a television production company.
Represented ExxonMobil in a number of litigations and trial proceedings in New Jersey and Vermont brought by State agencies relating to the use of MTBE as an additive in gasoline.
Served as one of the lead attorneys representing The Walt Disney Company and ESPN in connection with litigation involving licensing agreements and Most-Favored-Nations provisions, including obtaining a major jury trial victory on behalf various Disney-related entities in a contract case involving over $100 million in alleged damages.
Served as one of the lead attorneys defending Seacor Holdings and its subsidiaries in the multi-district litigation coordinated in New Orleans federal court relating to the Deepwater Horizon oil spill in the Gulf of Mexico.
Served as one of the lead attorneys representing Lend Lease in all aspects of the World Trade Center debris-removal litigation, which involved more than 10,000 claims brought by plaintiffs alleging respiratory and other injuries as a result of the Ground Zero site cleanup. He also was extensively involved in efforts that resulted in passage of the Zadroga Act by the United States Congress addressing the claims of these plaintiffs and other injured parties, and providing legal protections for contractors such as Lend Lease that assisted in the cleanup.
Ted also has substantial experience serving as litigation counsel to trustees, debtors, and creditors in bankruptcy proceedings and related disputes involving a wide range of industries, including transportation, energy, arts and antiques, securities, and telecommunications. In addition to his work with J&J referenced above, his notable recent experience includes:
Serving as lead litigation counsel for PG&E debtors in their chapter 11 cases and all major bankruptcy litigation, including proceedings against the Federal Energy Regulatory Commission and matters involving hundreds of millions of dollars in claims.
Serving as lead litigation counsel for CBL & Associates Properties in their chapter 11 cases, including as lead counsel in an adversary proceeding trial against certain lenders.
Serving as lead litigation counsel for subsidiaries of Takata Corporation in their chapter 11 bankruptcy proceedings, where he had primary oversight of mass tort and litigation claims arising out of numerous recalls of airbags containing allegedly defective parts supplied by Takata.
Serving as lead litigation counsel for the Official Committee of Unsecured Creditors of SunEdison in connection with SunEdison's high-profile chapter 11 bankruptcy filing in April 2016, with claims in excess of $4 billion.
His other prior relevant experience includes serving as a lead litigation counsel in the Enron, WorldCom, and Loral Satellite bankruptcies.
Ted also has experience litigating insurance coverage disputes, both for carriers and insureds, involving a variety of matters and policy types ranging from malicious product tampering to environmental cleanup obligations.
Ted is the co-author of "Expert Evidence In The Second Circuit," appearing in Scientific Evidence Review, and has written widely on other evidentiary matters concerning the admissibility of expert evidence in class actions.
Ted received his J.D. from Brooklyn Law School and his B.A. from Columbia University.
Awards and Recognition, Speaking Engagements, Guides and Resources, Latest Thinking, Firm News & Announcements
Theodore Tsekerides Named a "Leading" Lawyer for Product Liability & Mass Tort Nationwide

Award Brief — Chambers USA

Theodore Tsekerides Named a "Recommended" Lawyer for General Commercial Disputes in the U.S.

Award Brief — Legal 500 US

Theodore Tsekerides Named a "Recommended" Lawyer for Product Liability, Mass Tort and Class Action: Toxic Tort in the U.S.

Award Brief — Legal 500 US

Theodore Tsekerides Recognized as a National "Litigation Star" for Product Liability in the U.S.

Award Brief — Benchmark Litigation

Theodore Tsekerides Recognized as a "Local Litigation Star" for Product Liability in New York

Award Brief — Benchmark Litigation
Firm News & Announcements