Biography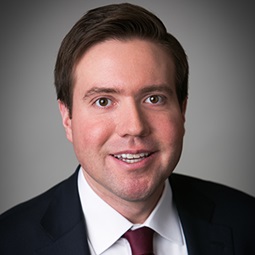 Robert W. Taylor is an associate in Weil's Litigation Department, where his practice focuses on complex commercial litigation in state and federal courts.
Robert has broad experience litigating complex matters and providing litigation advice, including in the media, healthcare, technology, and private equity spaces.
Some of Robert's recent notable experience includes serving on Weil teams representing:
A global pharmaceutical company in connection with numerous engagements, including advising on pre-litigation matters pertaining to the company's drug development collaboration agreements with another life sciences company, and representing the company in a high-profile antitrust action.
A major book publisher in connection with ongoing putative class actions in which the plaintiffs allege violations of U.S. antitrust law.
A major media company in connection with a putative class action brought by television advertisers, in which plaintiffs allege violations of U.S. antitrust law, which was successfully resolved through settlement.
A multinational computer software technology corporation that provides voice recognition and AI solutions in a multi-million dollar breach of contract action against a former business partner arising from the former business partner's breach of a software technology license agreement. Robert has actively participated in all aspects of the engagement, including discovery, summary judgment, pre-trial motions, and trial. 
A leading global risk and reinsurance company in an action for breach of contract and breach of fiduciary duty against several former executives who defected to a competitor and breached their restrictive covenant agreements with their former employer. Robert helped obtain an injunction against the former employees and successfully resolve the matter through settlement.
A global private equity firm and its portfolio companies in numerous matters, including providing litigation advice to the firm in connection with its potential investment in a company that was involved in ongoing litigation, a portfolio company's dispute with a state involving the state's misappropriation of trade secrets from the company in connection with a government contract, and a portfolio company's pre-litigation dispute with a consumer credit reporting agency.
A private equity firm in its contemplated investment in a company that was defending a breach of contract and trade secret misappropriation lawsuit brought by a competitor. Robert conducted diligence to evaluate the claims in the lawsuit and advise the private equity firm on the merits of the case and the case's impact on the potential investment.
A major television network in a programming dispute with a national cable operator following a merger, which was successfully resolved through settlement.
Robert recently completed a secondment at the litigation department of a major media company.
Robert's pro bono work at the Firm has focused primarily on benefits appeals for low-income disabled veterans, Violence Against Women Act matters, and religious freedom matters.
Prior to joining the Firm, Robert was an active duty Army JAG officer, where he served as a Special Assistant U.S. Attorney, an administrative law attorney, and a special victims counsel, among other roles. He is a founding member of the Firm's WeilVets group.
Firm News & Announcements
Firm News & Announcements