Biography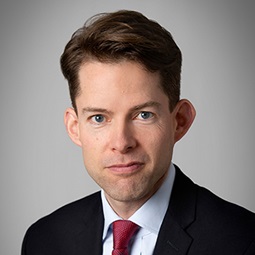 Jamie Maples is a partner in the Firm's London Disputes and Investigations practice and a member of the International Arbitration & Trade group.
Jamie has successfully represented clients in some of the most complex and high profile commercial disputes in recent years.
His notable cases include acting for Littlewoods in its £1.25 billion claim against the UK tax authorities, including before the Supreme Court. The case was widely reported in the press and earned the team plaudits including "Dispute Resolution Team of the Year" at the Legal Business Awards, "European Tax Disputes Firm of the Year" at the International Tax Review European Tax Awards, and "Standout" firm at the FT Innovative Lawyers Awards.
Jamie has also been named among The Lawyer's Hot 100, specifically noting his work on "one of the most significant Islamic finance cases to come before the English courts to date" (Dana Gas PJSC v Dana Gas Sukuk Ltd & Ors).
Jamie's practice spans court litigation, international arbitration, investigations and contentious regulatory and employment matters.  He acts for clients across a wide variety of sectors including banking and financial services, private equity, media, technology, energy, engineering, and the retail and hospitality industries. He also is an experienced advocate, particularly in arbitration matters, where he has represented clients in cases before ad hoc and institutional tribunals under all the major arbitral rules, both in London and in other arbitral centres.
Jamie regularly speaks and publishes on arbitration and other disputes issues. He is recommended for his litigation expertise by Chambers UK, with sources describing him as "technically very strong" and "a shrewd tactician." He is also recommended for his international arbitration and tax litigation expertise by Legal 500 UK, and was described by sources in the GAR 100 as "truly a breath of fresh air with his non-confrontational approach and talent for refining strategy on the trot".
Representative matters include acting for:
Petropavlovsk Plc, on a variety of contentious matters
A major US manufacturer, in a confidential M&A dispute
Asia Research and Capital Management, in its opposition to Premier Oil Plc's proposed schemes of arrangement
A corporate client, on a confidential investigation concerning corporate governance and directors' duties
An ad hoc group of noteholders, including BlackRock Global Allocation Fund, in its claim concerning the validity of a purchase undertaking entered into by Dana Gas PJSC
The joint official liquidators of ABRAAJ Investment Management Limited in connection with claims arising in the liquidation of the Abraaj Group
1Malaysia Development Berhad, in its $6.5 billion arbitration with IPIC under LCIA rules and seated in London
A leading global private equity house, in an ad hoc arbitration in London under UNCITRAL rules, and parallel High Court proceedings concerning an investment in communication networks in Africa
Littlewoods, in its £1.25 billion claim in respect of compound interest on overpaid tax before the High Court, Court of Appeal and the Supreme Court
The special administrators of MF Global UK Ltd, on a variety of contentious matters concerning the estate over the past decade, including litigation concerning the proper interpretation of a GMRA contract, the nature of the special administration regime, and the ambit of section 236 of the Insolvency Act 1986
Jinpeng Group, in multiple disputes concerning the Aman Resorts group of companies, including in Hong Kong arbitration proceedings under HKIAC Rules
A major international chemical engineering business, in its claim against a Chinese SOE for breach of a confidentiality agreement, in arbitration in Singapore under SIAC rules
Blackstone/GSO, as collateral manager, in a High Court claim to determine whether reinvestment criteria had been met
Sir David and Sir Frederick Barclay, in defence of High Court claims against them personally in the context of the Maybourne hotel group dispute
A Lehman entity, in LCIA arbitrations in London and Mumbai against Indian counterparties to ISDA derivative transactions
A hedge fund administrator, in the defence of a claim arising from the collapse of a client fund, in LCIA arbitration in London
A Lehman entity, in Commercial Court proceedings against Calyon under a letter of credit
Kaupthing Bank Hf, in a dispute against a borrower in respect of the enforcement of its security rights in proceedings in the BVI, including obtaining receivership orders, and in the Chancery Division
Kaupthing Bank Hf, in a judicial review of HM Treasury's decision to transfer its Kaupthing Edge deposit book to ING in October 2008
A BVI investment company in the long-running multi-billion dollar dispute over the ownership of a 25% stake in the Russian telecoms company, Megafon, in ad hoc arbitration in Zurich and ICC arbitration in Geneva
A telecoms infrastructure contractor in a dispute concerning the construction of a 3G mobile network in Australia, in ICC arbitration in Singapore under Singaporean law
Firm News & Announcements, Awards and Recognition, Latest Thinking
Firm News & Announcements
Jamie Maples Named Among 40 Under 40 for Legal Services

Award Brief — Financial News