Biography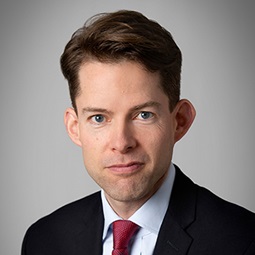 Jamie Maples is a partner in the Firm's dispute resolution practice in London and a member of the International Arbitration & Trade group.
Jamie has successfully represented clients in some of the most complex and high profile commercial disputes in recent years.
His notable cases include acting for Littlewoods in its £1.25 billion claim against HMRC, including before the Supreme Court. The case was widely reported in the press and earned the team plaudits including "Dispute Resolution Team of the Year" at the Legal Business Awards, "European Tax Disputes Firm of the Year" at the International Tax Review European Tax Awards, and "Standout" firm at the FT Innovative Lawyers Awards.
Earlier this year Jamie was named among The Lawyer's Hot 100 specifically noting his work on Dana Gas, "one of the most significant Islamic finance cases to come before the English courts to date."
He has also recently secured favourable judgments and settlements for clients such as 1MDB, Blackrock, Barclays Bank plc, the special administrators of MF Global UK Limited, INVISTA Technologies and the Lehman estate.
Jamie's practice spans court litigation, international arbitration and mediation, and a wide variety of sector areas including banking and financial services, media, technology, energy, engineering, and the retail and hospitality industries. He also is an experienced advocate, particularly in arbitration matters, where he has represented clients in cases before ad hoc and institutional tribunals under all the major arbitral rules, both in London and in other arbitral centers.
Jamie regularly speaks and publishes on arbitration and other disputes issues. He is recommended for his litigation expertise by Chambers UK, with sources describing him as "technically very strong" and "a shrewd tactician." He is also recommended for his international arbitration and tax litigation expertise by Legal 500 UK, and was described by sources in the recent edition of the GAR 100 as "truly a breath of fresh air with his non-confrontational approach and talent for refining strategy on the trot".
Representative litigation experience:
Dana Gas PJSC v Dana Gas Sukuk Ltd and others [2017] EWHC 2928 (Comm): Acting for BlackRock Global Allocation Fund, Inc. in its claim concerning the validity of a purchase undertaking entered into by Dana Gas PJSC
Littlewoods Retail Ltd & Ors v HM Revenue & Customs [2017] UKSC 70, [2015] EWCA Civ 515 (21 May 2015) and [2014] EWHC 868 (Ch) (28 March 2014): Acting for Littlewoods in its £1.25 billion claim in respect of compound interest on overpaid VAT before the High Court, Court of Appeal and the Supreme Court
Napier Park European Credit Opportunities Fund Ltd v Harbourmaster Pro-Rata Clo 2 B.V. & Ors [2014] EWHC 1083 (Ch) (09 April 2014): Acting for Blackstone/GSO as collateral manager in part 8 claim to determine whether reinvestment criteria had been met
Citicorp Trustee Company Ltd v Barclays Bank plc & Ors [2013] EWHC 2608 (Ch) (23 August 2013): Acting for Barclays Bank plc in trustee directions application as to whether certain notes were enfranchised
Heis & Ors (Administrators of MF Global UK Ltd.) v MF Global Inc [2012] EWHC 3068 (Ch) (01 November 2012): Acting for the special administrators of MF Global UK Ltd in a claim concerning the proper interpretation of a GMRA contract and the nature of the special administration regime
McKillen v Misland (Cyprus) Investments Ltd & Ors (Rev 1) [2012] EWHC 2343 (Ch) (10 August 2012): Advising Sir David and Sir Frederick Barclay in respect of Mr McKillen's claims against them personally in the context of the Maybourne hotel group dispute
Lehman Brothers Commodity Services Inc v Credit Agricole Corporate and Investment Bank [2011] EWHC 1390 (Comm) (07 June 2011): Acting for a Lehman entity in Commercial Court proceedings against Calyon under a letter of credit
Kaupthing v Tchenguiz: Acting for Kaupthing in £100m+ dispute against a borrower in respect of the enforcement of its security rights in proceedings in the BVI, including obtaining receivership orders, and in the Chancery Division
Kaupthing Bank HF, R (on the application of) v HM Treasury [2009] EWHC 2542 (Admin) (20 October 2009): Acting for Kaupthing in a judicial review of HM Treasury's decision to transfer its Kaupthing Edge deposit book to ING in October 2008
Representative arbitration experience:
1Malaysia Development Berhad on its $6.5 billion dispute with IPIC under LCIA rules and seated in London
Advising a leading global private equity house in an ad hoc arbitration under UNCITRAL rules concerning an investment in communication networks in Africa
Advising Jinpeng Group on multiple disputes re its investment in the Aman Resorts group of companies, including a full win in arbitration proceedings under HKIAC Rules
A chemical engineering business in its successful claim against a Chinese SOE for breach of a confidentiality agreement, in arbitration in Singapore under SIAC rules
A Lehman entity in LCIA arbitrations in London and Mumbai against Indian counterparties to ISDA derivative transactions, obtaining a $40 million award
A hedge fund administrator in the defence of a $100 million breach of contract and professional negligence claim arising from the collapse of a client fund, in LCIA arbitration in London
Defending a BVI investment company in the long-running multi-billion dollar dispute over the ownership of a 25% stake in the Russian telecoms company, Megafon, in ad hoc arbitration in Zurich
The same client in respect of a parallel arbitration under ICC rules in Geneva
A telecoms infrastructure contractor in a dispute concerning the construction of a 3G mobile network in Australia, in ICC arbitration in Singapore under Singaporean law
Firm News & Announcements, Awards and Recognition, Latest Thinking
Firm News & Announcements
Jamie Maples Named Among 40 Under 40 for Legal Services

Award Brief — Financial News