Biography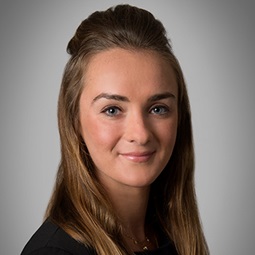 Frankie Cowl is an associate in the Firm's London Disputes and Investigations practice and a member of the International Arbitration & Trade group.
Frankie's practice spans the full spectrum of complex contentious matters across a variety of sectors, including disputes before the English courts and under the rules of major international arbitral institutions.  She frequently advises on matters arising out of breaches of contract, shareholder/partnership issues, contentious employment matters including team moves, fraud, injunctions, cross-border insolvencies and noteholder disputes. In addition, she often advises clients in connection with internal and external investigations, contentious restructurings and on substantive matters of English law relevant to foreign proceedings.
In 2020 and 2021, Frankie was recognised as a "Future Leader" by Who's Who Legal in its Arbitration rankings, compiled by peer-to-peer voting and client recommendations.  In 2017-18, Frankie was also part of a small team advising on a matter recognised by The Lawyer as "one of the most significant Islamic finance cases to come before the English courts to date" (Dana Gas PJSC v Dana Gas Sukuk Ltd & Ors).
Additionally, Frankie's practice includes advising a number of the Firm's pro bono clients.  Her recent pro bono work notably includes advising Refuge on its proposed amendments to the Domestic Abuse Bill (now the Domestic Abuse Act 2021), and assisting the Innocence Project London in several investigations of alleged wrongful criminal convictions of individuals who have historically maintained their innocence.
Frankie is a member of the Junior London Solicitors Litigation Association and the Young International Arbitration Group.  She often writes on English law disputes issues and is Associate Editor of the Firm's European Disputes blog: In Brief.
Representative matters include acting for:
Petropavlovsk Plc, on a variety of contentious matters including internal and external investigations and Employment Tribunal proceedings
An ad hoc group of noteholders, including BlackRock Global Allocation Fund, Inc. in its claim concerning the validity of a purchase undertaking entered into by Dana Gas PJSC including multiple successful applications for anti-suit and freezing injunctive relief
The joint official liquidators of ABRAAJ Investment Management Limited in connection with claims arising in the liquidation of the Abraaj Group
1Malaysia Development Berhad (1MDB) in its $6.5 billion dispute with IPIC and Aabar under LCIA rules and seated in London
Shop Direct Finance Company Limited, the UK financial services arm of The Very Group, in High Court proceedings brought in connection with the interpretation of the FCA Handbook
Lehman Brothers Holdings Inc. in connection with its insolvency, including the Waterfall I Application proceedings before the Supreme Court, the Waterfall II Application and the Waterfall III Application
Lehman Brothers Special Financing Inc. in multimillion dollar Financial List proceedings against PSALM (a Philippine state-owned entity) concerning the Close-out provisions of the 2002 ISDA Master Agreement
Doncasters, in connection with its court-sanctioned restructuring through an English law scheme of arrangement
A global food and beverage group, regarding a dispute with a key supplier and in connection with the supplier's subsequent insolvency
A transatlantic private equity spin-out in connection with the application and enforceability of restrictive covenants and other restraints on employee competition
A corporate client in relation to a sensitive team move, including in connection with an internal investigation, the enforceability of restrictive covenants and the application of director and fiduciary duties
The Special Administrators of MF Global UK Limited on a variety of contentious matters concerning the estate, including litigation concerning German cum/ex tax issues
A global pharmaceutical company in an arbitration under LCIA rules and seated in London, regarding a dispute concerning breach of contract and licensing and royalty arrangements
Latest Thinking, Firm News & Announcements
Firm News & Announcements