Biography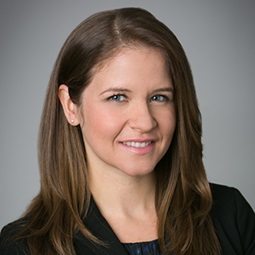 Christina De Vuono is counsel in Weil's Mergers & Acquisitions practice and is based in New York. Christina participates in the representation of public and private companies in mergers, acquisitions and divestitures.
Christina has been part of the teams advising:
AMC Entertainment Holdings, Inc. in its $600 million issuance of senior unsecured convertible notes to Silver Lake to finance AMC's repurchase of a portion of its stock held by Dalian Wanda Group Co., AMC's majority owner, and to pay a special dividend
American Securities LLC in its acquisition of Emerald Performance Materials, LLC from Sun Capital Partners, Inc.
Avista Healthcare Public Acquisition Corp. in its acquisition of Organogenesis Inc.
Breitburn Energy Partners LP in its $775 million sale of certain of its upstream assets to Birch Permian Holdings, Inc. and its $793 million sale of the remainder of its assets to Maverick Natural Resources LLC, via a chapter 11 reorganization
Campbell Soup Company in its $6.1 billion acquisition of Snyder's-Lance, Inc.; in its $510 million sale of Bolthouse Farms to Butterfly Equity; and in its sale of Garden Fresh Gourmet 
Centennial Resource Development, Inc. (f/k/a Silver Run Acquisition Corp., a SPAC) in its $1.7 billion acquisition of a controlling stake in Centennial Resource Production, LLC and its $855 million acquisition of all of the leasehold interests and related upstream assets in Reeves County, Texas from Silverback Exploration, LLC and Silverback Operating, LLC
Churchill Capital Corp III, a SPAC sponsored by Churchill Capital Group, in its $5.7 billion merger with MultiPlan, Inc. that has an enterprise value based on the transaction of approximately $11 billion
Eli Lilly and Company in its $960 million acquisition of CoLucid Pharmaceuticals, Inc. and its $410 million sale of veterinary assets to Virbac SA
Engility Holdings, Inc. in its $2.5 billion all-stock sale to Science Applications International Corp.
First Data Corporation in its $750 million acquisition via cash tender offer of CardConnect Corp.
First Light Acquisition Group Inc. in its merger with Calidi Biotherapeutics, Inc.
GLOBALFOUNDRIES Inc. in its acquisition of the global commercial semiconductor technology business of International Business Machines Corporation, including intellectual property, technologists and technologies related to IBM Microelectronics
GS Acquisition Holdings Corp II, a SPAC sponsored by an affiliate of Goldman Sachs, in its $2.6 billion business combination with Mirion Technologies, Inc. (at the time, a portfolio company of Charterhouse Capital Partners)
Home Loan Servicing Solutions, Ltd. in the $1.4 billion sale to New Residential Investment Corp.
IMS Health Holdings, Inc. in its $17.6 billion all-stock merger of equals with Quintiles Transnational Holdings Inc.
The KeyW Holding Corporation in its $815 million merger with Jacobs Engineering Group Inc. 
Kinder Morgan in its $76 billion acquisition of all the outstanding equity securities of Kinder Morgan Energy Partners, Kinder Morgan Management and El Paso Pipeline Partners
The Kroger Company in its pending $24.6 billion merger with Albertsons Companies, Inc.
Legg Mason, Inc. in its $6.5 billion sale to Franklin Templeton Investments
Magellan Health, Inc. in its acquisition of Veridicus Holdings, LLC
Monumental Sports & Entertainment in its acquisition of the Washington Valor, a professional indoor football team that is part of the Arena Football League and is playing at the Verizon Center
NPC International Inc. in its pending $801 million 363 asset sale in a chapter 11 bankruptcy proceeding of substantially all of its assets to Flynn Restaurant Group and Wendy's International LLC
Ontario Teachers' Pension Plan in the sale of its stake in Cole-Parmer Instrument Company (C-P) (n/k/a Antylia Scientific) to GTCR in connection with a $2.1 billion recapitalization of C-P led by GTCR in which Golden Gate Capital and C-P management retained minority stakes
Sanofi in its up to $750 million acquisition of Protein Sciences Corporation
TPG Pace Solutions Corp., a SPAC sponsored by TPG Pace Group, in its $4.5 billion business combination with Vacasa LLC
Vivial Media Holdings, Inc. (f/k/a Vivial Media LLC) (a portfolio company of Blackstone Credit) and its subsidiary mGage in the $215 million sale of mGage to Kaleyra, Inc.
Wejo Limited in its $1.1 billion business combination with Virtuoso Acquisition Corp., a SPAC sponsored by Virtuoso Sponsor LLC
Wyndham Destinations, Inc. in its $166 million sale of Wyndham Vacation Rentals LLC to Vacasa LLC
Christina has represented pro bono clients on a variety of matters including 501(c)(3) applications, formation of "friends of" organizations, coordination with the New York Department of Education and Board of Regents on charter applications and amendments, preparation of organizational documents and corporate policies and advising New York not-for-profit clients on governance matters. She was a recipient of the Lawyers Alliance for New York's 2021 Individual Cornerstone Award in recognition of her exceptional pro bono legal services to the nonprofit sector. Christina has served on the Women at Weil Leadership Cabinet and is a co-chair of the Mothers at Weil affinity group.
Christina received her J.D. from Osgoode Hall Law School and her B.Com. from McGill University.
Firm News & Announcements
Firm News & Announcements