Biography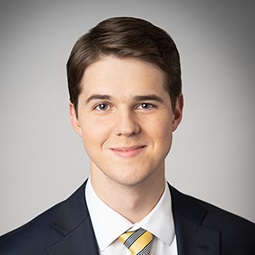 Brian Kitchen is an associate in Weil's Securities Litigation practice, where he focuses on defending securities class action, shareholder derivative, and M&A litigation. His practice also includes advising public companies regarding corporate governance and conducting internal investigations.
Brian's recent experience includes serving on Weil teams representing:
The Carlyle Group in a seminal business litigation in Delaware Chancery Court arising out of the triggering of a material adverse effects clause in a purchase agreement in the wake of the COVID-19 pandemic.

Churchill Capital Corp III, a SPAC sponsored by Churchill Capital Group, and certain directors in an ongoing fiduciary duty litigation related to Churchill Capital Corp III's $11 billion merger with MultiPlan Corporation.

Churchill Capital Corp IV, a SPAC sponsored by Churchill Capital Group, and certain directors in federal and state court stockholder litigations arising out of Churchill Capital Corp IV's $11.75 billion merger with Lucid Motors.

Pilgrim's Pride Corporation, the second largest poultry producer in the United States, in securities class action and shareholder derivative actions related to alleged industry-wide price fixing.

Walgreens Boots Alliance in a federal securities class action relating to statements the company made about a proposed merger with Rite Aid.
Brian also has an active pro bono practice, including work with the ACLU of Texas to secure the release of ICE detainees with medical conditions, who were at heightened risk of death or serious injury due to a sudden outbreak of COVID-19 in the facility in which they were detained, and with the International Refugee Assistance Project in a FOIA litigation against the U.S. Department of State.
Brian received his B.A., cum laude, from the University of Florida and his J.D. from Harvard Law School.
Firm News & Announcements
Firm News & Announcements