October 19, 2023
PARIS, OCTOBER 19, 2023: Weil is delighted to announce the arrival of Céline Domenget-Morin as a partner in its Restructuring practice in Paris.
Alongside partners Jean-Dominique Daudier de Cassini and Anne-Sophie Noury, Céline reinforces a team renowned for its leading expertise in corporate restructuring. Now headed by three partners and comprising a total of fifteen lawyers, the practice is one of the largest in the sector in France.
"We're very pleased to have Céline join us at this important time," said Weil Executive Partner Barry Wolf. "The Restructuring team is a key pillar of our Paris office and Céline will play a leading role as the team expands to meet the needs of our clients."
A graduate of the ESCP business school, Céline began her career in 2001 as a financial analyst with the investment bank Lazard, before becoming a lawyer with Veil Jourde and then Bremond & Associés. She quickly became involved in the emblematic Eurotunnel case, a symbol of innovation and the source of numerous market practices over the last fifteen years.
Céline joins Weil from Goodwin Procter LLP, having practiced earlier at White & Case LLP.
Over the last ten years, Céline has developed a mixed practice, working with companies, debt funds and banking pools. At the frontiers of restructuring, she was also involved in the Gefco case and in the mediation that secured financing for the completion of the EPR project in Finland. Céline has recently been one of the key players alongside bank creditors in high-profile cases, such as Vallourec and Pierre & Vacances, which have also contributed to the creation of innovative practices in the handling of state-guaranteed loans (PGE).
Restructuring is one of the Firm's core practices in Paris, and a key area of strength for Weil worldwide. By reinforcing a leading team on large-scale cases (such as Orpéa and Casino), Weil is among the leading restructuring teams in France, with 3 partners and 12 associates.
"We are proud and delighted to welcome Céline to our team. Our respective experience of major complex cases, both for companies and creditors, strengthens our collective expertise and know-how. Her arrival will enable us to consolidate our position even further, and to pursue our development and growth while drawing on the support of the next generation," said Anne-Sophie Noury and Jean-Dominique Daudier of Cassini.
About Weil
Founded in 1931, Weil, Gotshal & Manges LLP has been a preeminent provider of legal services for more than 90 years. With approximately 1,100 lawyers in offices on three continents, Weil has been a pioneer in establishing a geographic footprint that has allowed the Firm to partner with clients wherever they do business. The Firm's four departments, Corporate, Litigation, Restructuring, and Tax, Executive Compensation & Benefits, and more than two dozen practice groups are consistently recognized as leaders in their respective fields. For more information, please refer to www.weil.com and https://www.linkedin.com/company/weil-gotshal-paris-office.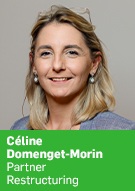 ---
Media Inquiries
Weil Public Relations
Christopher Rieck
Director, Communications
Peter Ottaviano
Senior Manager, Communications