November 06, 2023
NOVEMBER 6, 2023: International law firm Weil, Gotshal & Manges LLP announced today that Rebecca Grapsas has been named a partner in its U.S. Public Company Advisory Group, focusing on the Firm's multidisciplinary global Environmental, Social and Governance ("ESG") practice.  Rebecca returned to Weil in February 2023 as a consultant working in this practice.
Weil Executive Partner Barry Wolf said: "Rebecca has a long history of guiding corporate boards and executives in the high-stakes areas of disclosure, corporate governance, environmental risk and compliance. She is also a recognized authority in the sustainability and ESG space, which is a key strategic focus for many of our clients."
"Rebecca brings deep experience in corporate governance and ESG matters. She has been a key addition to our growing ESG practice and a significant benefit to our private equity funds and public company clients around the globe as they navigate today's rapidly evolving regulatory landscape," said Michael J. Aiello, Chairman of Weil's Corporate Department.
Rebecca advises across the full range of strategic matters relating to ESG and compliance with regulatory and voluntary frameworks. She has significant experience advising on ESG disclosures and related benchmarking on topics such as emissions and climate strategy, diversity, equity and inclusion, human rights, product and workplace safety, and governance matters. She also advises on ESG-related due diligence in the context of third-party screening and significant transactions, and responsible investing.
She regularly counsels boards and senior management on compliance program design, implementation and review, as well as highly sensitive governance matters. Rebecca also has more than 20 years of experience across a broad range of cross-border mergers and acquisitions and securities transactions – particularly multi-jurisdictional transactions requiring harmonization of U.S. and non-U.S. regimes, including those requiring innovative SEC relief.
In her new role, she will collaborate closely with colleagues in Weil's leading Energy, M&A, Private Equity, Regulatory Transactions, Environmental Transactions, and Securities Litigation groups.
"I'm excited to be back at Weil, working with our team of best-in-class corporate governance and transactional lawyers," Rebecca said. "Today, business leaders must drive an enterprise-wide focus on ESG and sustainability issues and corporate compliance as regulatory scrutiny continues to accelerate.  I look forward to continuing to steer Weil's cross-disciplinary global ESG team, as we advise clients on these significant and multi-faceted issues."
Weil's Public Company Advisory Group
Weil's dedicated Public Company Advisory Group takes an integrated approach to advising public companies, private equity sponsors and their portfolio companies, as well as a wide range of private entities and not-for-profit organizations, in the high-stakes arena of disclosure, corporate governance and compliance, ESG and sustainability matters.  The Group provides comprehensive advice on disclosure, corporate governance and compliance to public company boards of directors, independent board committees and senior management, as well as on highly sensitive investigations and governance matters.
About Weil
Founded in 1931, Weil, Gotshal & Manges LLP has been a preeminent provider of legal services for more than 90 years. With approximately 1,100 lawyers in offices on three continents, Weil has been a pioneer in establishing a geographic footprint that has allowed the Firm to partner with clients wherever they do business. The Firm's four departments, Corporate, Litigation, Restructuring, and Tax, Executive Compensation & Benefits, and more than two dozen practice groups are consistently recognized as leaders in their respective fields.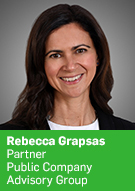 ---
Media Inquiries
Weil Public Relations
Christopher Rieck
Director, Communications
Peter Ottaviano
Senior Manager, Communications