The Weil Luminary Alumnus Award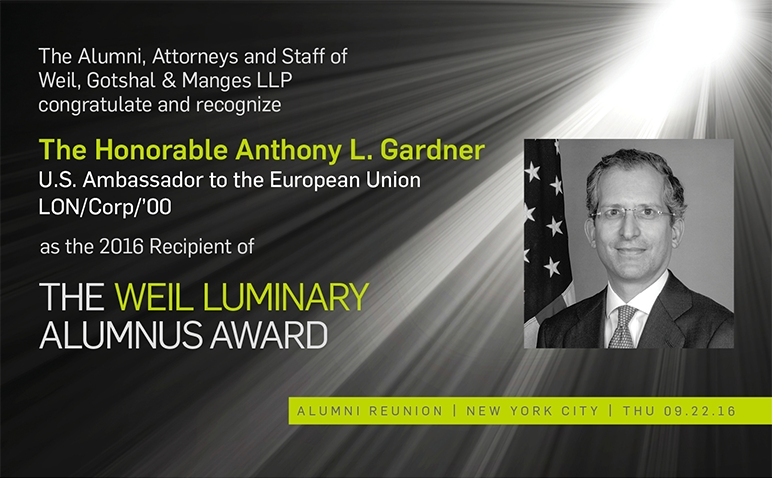 The Honorable Anthony Luzzatto Gardner was sworn in as the U.S. Ambassador to the European Union in February 2014, following decades of work on U.S.- European affairs as a government official, lawyer and private investor. As ambassador, he has been in the forefront of diplomatic and trade activity in Europe, tackling significant matters, such as turmoil along the boundary between the Ukraine and Russia, the Syrian refugee crisis, global terrorism – and the historic trade deal currently being negotiated between the U.S. and E.U. (Transatlantic Trade & Investment Partnership, or TTIP). He is fluent in French, Italian, and Spanish, and speaks German.
Ambassador Gardner previously served as Managing Director at London-based private equity firm Palamon Capital Partners. Prior to that, he served as an Executive Director in the leveraged finance departments of Bank of America and GE Capital, and a Director in the international acquisitions group of GE International. He has worked as an associate in Weil's London office as well as at other international law firms in New York, Paris and Brussels.
In addition, he served as Director for European Affairs on the National Security Council (1994-95), where he worked closely with the U.S. Mission to the European Union to launch the New Transatlantic Agenda, a joint commitment to promoting peace, stability, democracy, development, and trade around the world and closer U.S.-E.U. economic relations. He is the author of A New Era in U.S.-EU Relations?: The Clinton Administration and the New Transatlantic Agenda and numerous articles on E.U. affairs.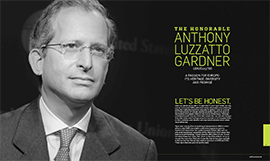 Read more about Anthony L. Gardner in the Summer 2016 issue of We Are Weil.
---