The Distinguished Young Alumnus Award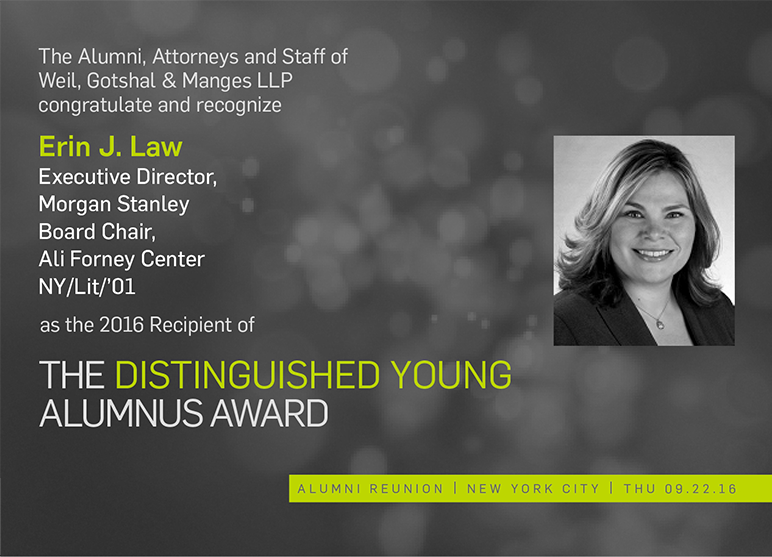 Erin Law is an Executive Director and the Managing Attorney for the Global Litigation Department in the Legal and Compliance Division at Morgan Stanley. As the Managing Attorney, Erin is responsible for the operational functioning of the Litigation Department, including coordinating and supervising attorneys and legal professionals in connection with litigation and regulatory matter management. Erin also serves as a Coordinator for Morgan Stanley's Franchise Risk Committee, a senior Firm Management Committee that has responsibility for reviewing activities, transactions and clients across the Firm that may pose potentially significant franchise risks.
In 2015, Erin was appointed Pro Bono Lead Counsel in the Legal and Compliance Division at Morgan Stanley. In addition to running the pro bono program, Erin maintains an active pro bono practice and serves as a member of the Diversity and Inclusion Committee and the LGBT Task Force Subcommittee. Before joining Morgan Stanley in 2011, Erin was an associate in the Litigation Department at Weil, where she advised and represented corporate clients as well as pharmaceutical and consumer product companies, in connection with securities and commercial litigations, as well as internal corporate and regulatory investigations. She was one of the founding members of Weil's LGBTQ+ affinity group.
Erin currently serves as Chair of the Board of Directors of the Ali Forney Center. Erin also is a founding member of the Pro Bono Advisory Council for New York Lawyers for the Public Interest and serves on the New York City Bar Committee on Pro Bono and Legal Services, where she co-chairs the In-House Subcommittee.
Erin received her B.A. from Bard College. She received her B.A. from Tulane Law School with honors and served as a Managing Editor for the Tulane Law Review. Following law school, she clerked for a federal district court judge in Louisiana.