Aaron Ford Feature Profile
April 2018
Truth, Power and Walking the Walk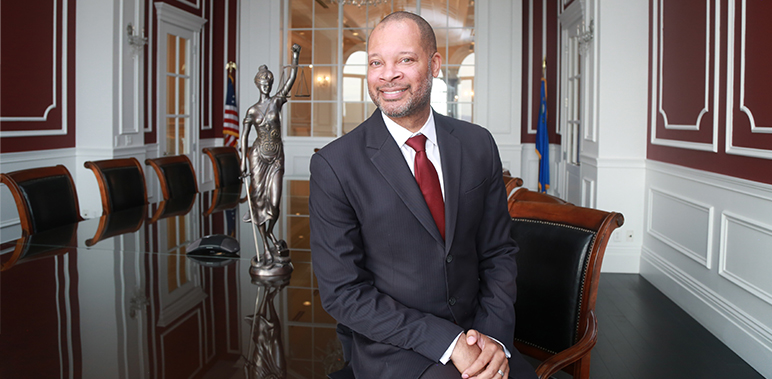 Aaron Ford (DA/Lit/'04), Majority Leader of the Nevada State Senate, reflects on the meaning of "service" in life, politics and the law.
The Majority Leader of the Nevada State Senate, Aaron Ford, was reflecting on his first day as a state senator. After walking through the senate chamber with his family, Ford's father-in-law, then about 80 years old, stopped, turned to him and said that he was "so proud."
"Do you know why?" he asked. Ford guessed that it was his electoral success. His father-in-law clarified: "As we walked through that chamber, people opened doors for you. They called you 'senator.' They called you 'mister' and 'sir.' They called me 'boy' until I was 40 years old."
It was a bracing moment, one that Ford thinks about often. In fact, it's those kinds of reflections that helps the senator endure a fractious political environment, often marked by conflict and personal attack. "I want to help my children and their generation continue moving forward," Ford said, "As they see their father move forward despite such obstacles, I hope to give them the same inspiration that my father-in-law has given me."
A Force for Change
As far back as he can remember—and his mother can testify to it—Ford has had an innate sense of service. "My Mom says I always put myself out to serve other folks," said Ford, "tutoring classmates, or helping my younger brothers with their schoolwork."
His sense of service derived from a childhood sometimes lacking in resources, but never lacking in love, support and direction. Ford credits his parents' strict direction, and his school's Project Upward Bound program, for keeping him focused on education, getting him admitted to Texas A&M, and helping him achieve a level of success that has eluded so many peers from his old Oak Cliff neighborhood.
"Help was welcomed, because we needed it," he said. "So, it was placed in my spirit early in life that I should return that help to my family and community when the opportunity presented itself."
But it's not in Ford's nature to sit around and wait for opportunity. He goes out and creates it.
In his first teaching job, in inner-city Austin, he started a "Gentleman's Club," to coach young men in handling the responsibilities of adulthood. In his second teaching job, in Virginia, he founded an organization, called Diaspora, to educate African-American students about their heritage and help them navigate the many issues they faced as African-American kids growing up in the United States.
Even during his years at Weil, Ford was a leader in building and serving communities. He was a founding member of the Black Lawyers Achieving Success Together (BLAST) at Weil, which has grown to include 6 partners and 31 associates. And in 2005, after six months on loan to the Legal Aid Society for pro bono work, he won the Pro Bono Lawyer of the Year Award from the Dallas Volunteer Attorney Program.
Barriers, Obstacles and Lessons
Ford is grateful that life lessons have taught him, and that his parents instilled in him a deep sense of "the responsibilities associated with becoming a man." For Ford, that means his family and household come first. Second comes his passion for serving the people of the state of Nevada.
"As a husband and father, my goals for my family are safety, security and an opportunity to prosper," Ford said. "As a public servant, my goals for my larger family of Nevadans is the same: to represent and be the attorney for the people, ensuring their safety, security and opportunity, while protecting them against those who might do them harm."
In delivering on that promise, Ford brings a great deal of professional experience (five advanced degrees, two clerkships, a law firm partnership, and a senate leadership position). But just as important are his life lessons about the barriers and obstacles that life sometimes places in the way of those striving to serve and inspire.
Back in 2004, Ford was at a private firm, practicing school law and public law (his areas of specialty in his J.D. and Ph.D. programs), when a family friend encouraged him to apply for a position in Weil's Dallas Office. Ford knew that Weil could help him hone his litigation skills and perfect many technical aspects of practicing law.
"Ralph Miller pretty much hired me on the spot," Ford said. "And once I joined the team, I bonded immediately with partners Ray Guy and Glenn West, who mentored and coached me through both personal and professional challenges over next three years."
But just one week into his tenure at Weil, one of those unexpected life obstacles crossed his path. On a casual Friday, the firm was having a mixer event at a restaurant across the street. Ford headed to the event in the company of a Weil partner. But the doorman at the venue stopped Ford and refused him entry, claiming Ford was violating the dress code.
Mind you, several people had just entered in clothing similar to Ford's. And Ford himself had been to the venue with clients just the day before. He'd even paid the bill after that client reception. The inescapable conclusion was that Ford was being refused on racial grounds.
The Weil partner demanded to see the manager, read him the riot act, and escorted Ford into the party.
"Being defended by a partner spoke volumes about the environment I had just been accepted into, and how I was going to be able to progress and prosper at Weil Gotshal," Ford said. "Moreover, when it came to BAAG and other initiatives, Glenn West understood the importance of inclusion and diversity. Never once did he say 'no' to the events and programs we requested. He made certain that we all felt we could succeed at Weil Gotshal, and I will be forever grateful to him for that. Likewise, for the opportunity to do pro bono work in the community. At Weil, we put our money where our mouth was, and it's a valuable lesson I still carry with me."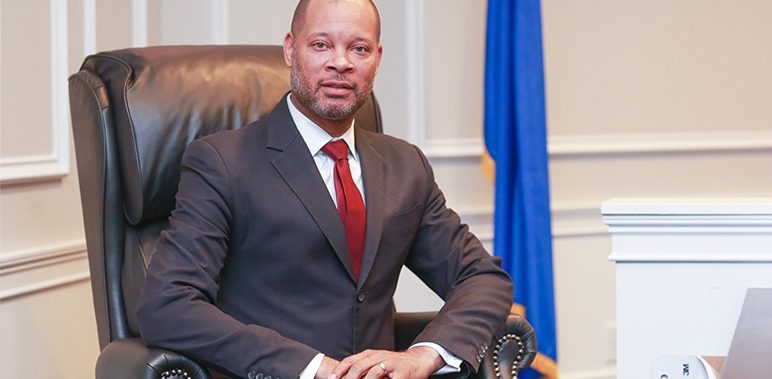 A Seat at the Head of the Table
It's a kind of mantra for Ford—putting your money where your mouth is.
"I remind myself all the time to speak truth to power, even from your position of power," Ford said, "because too many people achieve positions of power and then shy away from utilizing their position to effectuate change." That dedication to change, and support for his community, can be seen in Ford's sponsored legislation, from a small business loan program for businesses owned by minorities, women and the disadvantaged, to strengthening cybersecurity, to protections for Internet privacy.
And for aspiring public servants (especially those who may be struggling with cynicism about the possibilities of a career in public service) Ford has two thoughts.
The first is that leadership demands that you work with those who don't share your point of view. "The legislature is one big household," Ford said. "You can draw lots of analogies between how you interact with the people you live with and the folks that you work with. It begins with listening. The cliché is that you have two ears and one mouth. So you should listen twice as much more than you talk."
Ford said that his ability to listen, and to admit he does not know everything about every issue, are the keys to his ability to compromise.
The second is that it's impossible to achieve progress (or even balance) in the realm of policy if you're not at the table.
"If you have concerns and questions about our political and justice systems, then who better to help effectuate changes in that system than you, and you particularly," Ford said. "If you leave the opportunity for somebody who is not like you, who thinks differently than you do, who may be just the opposite of you, then they end up effectuating their form of change. And that may lead us down a perilous path, instead of a prosperous one."
Aaron Ford
Nevada State Senator (District 11); Senate Majority Leader; candidate for Nevada Attorney General
Born:
Dallas/Oak Cliff
Undergrad:
Texas A&M (B.A.)
Grad:
George Washington Univ. (M.A.); Ohio State Univ. (M.A., J.D., Ph.D.)
Clerkships:
Hon. Denise Page Hood — E.D. Mich;
Hon. Johnnie B. Rawlinson — 9th Circuit
Weil Office:
Dallas (2004-2007)
Practice Areas:
School & public law; commercial litigation; consumer protection
Passions:
Family, Faith, Mentorship, Travel