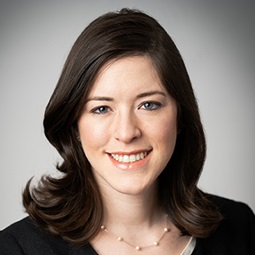 Sarah Sternlieb is a senior associate in Weil's Appeals and Strategic Counseling and Complex Commercial Litigation practices. She focuses on litigating complex disputes in state and federal trial and appellate courts, including the U.S. Supreme Court.
Sarah has experience at all phases of litigation, including developing litigation strategy, drafting motions, overseeing discovery, preparing for and first-chairing depositions, drafting dispositive trial briefs, appellate briefs, amicus briefs, Supreme Court petitions and merits briefs, and arguing appeals and dispositive motions. She has worked on cases involving patent, securities, contract, antitrust, employment, and bankruptcy claims, among others. Among her notable experience, Sarah successfully argued an appeal before the Eleventh Circuit, securing a reversal for her client in a religious freedom case, and upon remand, successfully argued against summary judgment, permitting her client's First and Eighth Amendment claims to proceed to trial.
Sarah's other recent experience includes serving on Weil teams representing:
A financial services company in an antitrust action in the Southern District of Texas defending against claims under the Sherman Act and state consumer protection statutes.   
Sanofi in Federal Circuit and Supreme Court appeals relating to insulin formulations and insulin delivery devices, including argument in the Federal Circuit.
Sterling Jewelers and its affiliates in multiple high-profile appeals raising important class certification issues, including a Rule 23(f) petition to the Second Circuit in a securities fraud class action, and an appeal relating to an employment class arbitration.
Fusion Cloud in multiple appeals arising from its chapter 11 bankruptcy filing.
North American Concert Promoters Association in a rate-court proceeding in the S.D.N.Y. to determine live performance royalty rates.
People.ai in a patent-eligibility appeal before the Federal Circuit relating to the invalidation of several patents.
Prior to joining Weil, Sarah served as a law clerk for Judge Jill Pryor of the U.S. Circuit Court of Appeals for the Eleventh Circuit. She also worked in the litigation and appellate practices at other well-known international and U.S. law firms, where she focused on a broad range of disputes, including a significant antitrust multi-district litigation, shareholder class actions, bankruptcy litigation, and patent and IP licensing disputes.
Sarah is actively involved in Firm and other professional organizations. She currently serves as chair of the UJA Young Lawyers Leadership Committee. Sarah has been published in a variety of publications, including Slate and the Emory Law Journal.
Sarah received her J.D. from Emory Law School in 2013, where she graduated with honors and as a member of Order of the Coif. During law school, she served as Executive Managing Editor of the Emory Law Journal, was a teaching assistant for Advanced Legal Writing, and won the Outstanding Brief Award during the 2011 Moot Court Society 1L Competition. Sarah received her B.A. from the University of Virginia in 2009.