Biography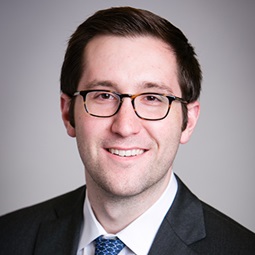 Phillip Grudzina is an associate in Weil's Technology and IP Transactions practice and is based in New York.
Phillip
 participates in the representation of Firm clients in a variety of matters relating to the licensing, acquisition, development, sale, use and commercial exploitation of intellectual property and technology.
Phillip has been part of the teams advising on the technology and intellectual property aspects, as well as on the data privacy and cybersecurity aspects of the following matters:
Advent International in its approximately $1.5 billion acquisition of Encora Digital Inc.; its acquisition of Definitive Healthcare, LLC; its acquisitions of Clearent Corp. and FieldEdge and the simultaneous merger of the two companies; the acquisition by its affiliate AI Beauty Holdings of bareMinerals, BUXOM and Laura Mercier (collectively, n/k/a Orveon); its sale of The Coffee Bean & Tea Leaf; Serta Simmons Bedding LLC's merger with Tuft & Needle; and Noosa Yoghurt, LLC's merger with Sovos Brands.
American Securities in its acquisition of certain assets and liabilities related to the engineering, procurement and construction division of Swinerton Builders and Swinerton Renewable Energy (collectively n/k/a SOLV Energy LLC) and its sale of a majority stake in Ulterra Drilling Technologies, L.P. to Blackstone Energy Partners, with American Securities retaining a minority equity interest.
Antin Infrastructure Partners in its acquisition of FirstLight Fiber and FirstLight Fiber's acquisition of Maine Fiber Company.
Avista Public Acquisition Corp. II, a SPAC sponsored by Avista Acquisition LP II (an affiliate of Avista Capital Holdings), in its pending $850 million business combination with OmniAb, Inc.
AxiomSL Group, Inc. in the sale of a controlling stake to Thoma Bravo by AxiomSL's founder, TCV and certain other investors.
Berkshire Partners, together with TPG Growth and other investors, in a $275 million investment in Precision Medicine Group, Inc.
Blackstone in its investment in Vectra AI, Inc.
Bollé Brands, Inc. (a portfolio company of A&M Capital Advisors Europe) in its take-private of SPY Inc.
Cornell Capital Partners in its acquisitions of INW Manufacturing LLC and kdc/one Development Corporation Inc. (kdc/one); the business combination of kdc/one and HCT Group Holdings Limited; the acquisition by INW Manufacturing LLC of Capstone Nutrition; and kdc/one in an investment by KKR and its acquisitions of Aerofil Technology, Inc. and Zobele Holding S.p.A.
CoStar Group, Inc. in its $450 million acquisition of STR, Inc. and its $190 million acquisition of Ten-X, LLC.
Discovery, Inc. in its joint venture with Magnolia, the home and lifestyle brand led by Chip and Joanna Gaines, in the formation of the Magnolia Network. 
EQT Partners and its portfolio company tianSivantos Pte. Ltd. (n/k/a WS Audiology A/S) in its acquisition of Clearwater Clinical Limited.
Genstar Capital, together with TA Associates, in the acquisition of Orion Advisor Solutions and the simultaneous acquisition of Brinker Capital.
Getty Images Inc. in its approximately $4.8 billion business combination with CC Neuberger Principal Holdings II, a SPAC formed by a partnership of CC Capital and Neuberger Berman.
Goldman Sachs Merchant Banking Division in its acquisition of Restaurant Technologies, Inc.
Gores Holdings II, a SPAC sponsored by an affiliate of The Gores Group, in its transaction with Verra Mobility Corporation, with an initial enterprise value of approximately $2.4 billion.
Gores Holdings V, Inc., a SPAC sponsored by The Gores Group, in its $8.5 billion business combination with Ardagh Metal Packaging S.A.
Gurnet Point Capital in its up to $504 million take-private of Corium International, Inc.
H&R Block, Inc. in its $405 million acquisition of Wave Financial Inc. 
Hayfin Capital Management, together with EW Healthcare Partners, in a $100 million convertible preferred equity investment in MiMedx Group, Inc. and Hayfin, as lender, in the concurrent provision of $75 million term facilities for MiMedx.
iContracts, Inc. (at the time a portfolio company of Susquehanna Growth Equity) in its sale to RLDatix Ltd. 
InfraRed Capital Partners in its $396 million sale of a majority stake to Sun Life Financial Inc.
Irving Place Capital and its portfolio company, Pet Supplies Plus/U.S.A. (PSP), in the sale of PSP to Sentinel Capital Partners.
J.C. Flowers in its acquisition of Jefferson Capital Systems, LLC.
JPMorgan Chase in its acquisition of The Infatuation, Inc.
KIK Custom Products, Inc. (a portfolio company of Centerbridge Partners) in its acquisition of NC Brands LP (f/k/a Natural Chemistry).
The Kroger Company in its $2.15 billion sale of its convenience store business unit to EG Group. 
Marquee Raine Acquisition Corp., a SPAC sponsored by an affiliate of The Raine Group LLC and Marquee Sports Holdings SPAC I, LLC, in its $1.2 billion business combination with Enjoy Technology, Inc.
Montagu Private Equity in its $490 million acquisition of the original equipment manufacturing (OEM) and tissue processing businesses of RTI Surgical, Inc. and Nemera US Holding in its acquisition of Insight Product Development, LLC.
MSP Recovery, LLC in its $32.6 billion business combination with Lionheart Acquisition Corp. II, a SPAC sponsored by Lionheart Equities.
Nexeo Solutions, Inc. in its $2 billion sale to Univar Inc. and its $640 million sale of Nexeo Solutions Plastics to One Rock Capital Partners.
OMERS Private Equity in its acquisition of TurnPoint Services.
Paycor, Inc. in its sale to Apax Partners.
Providence Equity Partners in its acquisitions of TimeClock Plus, a majority stake in n2y, LLC and a minority stake in Seesaw Learning, Inc.
PSG in its acquisitions of Chatmeter, Inc. and a majority stake in Singlewire Software, LLC; the sale of its controlling interest in Tribute Technology Holdings, LLC; and ThreatConnect, Inc. in its acquisition of Nehemiah Security LLP.
PSP Investments as a participant in a $390 million investment in Grail, Inc.
Quest Diagnostics Inc. in its pending acquisition of the U.S. laboratory services business of Oxford Immunotec Global PLC.
QuickChek Corporation in its $645 million sale to Murphy USA.
SiriusXM in its acquisitions of 99% Invisible Inc., Cloud Cover Music and Stitcher.
SoftBank Vision Fund, together with Toyota Motor Corporation and DENSO Corporation, in a $1 billion investment in the Advanced Technologies Group of Uber Technologies Inc. 
Susquehanna Growth Equity and Accel Partners in their acquisition of XebiaLabs, Inc.
Susquehanna Growth Equity and its portfolio company Real Capital Analytics, Inc. in its $950 million sale to MSCI Inc.
Takata Corporation in its $1.6 billion sale in bankruptcy of substantially all of its assets to Key Safety Systems, Inc. (a subsidiary of Ningbo Joyson Electronic Corp.).
TCV in its acquisition of a minority stake in Sojern Inc.
Thomas H. Lee Partners in its sale of a majority stake in Juvare, LLC and Intermedix Corporation in its $460 million sale to R1 RCM Inc.
Tianjin Zhonghuan Semiconductor Co., Ltd. (TZS) as sponsor in the approximately $1 billion sponsored spin-off of Maxeon Solar Technologies, Ltd with TZS investing $298 million for an approximately 29% stake in Maxeon.
TPG Global in the acquisition by TPG Pace Holdings Corp., a SPAC sponsored by TPG Pace Group, of the stock of Accel Entertainment, Inc., with the resulting entity having an enterprise value of approximately $884 million.
TPG Growth, as lead investor, in a $300 million investment in MX Technologies, Inc.
TPG Pace Solutions Corp., a SPAC sponsored by TPG Pace Group, in its $4.5 billion business combination with Vacasa LLC.
TPG Tech Adjacencies, as lead investor, in a $300 million investment in Age of Learning, Inc.
Trive Capital in its sale of Southern Towing Company, LLC.
Phillip received his J.D. from Northwestern University School of Law, and his L.L.B. and B.A. from Emory University.
Firm News & Announcements
Firm News & Announcements