Biography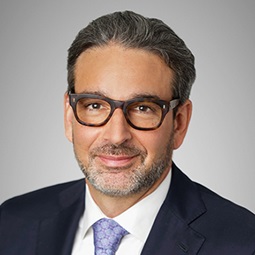 Danek Freeman is a partner in Weil's Banking and Finance practice and is based in New York.
Danek regularly advises leading financial institutions and direct lenders in a wide range of domestic and cross-border financing transactions, including leveraged and investment grade acquisition financings, syndicated lending, and private debt financings. His practice also includes margin loan financing and stressed and distressed credit transactions, including rescue financings, loan sales and DIP financings.
Financial institution clients represented by Danek include Citigroup, Capital One and Bank of America. Direct lender clients include Apollo Global Management, Brookfield Asset Management, Carlyle Global Credit, Highbridge Capital, Guggenheim Partners and PSP Investments.
Experience
Alaska Air Group, Inc., parent of Alaska Airlines, Inc., in a $1.928 billion senior secured term facility under the CARES Act, to maintain liquidity during a prolonged national health emergency
Citi, as administrative agent, in a $1 billion amended senior unsecured multicurrency revolving facility for Howmet Aerospace Inc.
Citi, as administrative agent, joint lead arranger, and bookrunner, in a $1.5 billion senior unsecured revolving facility for Howmet Aerospace Inc. to finance Howmet's spin-off from Arconic Inc. (formerly the downstream manufacturing segment of Alcoa, Inc.) as one of two stand-alone, publicly traded companies, the other being Arconic Corporation
Citi in a $400 million secured multicurrency revolving facility and further $200 million incremental commitment for Livent Corporation and FMC Lithium USA Corp. (at the time subsidiaries of FMC Corporation) to finance their spin-off from FMC and Livent Corporation's commencement of operations as a publicly traded corporation
Citi, as administrative agent and lead arranger, in $1.2 billion senior secured credit facilities for Allison Transmission, Inc.
J.P. Morgan, as sole lead arranger and administrative agent, in a $5 billion senior unsecured revolving credit facility for Microsoft Corporation
Citi, as lead arranger and administrative agent, in connection with a $3 billion revolving credit facility for Arconic Inc.
Campbell Soup Company in a $1.2 billion senior bridge facility to finance its $6.1 billion acquisition of Snyder's-Lance, Inc.
HNA Group Co. Ltd. in a senior secured term facility to finance its $6.5 billion acquisition of a 25% stake in Hilton Inc., Park Hotels & Resorts Inc. and Hilton Grand Vacations Inc. (collectively, f/k/a Hilton Worldwide Holdings Inc.)
Capital One N.A., as agent, in $2.15 billion senior secured facilities to finance the $1.8 billion acquisition by Meredith Corporation of Time Inc. and related debt refinancing
Guggenheim Partners, as secured lender and equity holder, in connection with the chapter 11 cases and in its sale of BCBG Max Azria Group, Inc. to Global Brands Group Holding Ltd. and Marquee Brands LLC
Morgan Stanley in providing committed bridge financing for BGC Partners Inc. in its $675 million hostile offer for rival GFI Group
Citi, as sole arranger, in the fully committed bridge facility for FMC Corporation to finance its $1.8 billion acquisition of Cheminova A/S
Apollo Global Management and Guggenheim Partners, as lenders, in $285 million first lien credit facilities for Alion Science and Technology Corporation, a provider of engineering, information technology, naval architecture, and operational solutions for defense, civilian government and commercial industries
Danek is recognized as a "Highly Regarded" lawyer for Banking in the U.S. by IFLR1000.
Awards and Recognition, Firm News & Announcements
Firm News & Announcements