Biography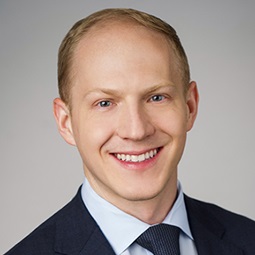 Barrett Schitka is counsel in Weil's Private Equity practice and is based in New York. Barrett focuses on mergers and acquisitions for large and middle market private equity funds and their portfolio companies on a broad range of U.S. and international corporate transactions and commercial matters across numerous industries, including life sciences, information technology and industrials. He is experienced in a variety of merger and acquisition transactions, including LBOs, carve-outs, divestitures, joint ventures and other investments throughout a company's capital structure.
In addition, Barrett has considerable experience advising clients in the acquisition and divestiture of upstream oil and gas assets (including acquisitions and divestitures out of bankruptcy), the formation of joint ventures and other oil and gas industry transactions and agreements.
Barrett's representative clients include Blackstone, Cerberus Capital Management, CVC Capital Partners, KKR and One Equity Partners.
Barrett has been part of the teams advising:*
Advent International in its $6.4 billion acquisition of Maxar Technologies.
The Kroger Company, along with The Albertsons Companies, Inc., in the approximately $1.9 billion sale of 413 stores, as well as select banners, distribution centers, offices and private label brands, to C&S Wholesale Grocers, LLC in connection with Kroger's proposed merger with Albertsons Companies Inc.
Apollo Global Management and its portfolio company Parallel Infrastructure LLC in Parallel's sale to Harmoni Towers (a portfolio company of Palistar Capital).
EQT Partners in its strategic investment in United Talent Agency and its approximately $1.7 billion take-private acquisition of Billtrust.
CVC Capital Partners, as the lead investor in a consortium that includes Providence Equity Partners, PSG and Ridgemont Equity Partners, in the business combination of GlobalTranz Enterprises, Inc. with Worldwide Express, Inc.
A large cap private equity sponsor in its acquisition of a clinical trial services company.
Cerberus Capital Management in the acquisition by one of its affiliates of National Dentex Labs.
Cerberus Capital Management and Covis Pharma in the sale of Covis Pharma to funds managed by affiliates of Apollo Global Management.
Susquehanna Growth Equity in its $180 Million Series A Investment in Muck Rack.
National Dentex Labs (a portfolio company of funds affiliated with Cerberus Capital Management) in its acquisitions of Dental Services Group and Dynamic Dental Solutions.
One Equity Partners in its investment by one of its affiliates in Computer Design and Integration, LLC.
Computer Design and Integration, LLC in a number of acquisitions, including Candoris Technologies, LLC, Plan B Technologies, Inc., P5 Solutions, Inc., High Availability Storage Systems, Inc., and Clearpath Holdings, LLC.
Sterling Investment Partners in an investment in AIMS Companies (AIMS), in partnership with AIMS' management.
A middle market private equity sponsor in its investment in a custom manufacturing company.
COERT Holdings 1 in its Section 363 acquisition of the Enduro Royalty Trust assets and interests from Enduro Resource Partners.
KKR/Venado Oil & Gas, LLC in the acquisition of operated assets in the Eagle Ford oil window of South Texas from Texas American Resources Company I, LLC.
HarbourVest Partners, L.P., as part of a consortium, in a joint venture and drilling program with W&T Offshore, Inc. to drill up to 14 specified projects in the Gulf of Mexico.
HG Energy II Appalachia, LLC in its exchange transaction with CNX Resources Corp. and CNX Midstream Partners LP.
A large global investment fund in the formation of drilling participation arrangement with SandRidge to develop up to $200 million of wells in the NW STACK play.
EQT Production Company in its $527 million acquisition of Stone Energy Corporation's Marcellus and Utica Shale assets out of bankruptcy.
Samson Resources Corporation in six simultaneous asset sales, with an aggregate purchase price of $650 million, during its Chapter 11 restructuring.
Alta Marcellus Development, LLC, a wholly owned subsidiary of Alta Resources Development, LLC, in its $1.24 billion acquisition of operated and non-operated upstream assets and operated midstream assets in the Marcellus Shale of north-central Pennsylvania from Anadarko Petroleum Corp.
Anadarko Petroleum in a $2.1 billion acquisition of Gulf of Mexico Assets.
BCE-Mach, LLC in the acquisition of Repsol E&P USA Inc.'s producing properties in Oklahoma and Kansas.
Barrett's writings have been published in the McGill Law Journal and the Journal of World Energy Law & Business.
Prior to joining Weil, Barrett was a Corporate associate at another international law firm.
Barrett received his J.D., magna cum laude, Order of the Coif and Order of the Scribes, from the University of Houston Law Center, where he served as the Editor in Chief of the Houston Journal of Health Law and Policy, and his J.D. from the University of Calgary Faculty of Law, where he made the Dean's List and served as the Editor in Chief of the Alberta Law Review. He received his B.A. in Spanish and his B.A.Sc. in Chemical Engineering from the University of Waterloo.
Barrett is fluent in Spanish.
*Includes matters handled prior to joining Weil.
Awards and Recognition, Speaking Engagements, Guides and Resources, Latest Thinking, Firm News & Announcements
Firm News & Announcements