November 08, 2023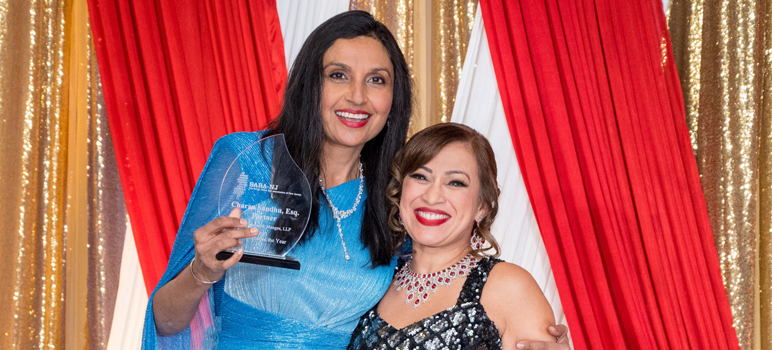 Technology & IP Transactions Co-Head Charan Sandhu has received two prominent honors from the New Jersey and New York chapters of the South Asian Bar Association of North America, showcasing her commitment and leadership as a long-standing member of Weil's Pro Bono Committee and Co-Head of the Asian Attorneys@Weil (AAW) affinity group.  
Charan was recognized with SABA-NJ's 2023 "Trailblazer Award" at its Ninth Annual Gala in Somerset, New Jersey on October 26. The SABA-NJ Board chose Charan for her outstanding legal achievements and contributions to the chapter and its members.
"We are very pleased to honor Charan this year. She truly is a trailblazer and her contributions to the law and the South Asian community are countless. She continues to set an excellent example of an incredible leader and lawyer," said Rippi Karda, president of SABA-NJ.
She was likewise honored with this year's "Corporate Leadership Award" from SABANY at the organization's 2023 Leadership Awards Gala in New York on September 26. The award honors "an attorney who demonstrates extraordinary leadership and achievement in their corporate business or in-house practice."
In her remarks to SABANY, Charan expressed her gratitude: "The best award you can receive in life is the one given to you by your brothers and sisters."
She also asked the community to "speak up and stay engaged" in 2024.
"When you are in rooms where people take positions that are contrary to equality and justice, speak up. The world needs your views in wide circulation," she said.
With 30 chapters throughout the United States and Canada, the South Asian Bar Association of North America seeks to strengthen the rapidly growing South Asian legal community with a recognized and trusted forum for professional growth and development, while promoting civil rights and access to justice for the South Asian community.