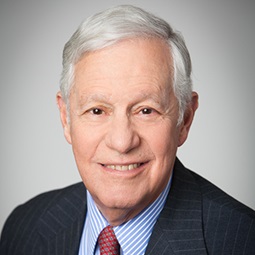 Robert G. Sugarman retired from the partnership in 2008. He was a partner in the New York office and was a member of the Litigation group, specializing in intellectual property and First Amendment matters.
Robert litigated significant cases in the libel, privacy, copyright, trademark, trade dress, unfair competition, and false advertising areas.
As Senior Pro Bono Counsel to the Firm, he is among the attorneys representing the East End Eruv Association in an important religious freedom litigation.
For many years, Robert was the co-author of the New York chapter of the annual Fifty State Survey, published by the Libel Defense Resource Center. He authored the chapter on "Intellectual Property" in Masters of Trial Practice, published by Wiley Law Publishers, and has written numerous articles on various subjects dealing with litigation of intellectual property matters. He is a longtime fellow of the American College of Trial Lawyers.
He is the immediate past Chairman of the Conference of Presidents of Major American Jewish Organizations and was the National Chair of the Anti-Defamation League from 2009 to 2012. Robert is a past President of Hillel of New York and served as a member of the executive committee of the Lawyers Division of UJA/Federation of New York.