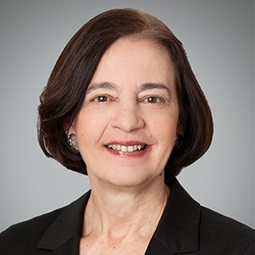 Kim Blanchard retired from the partnership in 2022. She was a partner in Weil's Tax Department and was based in New York. Kim's practice encompassed a variety of largely international transactions involving corporate acquisitions and mergers, internal restructurings, business formations and joint ventures. Kim also advised domestic, foreign and multinational clients in connection with venture capital investment and fund formation, partnerships, real estate, executive compensation and exempt organization issues.
Kim lectured and published extensively on topics ranging from international tax planning for U.S. businesses to the special tax issues facing foreign persons, pension plans and other exempt investors who invest in U.S. private equity partnerships and in U.S. real estate.
Kim was consistently recognized as a leading Tax lawyer by Chambers USA, Chambers Global, Legal 500 US, International Tax Review's World Tax, Best Lawyers in America and The Best of the Best USA. Kim was ranked Band 1 in Chambers USA, where clients noted that she was "very smart, very knowledgeable…an expert on the cutting edge of international tax thinking." She was also listed in the International Tax "Hall of Fame" by Legal 500 US, where clients noted she "is brilliant and consistently provides quite reasonable and outstanding advice." Kim was awarded the Leonard Silverstein Lifetime Achievement Award by Bloomberg Tax and Accounting in 2020. She was also recognized as an expert in Tax by Expert Guides' "Women in Business Law" and as a "Highly Regarded" lawyer and a "Tax Leading Advisor" in New York by International Tax Review's World Tax. Kim was recognized as the 2019 "Lawyer of the Year" by Best Lawyers in America for the area of Tax Law in New York City and named among the 2019 Top 30 "Best of the Best" attorneys for Tax by Legal Media Group. She has been recognized for Tax by Super Lawyers 2006 – 2019 and was named among 2015 "Top Women" for Tax in New York by Super Lawyers. In addition, Kim was named "Lawyer of the Year" for Tax at Who's Who Legal Awards 2020, a "Global Elite Thought Leader" for North America in Who's Who Legal's Corporate Tax 2020 – Advisory, a "Most Highly Regarded" lawyer by Who's Who Legal: The International Who's Who of Corporate Tax 2012 and was named "Best in Tax" at Euromoney Legal Media Group's Women in Business Law Awards in 2020 and 2013.
Kim is a former Chair of the New York State Bar Association Tax Section. She has been active with the American Bar Association's international tax committees and is a member of both the Tax Forum and the Tax Review paper and discussion groups. Kim is a past President of the International Tax Institute. She is the author of the Tax Management Portfolios on PFICs and the International Tax Aspects of Partnerships. Kim has served on several nonprofit boards, including the American Indian College Fund and the Girl Scouts of Greater New York. In April 2019, Kim was honored at the American Indian College Fund's 30th Anniversary Gala for impacting the lives of nearly 1,000 Native Americans in education by funding 500 student scholarships and contributing to the professional development of 400 tribal college and university faculty members.