Biography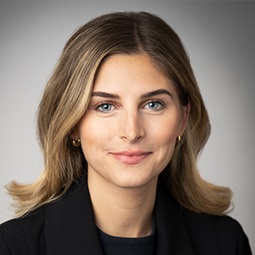 Daphne Papadatos is an associate in the Restructuring Department of Weil's New York office. Daphne has been actively involved in the Firm's representation of debtors across a broad range of industries, including retail, energy, and food service.
Daphne received her J.D. from Osgoode Hall Law School, where she served as a Senior Editor of the Osgoode Hall Law Journal, and her B.A. in International Development and English from McGill University.
Daphne has been a member of teams representing various parties in a number of in-court restructurings, including:
Debtor/Company-Side Experience:
Talen Energy Supply, LLC, a power generation and infrastructure company in North America, in its chapter 11 cases with approximately $5 billion in funded debt obligations.
Scandinavian Airlines, an airline holding company based in Sweden in connection with its restructuring efforts.
NPC International, Inc. and its debtor affiliates in their chapter 11 cases involving over $900 million of funded debt. NPC is America's largest franchisee company with over 1,600 restaurants across two iconic brands–Pizza Hut and Wendy's and more than 35,000 employees.
Exide Holdings, Inc. and it's affiliated debtors in their chapter 11 cases, pursuant to which Exide completed two going concern sale and separation transactions for its U.S. and European/Rest of World businesses (including the negotiation of long-term commercial arrangements among them) and also accomplished a first of its kind global settlement with the Department of Justice and more than 10 state regulators to resolve hundreds of millions of dollars of Exide's historical environmental liabilities at more than 20 dormant locations.
Fairway Group Holdings Corporation and its affiliated debtors, an iconic New York supermarket, in their prepackaged chapter 11 cases.
Creditor and Distressed Situation Experience:
An ad hoc group of secured lenders to Nordic Aviation Capital, the world's largest regional aircraft lessor, on bespoke restructuring transactions for multiple aviation financing structures implemented under pre-arranged U.S. chapter 11 proceedings, including a consensual remarketing and mortgage enforcement for certain financing arrangements.
Softbank, as majority equity holder and DIP lender in the chapter 11 cases of Katerra Inc., a provider of new build, construction, and renovation services.
Firm News & Announcements
Firm News & Announcements