Biography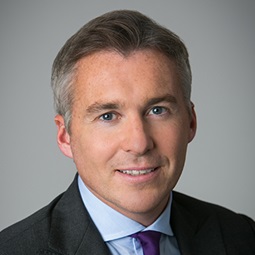 Damian Ridealgh is a partner in Weil's Banking & Finance practice and is based in New York. His practice focuses on advising private equity sponsors, credit funds and other financial institutions in complex U.S. and European financings covering acquisitions, leveraged buy-outs, restructurings, fund financings and asset-based lending.
Recent Representations
Ashford Hospitality Trust, Inc. (AHT) in $450 million senior secured term facility commitments for Ashford Hospitality Limited Partnership, the operating partnership of AHT.
Forest City Enterprises, L.P. (a subsidiary of Brookfield Properties (Brookfield Asset Management)) in an amended $1.2 billion senior secured term facility to reprice and refinance existing indebtedness.
Scripps Interactive Networks in the financing for its acquisition by Discovery Communications.
Walgreens Boots Alliance in the financing of its acquisition, together with KKR & Co. L.P., of PharMerica Corporation.
EQT Infrastructure in a $350 million first lien ABL revolving facility and in $325 million second lien secured notes to finance its acquisition of Direct ChassisLink Inc.
JAB Holding Company in $6.4 billion secured, multicurrency credit facilities to finance its acquisition of Keurig Green Mountain, Inc.
EQT Infrastructure in first and second lien senior secured multicurrency facilities to finance its acquisition of WASH Multifamily Laundry Systems, LLC and its subsidiary, Coinamatic Canada Inc.
Angelo, Gordon & Co. in senior secured credit facilities for the Claire's Stores, Inc. group (a portfolio company of Apollo Global Management).
GSO Capital Partners (n/k/a Blackstone Credit) in its debt financing of The Giant Cement Group.
BlueMountain Capital in its financing of a sponsor-owned healthcare company.
A major financial institution in senior secured facilities for Valitás Health Services, Inc., Corizon Health, Inc. and Corizon LLC (portfolio companies of Beecken Petty O'Keefe & Company).
Blackstone Tactical Opportunities Fund (an affiliate of The Blackstone Group) in its strategic investment in, and financing of, The PMI Group, Inc.
Brookfield Asset Management in $4.25 billion bridge, term and revolving facilities to finance in part its $11.4 billion acquisition of Forest City Realty Trust Inc. (n/k/a Brookfield Properties)
Hyperion Insurance Group Limited (a portfolio company of General Atlantic) in its $750 million term facility and £85 million revolving facility to finance its acquisition of R K Harrison Holding Limited.
Ad Hoc Group of Lenders to Energy & Exploration Partners in a senior secured debtor-in-possession term facility to finance Energy & Exploration Partners, LLC during its bankruptcy proceedings.
Tailwater Capital, as, together with EIG Global Energy Partners, a sponsor of Southcross Holdings LP (c/k/a Southcross Energy), in senior secured debtor-in-possession facilities to finance Southcross during its bankruptcy proceedings.
CFG Holdings Ltd (Cayman Islands) in an asset-based revolving facility to finance its consumer lending business.
Damian is recognized as a "Notable Practitioner" for Banking in the U.S. by IFLR1000.
Damian joined Weil in September 2014 from another major international law firm, where he was a partner in the New York office and led the U.S. Banking Group. He is qualified as a U.S. lawyer and an English solicitor and worked in London until 2003, when he moved to New York to join a large New York-based law firm, where he made partner in 2007.
Awards and Recognition, Firm News & Announcements
Damian Ridealgh Recognized as a "Notable Practitioner" for Banking in the U.S.

Award Brief — IFLR1000
Firm News & Announcements