Biography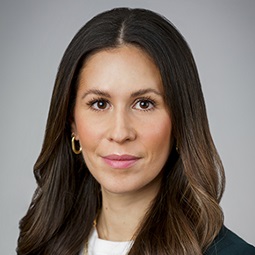 Andriana Georgallas is a partner in the Restructuring Department at Weil, Gotshal & Manges LLP. Andriana advises debtors, creditors, equity holders, and other interested parties in domestic and international restructurings, distressed asset sales, distressed financings, liquidations, and liability management transactions. Her engagements have spanned various industries, including financial services, pharmaceutical, logistics, maritime, real estate, grocery, energy, oil & gas, digital marketing, beauty, fitness, manufacturing, infrastructure, and retail.
Most recently, Andriana was named an "Emerging Leader" by The M&A Advisor (2023) and a "Rising Star" for Bankruptcy by Law360 (2023).  Andriana has participated on panels addressing domestic and cross-border restructurings and has contributed to a number of publications on a range of related topics. She is an active mentor to students and alumni of Baruch College and St. John's Law as part of the Baruch Pre-Law Mentorship Program and the St. John's Alumnae Leadership Council and previously served as a teaching assistant to Harvey R. Miller at Columbia Law School and as a member of the Board of Directors of the St. John's Law Alumni Association. Andriana received her J.D., magna cum laude, from St. John's University School of Law, where she was awarded a full scholarship as a St. Thomas More Scholar and was editor-in-chief of the St. John's Law Review.
In her pro bono practice, Andriana has been focused on helping individuals with naturalization—through HIAS, Legal Services NYC, and the City Bar Justice Center.  Prior to that, Andriana partnered with the Volunteers of Legal Service Elderly Project to prepare wills, powers of attorney, and health care proxies and represented victims of Hurricane Sandy in obtaining FEMA relief.
Representative Experience
Debtor/Company Experience:
Arcade Beauty, a leading global beauty company providing both retail and sampling solutions, in connection with its out-of-court recapitalization that received support from 100% of its lenders and shareholders, extinguished a substantial amount of debt, and provided the company with a new capital infusion
iFIT Health & Fitness Inc, a global leader in connected fitness and interactive content with an extensive portfolio of iFIT and Sweat streaming platforms and iconic equipment brands such as NordicTrack, in connection with a $355 million capital raise and restructuring of hundreds of millions of other Company obligations
Sporting goods manufacturer and distributor in connection with liability management initiatives
RentPath Holdings, Inc. and its affiliates, one of the nation's largest apartment rental and digital marketing solutions companies with approximately $700 million in debt, in connection with their prearranged chapter 11 cases and sale to Redfin Corporation for $608 million
syncreon Group Holdings B.V., and its affiliates, in its groundbreaking, cross-border balance sheet restructuring involving approximately $1.1 billion of funded debt, including the chapter 15 case of syncreon Automotive (UK) Ltd. syncreon, a leading global logistics services provider, operates across 120 facilities in 19 countries on 6 continents. syncreon's restructuring proceeded through an English scheme of arrangement pursuant to the Companies Act 2006 and further involved ancillary processes in the United States and Canada. syncreon's restructuring was recognized as the 2020 International Company Transaction of the Year by the Turnaround Management Association
Tops Supermarkets, a regional supermarket chain with approximately 14,000 employees and $1 billion in debt, in its chapter 11 restructuring
Southeastern Grocers, LLC, one of the largest supermarket chains in the United States, in its prepackaged restructuring of more than $1 billion in debt
Tidewater Inc. and its subsidiaries, providers of offshore service vessels and marine support services to the global offshore energy industry, in their $2 billion prepackaged chapter 11 cases
Westinghouse Electric Company LLC and its affiliates, a globally recognized nuclear power company, in its chapter 11 cases involving liabilities in excess of $9 billion
Fairway Group Holdings and its subsidiaries, an iconic New York supermarket, in their prepackaged chapter 11 cases, which was recognized as the 2017 Consumer Staples Deal of the Year (over $100 million) by The M&A Advisor
SIGA Technologies, Inc., a biotech/pharmaceutical company that specializes in the development and commercialization of solutions for serious unmet medical needs and biothreats, in its chapter 11 case
The liquidating trust for Washington Mutual, Inc. (the parent holding company of Washington Mutual Bank, the subject of the largest bank failure in U.S. history) post-chapter 11
Sponsor/Creditor/Other Experience:
An ad hoc group of secured noteholders in connection with the prepackaged chapter 11 cases of Nautical Solutions, L.L.C., a provider of vessels for deep water projects
Non-Management Directors of Enjoy Technology, Inc., in connection with Enjoy's chapter 11 cases, sale to Asurion, and subsequent liquidation
An ad hoc group of lenders in the cross-border restructuring of KCA Deutag, a global drilling and engineering contractor, which was implemented through an English scheme of arrangement pursuant to the Companies Act 2006 and a chapter 15 recognition proceeding in the United States
Centerbridge Capital Partners and its affiliates, as sponsor, in the chapter 11 cases of CraftWorks Parent, LLC and its subsidiaries, a restaurant and brewery operator under names such as Logan's Roadhouse, Old Chicago, Rock Bottom, and Gordon Biersch
GE Capital US Holdings, Inc. and its affiliates, as owner, prepetition lender, and provider of debtor in possession financing, in the chapter 11 case of WMC Mortgage, LLC, a residential mortgage originator
The Official Committee of Unsecured Creditors in the chapter 11 cases of leading solar power company SunEdison, Inc.; listing assets of $20.7 billion and liabilities of $16.1 billion, SunEdison's chapter 11 filing was the largest bankruptcy of 2016
General Electric Company and its affiliates, as sponsor, in the prepackaged chapter 11 case of Homer City Generation L.P., a coal-fired, independent power production plant with $600 million in secured debt prior to its filing
An ad hoc group of lenders in the chapter 11 cases of Energy & Exploration Partners, LLC, an independent exploration and production company
Awards and Recognition, Speaking Engagements, Guides and Resources, Latest Thinking, Firm News & Announcements
Firm News & Announcements