Biography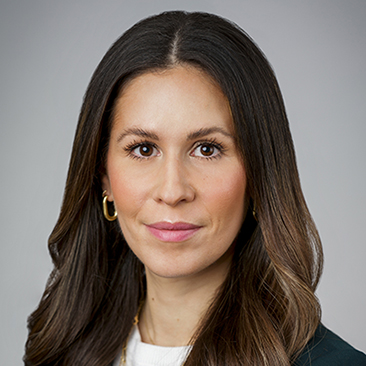 Andriana Georgallas is a partner in the Business Finance & Restructuring Department. Ms. Georgallas advises debtors, creditors, equity holders, and other interested parties in domestic and international restructurings, distressed asset sales, distressed financings, liquidations, and liability management transactions in a variety of industries, including the financial services, pharmaceutical, logistics, shipping, grocery, energy, media, and retail sectors.
Ms. Georgallas is a regular contributor to the Weil Bankruptcy Blog and participates in the Baruch Pre-Law Mentorship Program as a mentor. Ms. Georgallas served as a teaching assistant to Harvey R. Miller at Columbia Law School and as a member of the Board of Directors of the St. John's Law Alumni Association.
Prior to joining Weil, Ms. Georgallas clerked as an intern for the Honorable Joanna Seybert, United States District Judge for the Eastern District of New York, and for the late Honorable Robert Ross, New York Supreme Court Judge for Nassau County. Ms. Georgallas received a B.B.A., magna cum laude, from the Zicklin School of Business at Baruch College, where she was an accounting major, and was awarded scholarships as a Peter F. Vallone Merit Scholar and a Peter Sandick Memorial Scholar. She received her J.D., magna cum laude, from St. John's University School of Law, where she was awarded a full scholarship as a St. Thomas More Scholar and was editor-in-chief of the St. John's Law Review.
Ms. Georgallas' experience includes advising:
Debtor/Company Experience:
syncreon Group Holdings B.V., and its affiliates, in its groundbreaking, cross-border balance sheet restructuring involving approximately $1.1 billion of funded debt, including the chapter 15 case of syncreon Automotive (UK) Ltd. syncreon, a leading global logistics services provider, operates across 120 facilities in 19 countries on 6 continents. syncreon's restructuring proceeded through an English scheme of arrangement pursuant to the Companies Act 2006 and further involved ancillary processes in the United States and Canada
Tops Supermarkets, a regional supermarket chain with approximately 14,000 employees and $1 billion in debt, in its chapter 11 restructuring
Southeastern Grocers, LLC, one of the largest supermarket chains in the United States, in its prepackaged restructuring of more than $1 billion in debt
Tidewater Inc. and its subsidiaries, providers of offshore service vessels and marine support services to the global offshore energy industry, in their $2 billion prepackaged chapter 11 cases
Westinghouse Electric Company LLC and its affiliates, a globally recognized nuclear power company, in its chapter 11 cases involving liabilities in excess of $9 billion
Fairway Group Holdings and its subsidiaries, an iconic New York supermarket, in their prepackaged chapter 11 cases, which was recognized as the 2017 Consumer Staples Deal of the Year (over $100 million) by The M&A Advisor.
SIGA Technologies, Inc., a biotech/pharmaceutical company that specializes in the development and commercialization of solutions for serious unmet medical needs and biothreats, in its chapter 11 case
The liquidating trust for Washington Mutual, Inc. (the parent holding company of Washington Mutual Bank, the subject of the largest bank failure in U.S. history) post-chapter 11
Sponsor/Creditor/Lender/Other Experience:
GE Capital US Holdings, Inc. and its affiliates, as owner, prepetition lender, and provider of debtor in possession financing, in the chapter 11 case of WMC Mortgage, LLC, a residential mortgage originator
The Official Committee of Unsecured Creditors in the chapter 11 cases of leading solar power company SunEdison, Inc.; listing assets of $20.7 billion and liabilities of $16.1 billion, SunEdison's chapter 11 filing was the largest bankruptcy of 2016
General Electric Company and its affiliates, as sponsor, in the prepackaged chapter 11 case of Homer City Generation L.P., a coal-fired, independent power production plant with $600 million in secured debt prior to its filing
An ad hoc group of lenders in the chapter 11 cases of Energy & Exploration Partners, LLC, an independent exploration and production company
Awards and Recognition, Speaking Engagements, Guides and Resources, Latest Thinking, Firm News & Announcements
Firm News & Announcements