Brandy Treadway Feature Profile
March 2019
Letter to My Younger Self: Define Success on Your Own Terms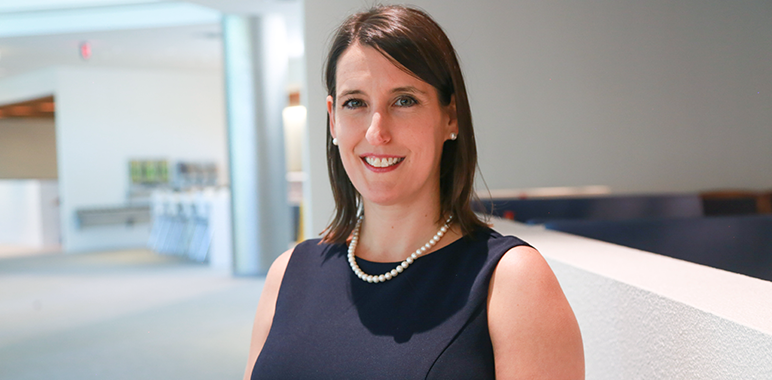 Brandy Treadway is Senior Vice President and General Counsel of JCPenney, and a Weil alumna. Brandy worked in Weil's Dallas and London offices. We asked her, at this point in her impressive career, to reflect on her accomplishments and share insights not just with our readers, but also with her younger self. As we all move through our careers, we gain wisdom that could have helped us, had we known it earlier in life. Brandy was gracious enough to share a few key lessons learned over her many years practicing law all over the world.
Dear Brandy,
Looking back on my career so far, there are two important lessons that I want to share with you, both of which have nothing to do with the law, and everything to do with how I grew into the person I am, and the professional role I now have.
The first is that I have always been motivated internally, and the second is that I have always loved learning. I relish learning new things, meeting new people, going to new places, exploring myself and the world around me. It's a passion I got from my mother and grandmother, actually, and it's something I work very hard to instill in my two daughters.
But first, let's talk about internal motivation. I have found that whenever I have myself to benchmark against, I do really well. Benchmarking myself against others isn't nearly as successful. Why? There will always be someone above you, or below you, to measure yourself against. Such comparisons inevitably leave you feeling better than, or less than, someone else. Yet, neither one is a true measure of who you are as a person.
The more important measure of your success, and happiness, is whether you feel good internally about what you are doing. I was a good student because learning was a natural love, not a means to an end. It wasn't just about getting good grades – it was something I truly enjoyed.
That's why I define success as an internal feeling. It's not something external. It's certainly not money, because if that's your motivation, then you will always go to the next place that offers you more money – rather than the place that offers you the better opportunity. For me, I feel successful when I have followed the more important opportunity, when I've done something worthwhile, when I've made a contribution, or helped someone, or learned something new.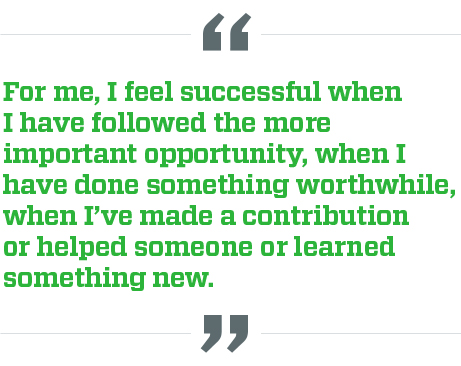 Nurture Your Love of Learning
In particular, I want to emphasize that a love of learning will open doors for you and make possible opportunities that you never could have imagined.
In both high school and college, to see more of the world, I spent extended periods studying in France. And then years later, this experience was essential in opening doors for me at Weil's London office: Because I spoke French, I was able to do deals with the Paris office, at times commuting weekly as a "frequent flyer" on the Eurostar train from London to Paris.
The experience was phenomenal, doing interesting work with amazingly talented people. I learned a tremendous amount about how cross-border deals are done – I got to work in France, Amsterdam and Munich. Even when I got back stateside, I continued seeking out international opportunities. In just one summer, I got to visit Japan three times, working on the Texas Instruments acquisition of Spansion.
My next adventure, after Weil, started when I got a call about a job at JCPenney. It was a chance to do hands-on work, in-house. Yes, it was something I had never done, but that is exactly why I took the job: not just to apply everything I had already learned, but to continue learning and growing.
At JCPenney, I started in the Corporate Securities group, but was promoted just a few years later to head up Legal Operations, where I was heavily involved in many new disciplines: marketing, IT, IP, open source, licensing, online retail and international buying. This new career trajectory has taken me across Asia – from India to China to Vietnam and Hong Kong.
Embrace this passion for new experiences and new knowledge. It will serve you well in building a happy life, and a rewarding career, one adventure at a time.
Many Mentors Can Teach You Many Things
On this lifelong journey, you will need to learn many things. And one of the most important lessons I can share with you is that if you are open, there is something you can learn from everyone around you.
Don't assume that only people above you have things to teach. As a lawyer, for example, you can and should learn from the partners. But you can learn from other associates, paralegals and even the night secretaries doing word processing. The best mentors I've had, and the ones I want to emulate, taught me that everyone can contribute something.
On the very first deal that I closed on my own at Weil – one of the Enron deals – I was flown to Florida with Peggy Jones, the Firm's senior real-estate paralegal. I was only a second-year associate, but I was the lawyer in charge, even as Peggy had decades more experience than me. So, when we had to redraft a pile of materials, I looked at Peggy and said, "What do you want to do?" The trip was a success, and the dynamic between us was wonderful, in part because I was completely appreciative of all that she had to teach me.
When I think of my very first mentor – my boss from my job before law school – I'm still inspired by the way she embraced her second career, working in nonprofit after retiring from AT&T. I still check in with her regularly, because I always love hearing what she's doing now. She's had a third, and now a fourth career, and to me that shows she's always learning.
I hope that when I'm in my 60s and my 70s, I'm still seeking out interesting work, making a contribution, and most of all: learning from everyone around me.
Take Care As You Pursue Your Dreams
If there were cautions to offer, I would say that you should be careful of trying to "do it all." If you have demonstrated a strong work ethic and people know they can depend on you, then you don't have to volunteer for every single committee assignment that comes your way, or take a leadership role in every single initiative that crosses your path. It's O.K. to step back and recharge, rather than always rushing in to fill the void. Looking back, I wish I had been able to tell myself: "You don't always have to do that. You can say no."
You should also know that no upward path is without setbacks. When I was promoted to Head of Legal Operations at JCPenney, I also became an officer of the company, as a Divisional Vice President. I was extremely proud of this achievement. But a few months later, I lost that divisional title after a corporate restructuring.
At that point I had to decide: Am I going to take this personally, or do I take the reorganization simply for what it is? I decided that I still had to protect and support my team. So I didn't dwell on it and just did my job. As a result, a year later, everything came full circle: People had noticed my hard work, and I ended up being promoted to a role more senior than the one I had lost.
My daughters are now 6 and 11 years old, and one of the things we talk a lot about at home is that you don't get to control what happens to you, but you do control how you react. What I try to emphasize to my girls is positive intent: If you have positive intent, it will impact how you own and control your own decisions.
The best intent, so far in my life, has been staying true to that internal motivation, that feeling of joy I get from learning and growing, and making a contribution, all my life long.
Hold fast to that. It works.
With love from me,
Brandy