Akiko Mikumo Feature Profile
November 2019
Second Act: Advocacy, Education, and Life Beyond Partnership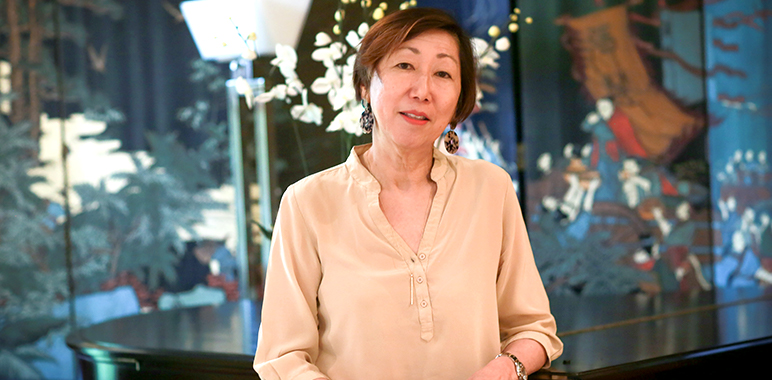 Retired partner Akiko Mikumo finds purpose and power in "the human connection."
Like so many high-powered professionals, Akiko Mikumo found the "R" word a bit scary: retirement. She had spent 35 years at Weil, her entire legal career, and worked all over the world: She started in New York, moved to London during its startup phase, and after four years moved back to New York. Seven years later she moved again, to establish the Hong Kong office and lead the Firm's growth in Asia. And then, suddenly, it was time to move on.
"There is a lot of trepidation about retiring," she says. "It's a scary thing to face. For one thing, as a law partner you have a whole structure to support you, and then suddenly you have nobody. Also, I'm a retired Weil partner, which carries a lot of weight in some circles, but nevertheless, out here in the real world I'm just me. I made a joke at my retirement party about standing in line at the post office. I hadn't done that in three decades! Those kinds of things are a bit of a shock to the system, but you quickly get over it."
One of the biggest retirement challenges, according to Mikumo, is what to do with all your mental energy – going from working 24/7 and thinking about client work pretty much all the time to a retirement mindset. Thankfully, she found the transition seamless and has no trouble now finding plenty of places to direct her energies.
She spent a year as a Harvard Fellow in the Advanced Leadership Initiative, a program suggested to her by a Canadian colleague. ALI Fellows audit Harvard classes and attend specialized seminars, all aiming to help experienced leaders take on new challenges with a social impact goal. The interdisciplinary program covers several major areas of study, from education and social justice to government, environment, medicine and public health.
"Here you are exposed to the Harvard community. You're intellectually engaged and spending time with other Fellows who are similarly situated, who all came from very high-powered careers," Mikumo says. "It gives you a framework for transitioning out of your prior life into a different kind of life, where you can think differently. Obviously, the skillset you have is valuable and useful, but on the other hand, you need to start thinking about how you can be most effective and productive in doing work that will have some benefit for the greater world."
While at Harvard, Mikumo was also a member of the Senior Common Room at Harvard's Cabot House and, always ready to help Weil, was able to get Harvard Law School interested in the exciting new Weil Legal Innovators Program.
Making the "Human Connection"
At Harvard, Mikumo made several connections that have led to rewarding and important projects, and challenge the idea of a leisurely "retirement." But this idea of building on human connections has been a constant in her professional life for decades.
Early in her career at Weil, Mikumo had many mentors. She credits Ron Daitz, Todd Lang, Ellen Odoner, Gerry Backman, Ted Waksman and Tom Roberts with helping to guide her long and successful tenure at Weil. And she remembers that as a fifth-year associate looking for new opportunities, she walked into Ron Daitz' office to tell him that she was leaving to join another firm. He told her: "You know, you are really making a big mistake if you do that. This is where you belong. You are doing great. Weil is the place for you."
"When people take a personal interest in you as a human being, as opposed to just a lawyer, that's the kind of environment where you can really thrive," Mikumo says. "I had that kind of connection with pretty much all my colleagues at Weil."
And according to Mikumo, that kind of connection was part of the fabric of Weil across the globe. The launch of the London office presented some difficulties, trying to bridge two very different professional legal cultures – American and British. "We overcame some of those tensions by reinforcing the human connection," she says. "Once people understood that our goal was to be supportive of expanding the business, treat people fairly, and build on our commonalities, that's when the London team began to mesh into the Weil culture."
In Retirement, but Not Retired
One of the most important connections Akiko made at Harvard was with an undergraduate student name Nadya Okamoto, who had started a nonprofit called PERIOD. The organization aims to end "period poverty" and "period stigma" for women around the world. Some of their initiatives involve providing free hygiene products to poor and homeless women, and putting free products in bathrooms on high school and college campuses. Their work also has a public policy element: repealing discriminatory taxes (e.g., women's hygiene products are subject to sales tax, while men's razors aren't) and expanding public benefits (e.g., food stamps can be used to buy nail care items but not tampons).
"Just one example: we did a Harris Poll survey and found that something like one out of five girls will miss school when they have their period, because of how embarrassed they are," she says. "That's not fair or acceptable. We need to normalize this as part of our conversations about everyday life, because it's just nature. There is so much misinformation and stigma that have to be dispelled."
Akiko is also on the Board of two startups. One is involved in translational medicine, essentially taking experimental treatments "from bench to bedside." Such novel therapies have been hit hard by government funding cuts and are too early-stage for most venture capital investment. Akiko's work involves filling the funding gaps to get those treatments to the next stage of development.
The other startup is an online shopping technology that links streaming videos to retail sites that sell the products seen on screen. "Working with startups as a Board member, you are a lot more involved in the science, the business and all the decision making," she says. "So that exposure has been really exciting."
Akiko also joined the Advisory Board of her alma mater, the University of California, Berkeley, where she advises on strategic initiatives. And if that's not enough, she is planning on taking on one more nonprofit project, most likely in the area of education. The program would help poor and immigrant mothers teach critical thinking, communication and social skills to their children.
"When children start preschool without these fundamental skills, there is a sort of cascading effect with the danger that they fall increasingly behind," Akiko says. "Whereas if you come from a privileged background, you get put in preschools that are very competitive and have the best resources to teach these things. So that is something I am very interested in doing, especially expanding that to Asia."
As for traditional retirement activities, yes, she does those too, if in a similarly adventurous way. She took an off-the-grid trek to the hinterlands of Mongolia, and she wants to visit the North and South Poles, "before all the ice melts." She even attended the counterculture Burning Man festival in the Nevada desert.
So for those feeling trepidatious about retirement, Akiko's thoughts on her travel exploits could just as easily describe her thoughts on the entire retirement journey. She says: "There are so many places to go, it is endless, right?"