Notable Representations, Key Contacts
Weil's dedicated Public Company Advisory Group, based across the Firm, handles the full panoply of SEC disclosure, governance and compliance issues for U.S. public companies, foreign private issuers, private equity sponsors, state-owned enterprises and not-for-profit organizations. We were a pioneer among large law firms in establishing a dedicated practice, and we are internationally recognized as helping to define the field of corporate governance. Our team includes well-respected authorities on securities regulation, corporate governance and compliance, including senior alumni of the SEC. We take an integrated approach – recognizing that whether the immediate concern is in the realm of disclosure, governance or compliance, the solution often involves each of the other considerations as well.
We bring practical judgment and a broad perspective to counseling boards, independent board committees, senior management and internal legal and compliance departments. We assist clients in meeting their day-to-day challenges – public reporting, fulfillment of board and committee responsibilities, shareholder engagement, effective compliance programs. We also are positioned to respond rapidly and effectively to special challenges – the discovery of financial statement errors, shareholder activism, unplanned-for CEO succession, a government investigation. In these circumstances, we quickly assemble a team with the expertise and background the situation demands, often working closely and collaboratively with our transactional, executive compensation and white collar and securities litigation colleagues across the Firm.
We work with clients at all stages of their life cycle, including establishing the governance framework for private equity portfolio companies, IPO companies and joint ventures. We provide our clients "early warning" of new developments and emerging trends to help them prepare for change in a considered way tailored to their business and circumstances.
Below is an illustration of the range of matters on which we regularly advise: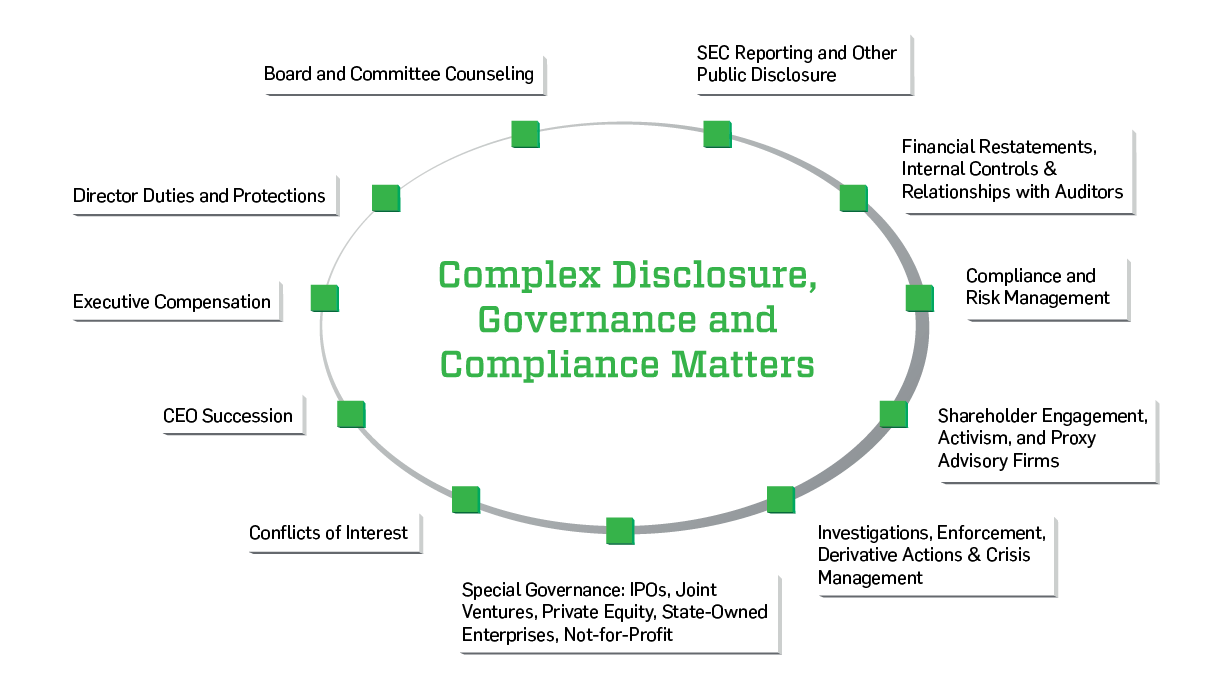 Illustrative Examples of Our Cross-Disciplinary Approach
Cross-Border M&A
Weil's global reach and integrated approach enable the Firm to provide effective counsel to clients seeking to undertake cross-border M&A activity. Our team has extensive experience working on cross-border deals and obtaining innovative SEC relief where needed to get the deal through. We work with our colleagues in M&A and Private Equity on pre-deal planning and consideration of complex issues, including corporate and securities law compliance, due diligence and risk identification and management, impact on financial reporting, required approvals and management of stakeholder interests.
Internal Investigations
Whether in response to a regulatory inquiry or on their own initiative, corporations, boards of directors, audit committees and special board committees engage our lawyers to conduct sensitive internal investigations. Working in close collaboration with our White Collar Defense & Investigations lawyers as well as our Employment colleagues, we offer clients deep regulatory and criminal experience alongside the Firm's traditional strengths in corporate governance and class action litigation, enabling us to conduct these investigations as quickly, efficiently and thoroughly as possible. We counsel our clients on how to best manage the results of the investigation, dealing with the relevant regulators when needed, and helping to shape compliance programs to better identify and mitigate related risks.
Executive Compensation Programs
We work with clients on the full spectrum of executive compensation matters, including disclosure, shareholder outreach and engagement with proxy advisory firms. We work closely with our Executive Compensation & Benefits colleagues in developing and preparing CD&A and other compensation programs and one-off benefits, with the goal of identifying and mitigating potential "hot button" issues that could otherwise raise issues down the road.
IPO and Spin-Off Governance
We collaborate with our colleagues in Capital Markets in preparing companies to "go public" via an IPO or spin-off. We assist in tailoring governance structures and policies suited to each company's circumstances and stage-of-life, as well as director and officer orientation, and controls and procedures. We also assist companies that wish to "go private" in navigating the complexities inherent in exiting the SEC reporting system.
Allegations of Breaches of Securities Laws and Fiduciary Duties
We counsel clients on the thorniest issues involving compliance with securities laws and fiduciary duties, including allegations of conflicts of interest, accounting errors, insider trading, market manipulation and improper compliance procedures. We work in close coordination with our Securities Litigation lawyers, including Stephen A. Radin, author of "The Business Judgment Rule: Fiduciary Duties of Corporate Directors."
Compliance Program "Health Checks"
We also partner with our clients to evaluate and improve the effectiveness of all facets of their compliance programs, including leadership and organization, risk assessment, policies and procedures, training and communications. Each "health check" is led by a designated project leader who is an easy-to-reach point of contact for the client and who is able to tap into the Firm's wide range of "subject matter experts" from across our global offices as needed.
Ranked Tier 1 in Corporate Governance, with practice head Ellen Odoner ranked as a "Leading" Lawyer

Legal 500 US
Both the practice group and its head Ellen Odoner are ranked by Chambers USA Nationwide: Securities Regulation

Advisory (Chambers' category for this practice)
Ranked among the Best Corporate Law Firms by Directors and General Counsel

NYSE Governance Services/FTI Consulting, America's Best Corporate Law Firms, 2016
Ranked as one of America's Best Corporate Law Firms by Directors and General Counsel

Corporate Board Member 2015
Named Corporate Governance Law "Law Firm of the Year" for Two Consecutive Years

U.S. News – Best Lawyers "Best Law Firms" Survey, 2013-2014
Named New York Tier 1 Corporate Governance Practice

U.S. News – Best Lawyers "Best Law Firms" Survey
Weil Ranked Tier 1 in Corporate Governance

Award Brief — Legal 500 US

Weil's Lyuba Goltser Named "Rising Star" for Capital Markets

Award Brief — Law360

Weil Named a "Leading" Firm for Securities: Regulation: Nationwide

Award Brief — Chambers USA

Weil Ranked Tier 1 for Corporate Governance Practice in New York

Award Brief — U.S. News-Best Lawyers
PLI's Private Placements and Hybrid Securities Offerings 2016

Speaker(s): Catherine T. Dixon

August 01, 2016 — Public Company Advisory partner Catherine Dixon speaks on two panels, "Overview of 4(a)(2) and Regulation D" and "Financings in Close Proximity to One Another," as part of at PLI's Private Placements and Hybrid Securities Offerings.

Preparing for Your IPO

Speaker(s): Alexander D. Lynch and Lyuba Goltser

March 30, 2016 — Part of Weil's 2016 Private Equity Webinar Series
Firm News & Announcements