New Job?
New Email?
New Address?
6
Alumni Appointed to the Federal Bench
150+
Alumni Serving in the Judiciary and Government Agencies
220+
Alumni in the Financial Sector
60+
Alumni in the Technology Sector
4500+
Alumni in Our Global Network
Who Are Weil Alumni?
We are trusted advisors. We show grit and resolve in counseling the world's largest organizations during the best and most challenging of economic times. We serve our communities through pro bono work and philanthropy. We have fun doing what we do. We are diverse. We are Weil. Learn more.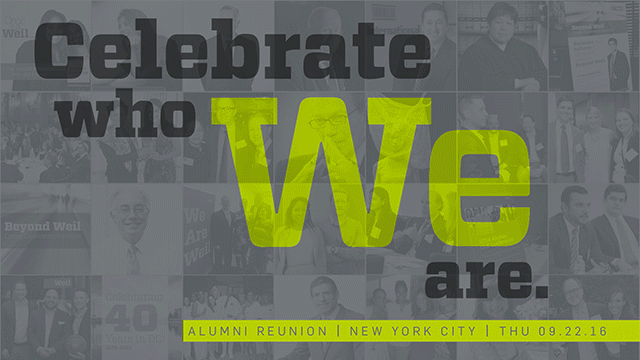 Celebrate Who We Are: Alumni Reunion 2016
We are human rights defenders, we are committed to community service, we are technology executives, we are trailblazers in our industries, we are game changers, we show grit and resolve … and we also have fun.
On September 22, 2016, Weil held its Alumni Reunion at the Central Park Zoo in New York City. View an agenda of programs from the event. We thank all of those who were able to attend and look forward to seeing you at our next gathering.