New Job?
New Email?
New Address?
6
Alumni Appointed to the Federal Bench
150+
Alumni Serving in the Judiciary and Government Agencies
220+
Alumni in the Financial Sector
60+
Alumni in the Technology Sector
4500+
Alumni in Our Global Network
Who Are Weil Alumni?
We are trusted advisors. We show grit and resolve in counseling the world's largest organizations during the best and most challenging of economic times. We serve our communities through pro bono work and philanthropy. We have fun doing what we do. We are diverse. We are Weil. Learn more.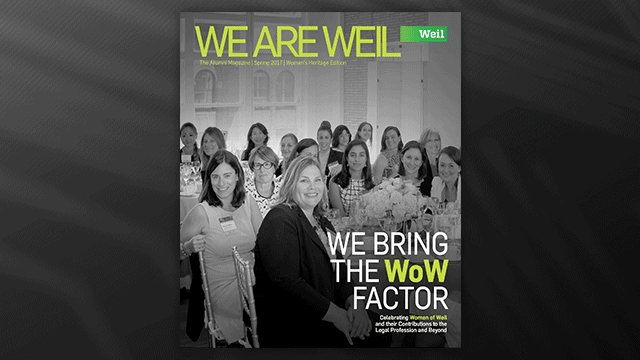 The Alumni Magazine | Spring 2017 | Women's Heritage Edition
The latest issue of We Are Weil celebrates the women of Weil and their contributions to the legal profession and beyond. We trust that the stories, guidance and perspectives in this edition will inspire great pride among our alumni and lawyers, men and women alike.
You may request a print copy of this latest issue and prior publications by sending an email to alumni@weil.com or contacting Kito Huggins, Director of Executive Administration and Global Alumni Programs.
View the latest issue of We Are Weil, or peruse our collection of prior publications.