Biography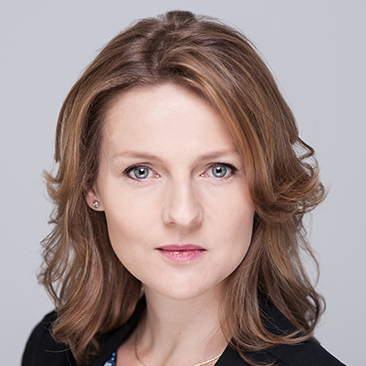 Zofia Frydrychowicz is a legal advisor admitted to practice in Poland and a counsel in the corporate department of the Warsaw office of Weil and a co-head of the banking and finance practice.
She graduated with distinction from the Faculty of Law and Administration of the University of Warsaw in 1998, also completing a course in French law organised by the Faculty of Law and Social Sciences of Université de Poitiers in 1996, and qualified as a legal advisor in 2002. She joined Weil in 1996.
Zofia specialises in banking and finance transactions. She has participated in numerous projects representing both banks and borrowers in a wide range of transactions, including acquisition finance, project finance, and corporate and aircraft finance, as well as complex refinancings. She has broad experience in advising financial institutions and issuers in domestic and international bond offerings. Zofia has also advised in connection with a number of acquisitions of non-performing loan portfolio transactions.
The prestigious legal ranking publication Chambers and Partners recommended Zofia Frydrychowicz in 2015 in the "Other Noted Practitioners" category for debt capital markets.
Another prestigious legal ranking publication The Legal 500 has recommended Zofia for banking and finance since 2014. Since 2013, she has been recommended by another legal ranking, IFLR1000, for banking and debt capital markets, and in the 2018 edition she was singled out as one of a select few "Highly Regarded" lawyers in banking and finance, debt capital markets and real estate finance. Another international legal ranking, Best Lawyers, has recommended Zofia Frydrychowicz since 2014 as one of the leading lawyers in Poland for banking and finance.
Zofia is fluent in English.
Her recent experience includes:
Advised a company formed jointly by Griffin Topco III S.à r.l., an entity controlled by a fund managed by Oaktree Capital Management, and a fund managed by PIMCO in connection with the financing of the acquisition of a controlling stake in Echo Investment S.A., a company listed on the Warsaw Stock Exchange, granted by PZU Specjalistyczny Fundusz Inwestycyjny Otwarty Universum ("PZU SFIO"), a subsidiary entity of Powszechny Zaklad Ubezpieczen S.A., and agreements for issuing by Powszechny Zaklad Ubezpieczen S.A. guarantees connected with such acquisition.
Advised Bank Gospodarstwa Krajowego in connection with a CAD 150 million term loan for Orlen Upstream Canada Ltd.
Centerbridge Partners in certain Polish aspects of a USD 225 million bond offering by syncreon Group and syncreon Global Finance (US) and USD 625 financing arranged by Morgan Stanley Senior Funding, Goldman Sachs Bank USA and UBS Loan Finance in relation to the acquisition of an approximately 40% interest in syncreon Ireland.
Kardan and its subsidiary, Globe Trade Centre, in the indirect sale by a wholly-owned subsidiary of Kardan, GTC Real Estate Holding, of 27.75% of the shares in Globe Trade Centre to Lone Star Funds.
Eurocash in the establishment of a PLN 500 million programme of corporate bonds arranged by mBank (then BRE Bank).
Polish Television Holding in its USD 401 million high yield PIK toggle notes offering to finance the redemption of outstanding high yield notes.
TVN in the USD 565 million private placement of senior notes by TVN Finance Corporation III.
Tauron Polska Energia in a bond issuance program worth PLN 5 billion.
PKP Cargo in the PLN 200 million investment credit facility provided by European Investment Bank for the modernisation and acquisition of rolling stock.
Credit Suisse Securities (Europe) and Barclays Bank in the USD 313 million offering of euro-denominated senior secured notes by Ciech Group.
Katowicki Holding Weglowy in its USD 322 million (PLN 1 billion) secured bond issuance program.
Grupa Azoty in the PLN 711 milion acquisition financing extended by PKO BP and PZU Zycie to finance the acquisition of shares in Zaklady Azotowe Pulawy and Kopalnie i Zaklady Chemiczne Siarki "Siarkopol".
Eastbridge group subsidiaries in the construction facility granted by ING Bank Slaski and BNP Paribas Bank Polska for the financing of the development of a shopping centre in Katowice.
Eurocash in connection with PLN 1.07 billion acquisition financing extended by Bank Zachodni WBK and ING Bank Slaski for the acquisition of shares in Tradis Group companies.
Eastbridge and Empik Centrum Investments in the financing granted by Prima Banka Slovensko for the purposes of, inter alia, refinancing of existing indebtedness.
Mid Europa Partners and Diagnostyka in the acquisition financing extended by Pekao to finance the acquisition of Dr n. Med. Teresa Fryda Laboratorium Medyczne.
The managers/underwriters (Goldman Sachs International, Citi, Deutsche Bank, UBS) in CEDC Finance Corporation International's USD 380 million offering of 9.125% Senior Secured Notes due 2016 and an EUR 380 million offering of its 8.875% Senior Secured Notes due 2016.
New World Resources in connection with the Polish aspects of the issue of unsecured notes worth EUR 475 million and the establishment of security interest on the Polish assets of New World Resources.
Bank Zachodni WBK, as lender, with regard to financing the acquisition of a 60% stake in WEMA.
BOT Elektrownia Belchatow, in connection with EUR 830 million of financing provided by a consortium of banks (including Citibank, ING Bank, European Investment Bank, EBRD), for both the construction of a new electricity generating plant and the modernization of the existing plant.
Credit Suisse, a bond offering manager of the bonds issued by Belvedere, in the bond offering worth €375 million.
Kardan in connection with Polish aspects of financing provided by Israel Discount Bank and Israeli Phoenix Assurance Company.
Lehman Brothers in the acquisition by a securitisation fund of an NPL portfolio from Bank Gospodarki Zywnosciowej with an aggregate value of approximately PLN 700 million.
Lehman Brothers in a planned acquisition of NPLs from PKO Bank Polski.
Netia in the PLN 375 million investment credit facility provided by a consortium of banks and arranged by Rabobank Polska.
Fidea Corporate Finance in the financing provided by Bank BPH for the acquisition of Wakacje.pl.
Asseco Poland in connection with PLN 580 million of financing for the acquisition of an equity interest in Prokom Software.
Bank BPH in the provision of a PLN 560 million revolving investment loan to PROKOM Investments.
Petrolinvest in a PLN 300 million syndicated investment credit facility arranged by PKO BP.
PROKOM Investments with regard to USD 30 million of financing for its corporate aircraft acquisition.
Awards and Recognition, Speaking Engagements, Guides and Resources, Latest Thinking, Firm News & Announcements
Firm News & Announcements