Biography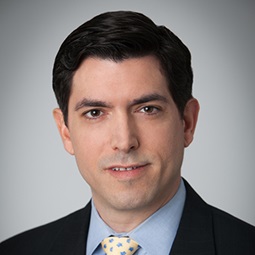 Thomas Goslin is counsel in Weil's Corporate Department and is based in Washington, D.C. Thomas focuses on a range of environmental and energy concerns in mergers and acquisitions, private equity investments, financing transactions, infrastructure projects and corporate restructurings. He has extensive experience with environmental and regulatory liability and risk allocation issues, drafting and negotiating contract terms, managing due diligence, and administrative and judicial proceedings to obtain regulatory approvals necessary to close client transactions. Thomas has advised on some of the most environmentally-sensitive corporate restructurings in the past 20 years, regularly spearheading negotiations with regulators and other interested parties to reach innovative solutions to intractable legal issues. He has represented clients across a broad range of industries, including renewable and traditional power generation, oil and gas, infrastructure and manufacturing.
Recent transactions include advising:
Advent International in its majority investment in First Watch Restaurants, Inc.; its acquisition of a 45% stake in Conservice, LLC; QW Holding Corp. (Quala) in its acquisition of PSC; and Distribution International in its $1 billion sale to TopBuild Corp.;
AES Eastern Energy, L.P. on a variety of environmental and regulatory concerns related to its filing for chapter 11 bankruptcy protection and the subsequent sale of its generating assets;
AK Steel Corporation in its $360 million acquisition of Precision Partners Holding Company;
American Securities in its $2.5 billion take-private acquisition of Air Methods Corporation; its acquisitions of Acuren, Conair Corporation, CS Energy LLC, LaserShip, Inc., MW Industries, Inc. and certain assets and liabilities related to the engineering, procurement and construction division of Swinerton Builders and Swinerton Renewable Energy (collectively n/k/a SOLV Energy LLC); its $860 million sale of General Chemical Corporation to Chemtrade Logistics Income Fund; its $1.6 billion sale of Royal Adhesives & Sealants, LLC; its sale of Tekni-Plex, Inc.; LaserShip, Inc. in its acquisition of OnTrac Logistics, Inc.; Emerald Performance Materials LLC in its $300 million sale of CVC Thermoset Specialties; and Emerald Kalama Chemical, LLC in its $1.1 billion sale to LANXESS AG;
AMP Capital Investors in its acquisition of ITS ConGlobal;
Antin Infrastructure Partners in its pending acquisitions of Empire Access and North Penn Telephone Co Inc (together known as Empire);
Arcosa, Inc. in its $375 million acquisition of StonePoint Ultimate Holding;
Aterian Investment Partners in its acquisitions of Stewart Tubular Products, Inc. and Vander-Bend Manufacturing, Inc. and Vander-Bend Manufacturing in its acquisitions of J.L. Haley Enterprises, Inc. and of substantially all the assets of TMK Manufacturing, Inc.;
Avista Public Acquisition Corp. II, a SPAC sponsored by Avista Acquisition LP II (an affiliate of Avista Capital Holdings), in its pending $850 million business combination with OmniAb, Inc.;
Aurora Resurgence Management Partners and Equity Group Investments in the sale of SIRVA, Inc.;
Basic Energy Services, Inc. in its acquisition of C&J Well Services and subsequently in connection with its chapter 11 cases and sale of substantially all of its assets;
Belmond Ltd. in its $3.2 billion sale to LVMH Moet Hennessy Louis Vuitton SE;
Berkshire Partners in its sales of SRS Distribution, Inc., Torrres Unidas and a minority stake in Parts Town LLC and Parts Town LLC in its acquisition of Heritage Food Service Group;
Blackstone in its acquisition of Sustana Group and its sale of Concert Golf Partners;
Brookfield Asset Management Inc. and Brookfield Property Partners L.P. (BPY) in BPY's $14.4 billion acquisition of the approximately 66% of common stock that it did not already own of GGP Inc. (f/k/a General Growth Properties Inc.);
Brookfield Property Partners L.P. in its sale of IDI Logistics Realty to Ivanhoé Cambridge Inc.;
Brookfield Renewable Power in connection with its acquisition of a 102-megawatt wind farm in Tehachapi, California;
Campbell Soup Company in its $510 million sale of Bolthouse Farms to Butterfly Equity;
Core-Mark Holding Company, Inc. in its $2.5 billion sale to Performance Food Group;
CVC Capital Partners in its acquisition of Radwell International;
Dex Media, Inc. (n/k/a Thryv) (a portfolio company of Mudrick Capital Management and Paulson & Co.) in its acquisition of YP Holdings LLC;
Exide Holdings, Inc. in its $179 million sale of substantially all of its Americas operations to Atlas Holdings LLC, in connection with its chapter 11 proceedings;
Fiera Infrastructure, together with APG Group, in the acquisition of the equity interests not already owned by Fiera in Conterra Networks;
Froneri International Limited (a joint venture between Nestlé and PAI Partners) in its $4 billion acquisition of Dreyer's Grand Ice Cream Holdings, Inc.;
Gavilan Resources, LLC in its 363 bankruptcy sale of substantially all of its assets to Mesquite Energy, Inc. (f/k/a Sanchez Energy Corporation);
Genstar Capital in its acquisition of Ohio Transmission Corporation; its sales of Pretium Packaging, LLC, Tecomet Inc. and Boyd Corporation; and, together with TA Associates, in the acquisition of Orion Advisor Solutions and the simultaneous acquisition of Brinker Capital;
GlobalTranz Enterprises, Inc. (at the time a portfolio company of PSG) in its sale to The Jordan Company;
GLOBALFOUNDRIES Inc. in its up to $740 million sale of Avera Semiconductor LLC to Marvell Technology Group Ltd. and its $430 million sale of a semiconductor fabrication plant for the manufacture of 300mm-size wafers used in the production of integrated circuits to ON Semiconductor Corporation;
Golden Gate Capital in the formation of Stonehill Environmental Partners and Stonehill in its acquisition of the assets of Waterfield Midstream;
Goldman Sachs in its acquisition and subsequent sale of Restaurant Technologies, Inc.;
Gores Guggenheim, Inc., a SPAC sponsored by affiliates of The Gores Group and Guggenheim Capital, in its $20 billion business combination with Polestar Performance AB;
Gores Holdings V, Inc., a SPAC sponsored by The Gores Group, in its $8.5 billion business combination with Ardagh Metal Packaging S.A.;
Graycliff Partners in its acquisition of a majority stake in Landmark Structures;
H&R Block, Inc. in its $405 million acquisition of Wave Financial Inc.;
Harsco Corporation in its approximately $525 million sale of its infrastructure division to a joint venture with Clayton, Dubilier & Rice;
Hayfin Capital Management in its acquisition through a credit bid of substantially all the assets of Avadim Health, Inc., via a 363 asset sale in a chapter 11 bankruptcy proceeding;
Hologic, Inc. in its $159 million acquisition of Diagenode, Inc.;
Jefferson Capital Systems (a portfolio company of J.C. Flowers) in its acquisition of Canastream Holdings Ltd.;
Kainos Capital in its sale of Trilliant Food and Nutrition, LLC and Olde Thompson in its $950 million sale to Olam Food Ingredients (a subsidiary of Olam International Limited);
Kingfisher Midstream, LLC (a subsidiary of Alta Mesa Resources Inc.) in its 363 bankruptcy sale of midstream assets to BCE-Mach III LLC;
The Kroger Company in its pending $24.6 billion merger with Albertsons Companies, Inc. and in the $2.15 billion sale of its convenience store business unit to EG Group and its sale of its Turkey Hill business to Peak Rock Capital;
Main Event Entertainment, Inc. (a subsidiary of Ardent Leisure Group Limited in which RedBird Capital is a minority investor) in its $835 million sale to Dave & Buster's, Inc.;
McMoRan Exploration Company in its $3.4 billion sale to international mining company Freeport-McMoRan Copper & Gold;
Micron Technology, Inc. in the sale of its Lehi, UT fab for $900 million in cash;
Oak Hill Capital and its portfolio company EPIC Insurance Brokers and Consultants (EPIC) in the merger of EPIC and JenCap Holdings, LLC (a portfolio company of The Carlyle Group); and EPIC in its acquisition of Prime Risk Partners Inc.;
Ontario Teachers' Pension Plan (OTPP) in the formation of Trivium Packaging through a combination of OTPP's portfolio company Exal Corporation with the Food & Specialty Metal Packaging business of Ardagh Group; its acquisition of a majority stake in Vantage Elevator Solutions; and its participation in an investment in Space Exploration Technologies Corp. (SpaceX);
ORIX USA Corporation in its acquisition of Lancaster Pollard Holdings, LLC;
Par Petroleum Corporation on regulatory and environmental matters in connection with its $400 million acquisition of Tesoro Hawaii LLC;
Primoris Services Corporation in its acquisition of Willbros Group, Inc.;
Providence Equity Partners in its acquisition of GlobalTranz Enterprises, Inc.; its acquisitions of majority stakes in Tenstreet, LLC and n2y, LLC; Tempo Music Investments, LLC in its acquisition of the assets of Influence Media Music SPV, LLC, its acquisition of certain assets of Baromter Music Royalty Fund I Inc. and its joint venture with Warner Music Group Corp. to form Influence Media Partners; and Grupo TorreSur in its $315 million sale of São Paulo Cinco Locação de Torres Ltda.;
RealPage, Inc. in its $580 million acquisition of Buildium LLC;
Sanofi in its up to $1.225 billion acquisition of Amunix Pharmaceuticals, Inc.;
Searchlight Capital Partners, together with co-investors, in the acquisition of Integrated Power Services, LLC;
Skillsoft Corporation in its $525 million acquisition of Codecademy;
TexStar Midstream Services in its $325 million sale of a crude oil pipeline, gathering and storage assets, and natural gas liquids assets in South Texas to publicly traded NuStar Logistics;
Tidewater Inc. in its $1.25 billion combination with GulfMark Offshore, Inc.;
TPG Growth in its acquisition of a majority stake in Morrow Sodali;
TPG Pace Solutions Corp., a SPAC sponsored by TPG Pace Group, in its $4.5 billion business combination with Vacasa LLC;
TruArc Partners (f/k/a Snow Phipps Group) and its portfolio company Brook & Whittle Limited (B&W) in the sale of B&W to Genstar Capital;
Westinghouse Electric Company, LLC in its $4.6 billion sale of substantially all of its global business to Brookfield Business Partners L.P.;
Willis Towers Watson PLC in its $1.3 billion acquisition of TRANZACT; and
WPX Energy, Inc. in its $2.5 billion acquisition of Felix Energy.
Thomas also assists clients in identifying business opportunities and risks arising from proposed changes to federal and state legislation and regulation, including with respect to renewable energy development and greenhouse gas emissions. Thomas is a leader of Weil's Climate Change practice group. He has published numerous articles and been interviewed by several publications concerning renewable energy development and the legal ramifications of climate change. In addition, Thomas serves as a Vice Chairman of the American Bar Association Renewable, Alternative, and Distributed Energy Resources Committee.
Thomas is ranked as a leading lawyer for Environment: Mainly Transactional in D.C. by Chambers USA, where clients say he has "a great breadth of experience" and describe him as "creative" in his approach, providing "spot-on legal advice" that is "thoughtful and careful." He is also recognized as a "Rising Star" for Environment: Transactional by Legal 500 US.
Awards and Recognition, Firm News & Announcements
Thomas Goslin Named a "Leading" Lawyer for Environment: Mainly Transactional in D.C.

Award Brief — Chambers USA

Thomas Goslin Named a "Rising Star" for Environment: Transactional

Award Brief — Legal 500 US
Firm News & Announcements