Biography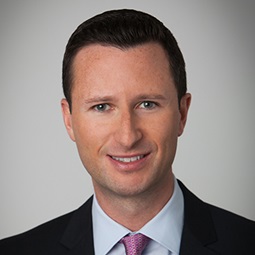 Robert T. Vlasis III is counsel in Weil's Patent Litigation group and is an expert in Section 337 investigations before the U.S. International Trade Commission. He has 15 years of experience representing innovator companies such as Regeneron, Johnson & Johnson, General Electric, Microsoft, Illumina, and Under Armour before all of the major patent law venues in high-stakes IP disputes involving an array of technologies.
Robert has counseled clients in more than two dozen ITC investigations, has taken or defended over 100 depositions, and has second-chaired a dozen bench and jury trials. He consistently plays a lead role in all phases of complex, multi‑party, multi-jurisdictional patent litigations, from pre-suit investigation, to case management and strategy, witness presentation and cross-examination at trial, oral argument, mediation and settlement, and briefing on appeal. He has experience with a wide variety of complex technologies relating to life sciences, pharmaceuticals, cellular and wireless communications, smartphones and tablets, medical devices, and wearable devices and fitness.
Some of Robert's representative ITC experience includes:
Certain Pre-Filled Syringes for Intravitreal Injection and Components Thereof, Inv. No. 337-TA-1207

represented respondent Regeneron and developed an extensive record on the statutory public interest factors
Novartis withdrew its complaint and terminated the investigation following the rare finding by the Office of Unfair Import Investigations (OUII) that the public interest record supported no relief even if a Section 337 violation were found

Certain Laparoscopic Surgical Staplers, Reload Cartridges, and Components Thereof, Inv. No. 337-TA-1167

represented complainant Ethicon (a Johnson & Johnson subsidiary)
obtained Commission finding of a violation of Section 337 by Intuitive Surgical

Certain Variable Speed Wind Turbine Generators and Components Thereof, Inv. No. 337-TA-1218

represented complainant General Electric
obtained final initial determination of a Section 337 violation by Siemens

Certain IoT Devices and Components Thereof, Inv. No. 337-TA-1094

obtained termination of investigation on an early motion to dismiss

Certain RF Capable Integrated Circuits and Products Containing the Same, Inv. No. 337-TA-982

complainant withdrew its complaint following favorable motion in limine ruling

Certain Wireless Communication Devices, Portable Music and Data Processing Devices, Computers and Components Thereof, Inv. No. 337-TA-745

obtained no violation finding on all six asserted patents

Certain Electronic Devices with Multi-Touch Enabled Touchpads and Touchscreens, Inv. No. 337-TA-714

obtained no violation finding on single asserted patent

Certain Mobile Telephones and Wireless Communication Devices Featuring Digital Cameras, and Components Thereof, Inv. No. 337-TA-703

obtained no violation finding on single asserted patent

Certain Semiconductor Chips with Minimized Chip Package Size and Products Containing Same, Inv. No. 337-TA-649

represented respondents ASE and STATS ChipPAC against complainant Tessera
complainant withdrew complaint following exchange of expert reports
Recent district court wins include:
Verinata Health, Inc. v. Ariosa Diagnostics, Inc., Case No. 3:12-cv-05501-SI (N.D. Cal.)

obtained $27 million jury verdict and dismissal of $100 million counterclaims on patents directed to prenatal testing for the early diagnosis of fetal abnormalities such as Down's Syndrome
affirmed by the Federal Circuit

Bio-Rad Laboratories, Inc. v. 10X Genomics Inc., Case No. 1:15-cv-00152-RGA (D. Del.)

obtained $24 million jury verdict and permanent injunction on patents directed to foundational technology that allows thousands of microscopic "droplets" to serve as test tubes for chemical reactions with genetic material
affirmed by the Federal Circuit
Robert also contributes extensively to Weil's diversity efforts and with recruiting, training, and mentoring. He is also dedicated to pro bono matters and defending the rights of LGBTQ+ people and people with HIV. He co-authored an amicus brief in Obergefell v. Hodges, the landmark Supreme Court case that legalized same-sex marriage, and another Supreme Court amicus brief concerning discriminatory transgender bathroom laws. His representation of immigrant clients fighting deportation as a result of the now-repealed HIV travel and immigration ban was featured in multiple, international media outlets including the Los Angeles Times and the BBC, among others. Robert has been recognized for his pro bono work, which earned Weil the HIV Law Project's Distinguished Pro Bono Legal Service Award.
Robert is a member of the ITC Trial Lawyers Association and the ITC section of the American Bar Association. His civic affiliations include service as past Chair of the Campaign Board's Eastern Caucus for the Gay & Lesbian Victory Fund, and on the Levine School of Music Virtuoso Society Steering Committee. He is a member of the Human Rights Campaign Federal Club, a past member of the Lambda Legal Liberty Circle, and a past chairman of the Milby High School Leadership 2000 Mentoring Program.
Firm News & Announcements
Firm News & Announcements