Biography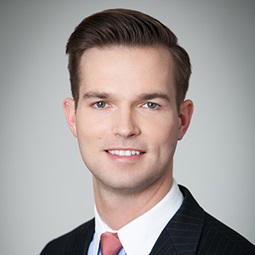 Robert Swenson is counsel in Weil's Litigation Department, where his practice focuses on complex commercial and contract disputes, class actions, bankruptcy, and internal and government investigations.
Robert has significant experience at every phase of litigation, including primary responsibility for pleadings, dispositive motions, managing discovery, witness preparation, and examining witnesses in depositions and at trial, in a variety of jurisdictional settings, including state and federal trial and appellate courts, multi-district litigation, and arbitrations.
His notable experience includes serving on Weil teams representing:
Johnson & Johnson in a twelve-week, multi-plaintiff trial in New Jersey state court.
A high-profile private equity firm in connection with dispositive briefing that resulted in dismissal of all claims against its portfolio company.
A leading television broadcaster in connection with a Federal Trade Commission investigation concerning alleged anticompetitive conduct of a third-party.
Farmers Insurance entities in nearly twenty cases brought by auto repair shops across the country alleging that Farmers and other insurers artificially suppress reimbursement rates, in violation of antitrust, RICO, and various state laws. Along with counsel for other insurance carriers,

Robert

and the Weil team successfully consolidated these cases for pretrial proceedings and obtained dismissals of all complaints, culminating in an Eleventh Circuit en banc affirmance of the dismissal of the key antitrust complaint.
Robert also has particularly strong expertise in bankruptcy proceedings, including on behalf of debtors and creditors, and litigation of pricing/reserve valuation disputes. His selected bankruptcy litigation experience includes:
PG&E Corporation and Pacific Gas and Electric Company, one of the largest combined natural gas and electric energy companies in the U.S. and the largest utility company in the State of California, in their chapter 11 cases.
Brooks Brothers Group, Inc., America's oldest clothier and its affiliated debtors in connection with their chapter 11 cases and $325 million going concern sale.
DIP lender and senior secured lender in connection with the chapter 11 case of George Washington Bridge Bus Station Development Venture LLC.
Catalina Marketing Corporation, a digital media marketing company, in its chapter 11 cases with liabilities in excess of $1.8 billion.
LBI Media Inc. and its affiliates, one of the nation's largest Spanish-speaking television and radio broadcasting and media companies, in their prearranged chapter 11 cases.
Claire's Stores, Inc., one of the world's leading specialty retailers of fashionable jewelry, accessories, and beauty products, in connection with its chapter 11 bankruptcy reorganization in Delaware.
Washington Mutual, Inc., the largest bank failure in U.S. history, in connection with the numerous litigations in various federal courts winding up the chapter 11 liquidating trust.
Essar Steel Algoma, Inc. and certain of its affiliates, in connection with the restructuring and refinancing of their $1.2 billion capital structure through a Canadian proceeding and U.S. chapter 15 cases.
Robert has an active pro bono practice and has received numerous awards, including from the Legal Aid Society of New York, for his pro bono work, which has focused on domestic violence and landlord tenant disputes. He is also active in Firm and other professional organizations' initiatives focusing on mentoring, recruiting, and diversity. He is a senior member of WeilPride, the Firm's global affinity group dedicated to the recruitment, retention, and professional development of LGBTQ+ attorneys.
For two years, Robert served as a law clerk to the Honorable Vernon S. Broderick, United States District Court for the Southern District of New York, where he worked on all aspects of more than 300 civil and criminal matters, including numerous jury trials.
Robert graduated, cum laude, from the University of Michigan Law School in 2011, where he was a Bates Fellow and the recipient of the Irving Stenn Award for leadership. He graduated, magna cum laude, from Boston College in 2005 with a B.S. in Finance and Economics.
Awards and Recognition, Firm News & Announcements
Firm News & Announcements