Biography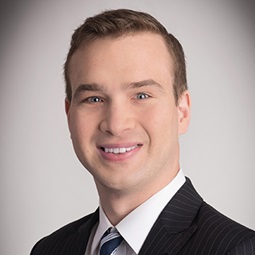 Robert Dahnke is Counsel in Weil's Antitrust Practice Group. He has broad experience advising clients in all types of complex antitrust matters, including pre-acquisition counseling, U.S. and foreign merger reviews, government investigations, compliance issues, competitor collaborations, and antitrust litigation.
Robert has represented clients spanning a range of industries, including advertising, agriculture, chemicals, construction, energy, health care, hospitality, manufacturing, tech, and telecommunications. His experience includes matters before both the U.S. Department of Justice and the Federal Trade Commission, as well as state attorneys general, and state and federal courts across the country.
Robert was recently honored in the 2022 edition of Best Lawyers: Ones to Watch in America for his work in Antitrust Law. He is a member of the American Bar Association's Antitrust Section, and has advised clients across multiple matters nominated for Global Competition Review awards.
Robert maintains an active pro bono practice and has successfully represented clients in immigration and asylum proceedings, a prisoners' rights class action, and probate matters. As a volunteer prosecutor for the City of Houston, he first-chaired more than a dozen jury trials. A major focus of Robert's current pro bono efforts relate to The Innocence Project. 
Prior to law school, Robert worked as a researcher at Rice University's Center for Civic Leadership where he applied quantitative, "big data" approaches to a wide variety of policy issues. He is proficient in more than 10 computer programming languages.
Robert earned his J.D. from the New York University School of Law where he was an Executive Board Member of the N.Y.U. Journal of Legislation & Public Policy; he received his B.A. from Rice University. In 2011, Robert served as a judicial intern to the Honorable Lee H. Rosenthal, U.S. District Court, Southern District of Texas.
Key Representations
Meta (f/k/a Facebook) in numerous M&A matters, including its potential acquisition of Within, the developer of a virtual reality workout app.
NEOGEN Corporation in its pending $5.3 billion combination with the food safety business of 3M.
American Securities and its portfolio company, Henry Company, a leading provider of building envelope systems, in Henry's $1.575 billion sale to Carlisle Companies Incorporated.
Catalina Marketing Corporation in pending litigation alleging that competitor Quotient Technology engaged in predatory pricing and other unfair business practices.
American Securities and its portfolio company, Emerald Kalama Chemical, LLC, a manufacturer and supplier of specialty chemicals for the food and beverage and other industries, in Emerald's $1.1 billion sale to LANXESS AG, a leading German specialty chemicals company.
Pilgrim's Pride, one of the largest poultry producers in the United States, in:

Federal class actions and direct action litigation matters brought by direct and indirect purchasers alleging that poultry producers conspired to reduce output of and fix prices for poultry products.
Consolidated multidistrict antitrust class actions alleging poultry producers illegally conspired through information-sharing and "no poach" agreements to depress grower pay in violation of the Sherman and Packers & Stockyards Acts.

Ontario Teachers' Pension Plan (OTPP) in securing antitrust clearance for the formation of Trivium Packaging through a combination of OTPP's portfolio company, Exal Corporation, with the Food & Specialty Metal Packaging business of Ardagh Group.
Belmond Ltd., an owner and operator of luxury hotels, tourist trains, a river cruise ship, and restaurants, in the antitrust aspects of its $3.2 billion sale to LVMH Moet Hennessy Louis Vuitton SE.
Bridgestone Americas in its joint venture with Goodyear to form a national tire distributor.
Clients in criminal investigations before the Department of Justice Antitrust Division and civil antitrust investigations conducted by various state attorneys general.
Awards and Recognition, Speaking Engagements, Guides and Resources, Latest Thinking, Firm News & Announcements
Firm News & Announcements