Biography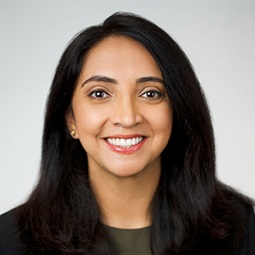 Radhika Tahiliani is an Executive Compensation & Benefits associate in Weil's Tax Department and is based in New York.
Radhika
 participates in the representation of Firm clients with respect to the executive compensation, employee benefits and ERISA issues in mergers, acquisitions, dispositions, initial public offerings and other strategic transactions.
Radhika has been part of the teams advising:
Advent International Corporation in its acquisition of an approximately 50% stake in RxBenefits, Inc.; RxBenefits, Inc. in its acquisition of Confidio, LLC; and Cobham Limited in its $2.8 billion sale of Cobham Mission Systems, its $965 million sale of Cobham Aero Connectivity and its $226 million sale of Cobham Slip Rings
Aleph Capital and Crestview in their investment in Framestore and Framestore's merger with Company 3 and Method, Inc. following Company 3 and Method's carve-out from Deluxe Entertainment Services Group Inc.
American Securities in its $825 million acquisition of the Life Sciences Business of NN, Inc.; its acquisition of Conair Corporation; Conair in its acquisition of The Fulham Group LLC; its acquisition of LaserShip, Inc.; and LaserShip, Inc. in its acquisition of OnTrac Logistics, Inc.
Antin Infrastructure Partners in its pending acquisitions of Empire Access and North Penn Telephone Co Inc (together known as Empire)
Blackstone in its investment in InCloud, LLC
Churchill Capital Corp III, a SPAC sponsored by Churchill Capital Group, in its $5.7 billion merger with MultiPlan, Inc. that has an enterprise value based on the transaction of approximately $11 billion
EQT Partners and its portfolio company WS Audiology A/S in its acquisition of the assets of My Hearing Centers, LLC
Exide Holdings, Inc. in its $179 million sale of substantially all of its Americas operations to Atlas Holdings LLC, in connection with its chapter 11 proceedings
Fieldwood Energy LLC in its $1 billion sale of all deepwater assets and certain shallow water and other assets to QuarterNorth Energy Holding, Inc., in connection with Fieldwood's chapter 11 bankruptcy proceedings
First Light Acquisition Group Inc. in its merger with Calidi Biotherapeutics, Inc.
Foley Trasimene Acquisition Corp. II, a SPAC sponsored by an affiliate of Trasimene Capital Management, LLC and led by William P. Foley II, in a $9 billion business combination with Paysafe Limited
Fortress Value Acquisition Corp., a SPAC sponsored by Fortress Investment Group, in its $1.5 billion business combination with Secure Natural Resources and MP Materials
Getty Images Inc. in its approximately $4.8 billion business combination with CC Neuberger Principal Holdings II, a SPAC formed by a partnership of CC Capital and Neuberger Berman
GovSpend and GovQuote (a portfolio company of Thompson Street Capital Partners and Endicott Growth Equity Partners) in its acquisition of Fedmine, LLC
Main Event Entertainment, Inc. (a subsidiary of Ardent Leisure Group Limited in which RedBird Capital is a minority investor) in its $835 million sale to Dave & Buster's, Inc.
NEOGEN Corporation in its pending $5.3 billion combination with the Food Safety business of 3M, in a Reverse Morris Trust transaction that implied an enterprise value of the combined company of $9.3 billion
Ontario Teachers' Pension Plan Board in its acquisition of a majority stake in NVISION
Providence Equity Partners as lead investor, together with Ares Management, in a $400 million acquisition of convertible preferred shares of OUTFRONT Media, Inc.; and TimeClock Plus, LLC in its acquisition of Humanity.com Inc. (n/k/a Humanity.com LLC)
PSG in its acquisition of DoseSpot and, together with Blue Star Innovation Partners, its acquisition of PatientNOW; Propertybase in its acquisition of Cross Media, LLC and its sale to Lone Wolf Technologies; ShootProof, LLC in its acquisition of Collage.com, Inc.; and ThreatConnect, Inc. in its acquisition of Nehemiah Security LLP
Silver Lake Sumeru in its sale of Velocity Technology Solutions, Inc.
SiriusXM in its up to $325 million acquisition of Stitcher
Susquehanna Growth Equity in its acquisition of a majority stake in MediSpend
TCV, as lead investor, in a $200 million investment in Aviatrix Systems, Inc.
Thompson Street Capital Partners in its acquisition of a majority stake in SmartProcure, Inc.
TPG in its acquisition of Keter Environmental Services Inc.
Radhika received her J.D. from UC Davis School of Law, her LL.M. from New York University School of Law and her B.A. from UC Davis.
Firm News & Announcements
Firm News & Announcements