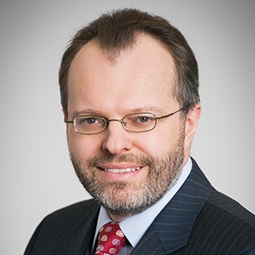 Sasha Shulzhenko is counsel in Weil's Banking & Finance practice and is based in New York. His practice focuses on financing transactions of all types, including acquisition financing and working capital financing, first and second lien credit facilities, cash flow and asset-based financing, as well as out-of-court and in-court debt restructuring transactions (including debtor-in-possession financing).
During his time at Weil, Sasha has played a significant role on teams advising leading financial institutions, including Citigroup and Goldman Sachs, in various debt financing transactions as well as certain private equity sponsors in leverage buyout transactions and steering committees in restructuring transactions.
Experience
Ashford Hospitality Trust, Inc. (AHT) in $450 million senior secured term facility commitments for Ashford Hospitality Limited Partnership, the operating partnership of AHT.
Genstar Capital in $215 million first and second lien senior secured facilities to finance its acquisition of Infinite RF Holdings, Inc.
Ad Hoc Committee of Second Lien Lenders and Postpetition DIP Lenders in a senior secured exit facility for Magnum Hunter Resources Corporation, in connection with its emergence from chapter 11 proceedings.
Prepetition and DIP secured lenders in connection with a successful credit-bidding in the $110.5 million 363 sale of assets of Emerald Oil, Inc.
Chassix, Inc. and related companies (a portfolio company of Platinum Equity), in its $150 million ABL and $150 million term facilities to repay in full corresponding DIP facilities and for working capital upon emergence from bankruptcy.
The Great Atlantic & Pacific Tea Company, Inc. in its secured debtor in possession term credit facility, in connection with its 2015 chapter 11 bankruptcy proceedings.
The Sterling Group in $210 million senior secured term and revolving credit facilities and $60 million mezzanine facility in connection with the acquisition financing of a leading manufacturer of parts for the trailer industry.
Blockbuster Inc. in its chapter 11 bankruptcy filing, the related $125 million senior secured revolving debtor-in-possession facility and 363 sale of its assets.
Guggenheim Corporate Funding as administrative agent and its affiliated lenders in connection with the corporate restructuring of a casino operator and refinancing of its $440 million senior secured first lien credit facilities with, among other things, amended and extended $300 million term loan facility.
Citigroup and Goldman Sachs as joint lead arrangers in connection with $1.2 billion senior secured revolving credit facility for Enexus Energy Corporation, a subsidiary of Entergy Corporation, in connection with the spin-off of Entergy's non-utility nuclear business.
SemGroup Corporation in its $500 million senior secured exit facility and $300 million second lien secured term loan exit facility.
Citigroup in financing a $600 million secured bridge facility in connection with the acquisition by a subsidiary of one of the largest Latin American private equity firms of land-drilling business in Latin America from the world leading provider of drilling services and in $575 million multi jurisdiction secured facilities to refinance such bridge facility.
General Electric Capital Corporation as administrative agent in $145 million first and second lien credit facilities for Danka Office Imaging Company.
Sasha received his LL.M. from Fordham University School of Law. He is fluent in Ukrainian and Russian.