Associate

Washington, D.C.
Biography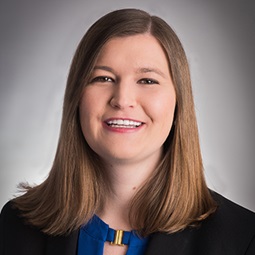 Natalie Hayes is an associate in Weil's Antitrust/Competition practice group. Her practice focuses on mergers & acquisitions, government investigations, civil litigation, and antitrust compliance matters across a broad range of industries.
Natalie is a member of the American Bar Association's Section of Antitrust Law and has contributed to the ABA's Annual Review of Antitrust Law Developments and Telecom Antitrust Handbook. She is the Young Lawyer Representative for the ABA Antitrust Section Health Care & Pharmaceuticals Committee.
While in law school, Natalie worked as a law clerk at the Federal Trade Commission in Commissioner Joshua Wright's office and in the Mergers I Division of the Bureau of Competition. Prior to and during law school, Natalie worked as an economist at the U.S. Bureau of Economic Analysis on the national income and product accounts.
Natalie received her J.D., magna cum laude, from the George Mason University School of Law, where she served as Managing Editor of the George Mason University Civil Rights Law Journal, Vice Justice of the Moot Court Board, and a research assistant to Professor Adam Mossoff. She earned her B.A., cum laude, from the University of Southern California.
Experience
Represented Allergan plc as both U.S. antitrust and global coordinating counsel, securing antitrust clearance in more than a dozen jurisdictions for AbbVie Inc.'s $63 billion acquisition of Allergan as well as securing clearance for two distinct divestiture transactions involving the sale of certain Allergan assets to Nestlé and AstraZeneca. The U.S. Federal Trade Commission cleared the AbbVie/Allergan deal with divestitures to Nestlé and AstraZeneca following an in-depth, 10 month investigation. The European Commission also reviewed the AbbVie/Allergan deal in detail and cleared the transaction in Phase 1 based on the divestiture to AstraZeneca.
Represented Alfa S.A.B. de C.V. in the formation of Corpus Christi Polymers LLC (CCP), a joint venture among industry participants, and CCP's $1.1 billion acquisition of an under-construction PET-PTA production facility in Corpus Christi, TX from M&G USA Corp. The U.S. Federal Trade Commission conducted an in-depth investigation of the proposed transaction before agreeing to clear the deal subject to conditions in a consent decree. This was a cross-border matter that received unconditional clearance in China, Germany and South Korea.
Represented CoStar Group, owner of Apartments.com, in the antitrust aspects of its $385 million acquisition of online apartment rental platform ForRent.com.
Represented Nexeo Solutions, Inc., a global chemical and plastics distributor, in its $2 billion sale to Univar Inc., a competing global chemical distributor. This is cross-border matter in which Weil served as global antitrust counsel.
Latest Thinking, Firm News & Announcements
Firm News & Announcements