Biography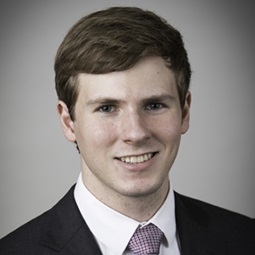 Michael P. Goodyear is an associate in Weil's Complex Commercial Litigation and Intellectual Property & Media practice groups. Michael's practice encompasses a broad range of complex commercial litigation, with a focus on IP-related counseling and litigation.
Michael's recent experience includes serving on Weil teams representing:
Alibaba and its subsidiaries in secondary liability matters in several jurisdictions relating to copyright, trademark, and products liability;
Meta Platforms, Inc. and its subsidiaries in connection with a variety of complex copyright, trademark, and related IP counseling ranging from safe harbor compliance to NFTs and the Metaverse;
Meta Platforms, Inc. in federal court litigation involving direct and contributory copyright infringement claims in New York and California federal court;
Samsung Electronics Co. Ltd. and Samsung Electronics America, Inc. in federal court litigation involving direct and contributory trademark infringement and counterfeiting, unfair competition, and dilution claims;
Several online platform and publisher clients on IP-related counseling on secondary copyright and trademark liability, Section 230, scraping, and other topics.
Michael also has an active pro bono practice and has represented clients in asylum and immigration proceedings alongside Immigration Equality and the International Refugee Assistance Project.
Michael is widely published and regularly contributes to Firm, law review, and other publications on copyright, trademarks, misinformation, data privacy, and other topics. Some of his most recent and forthcoming law review articles include:
Embedding Permission Culture: A New Approach to the Server Test Quandary, 75 Okla. L. Rev. __ (forthcoming 2022).
Culture and Fair Use, 32 Fordham Intell. Prop., Media & Ent. L.J. 334 (2022).
Synchronizing Copyright and Technology: A New Paradigm for Sync Rights, 87 Mo. L. Rev. 95 (2022).
Returning to the Start? Federal BIPA Claims After TransUnion v. Ramirez, 2022 U. Ill. L. Rev. Online 10 (2022).
Circumscribing the Spider: Trademark Law and the Edge of Data Scraping, 70 Kan. L. Rev. 295 (2021).
Priam's Folly: United States v. Alvarez and the Fake News Trojan Horse, 73 Stan. L. Rev. On. 194 (2021).
Adapting Indian Copyright: Bollywood, Indian Cultural Adaptation, and the Path to Economic Development, 23 Vand. J. Ent. & Tech. L. 517 (2021).
Is There No Way to the Truth? Copyright Liability as a Model for Restricting Fake News, 34 Harv. J.L. & Tech. 279 (2020).
Michael received his J.D., cum laude, from the University of Michigan Law School, where he was the Editor-in-Chief of the Michigan Technology Law Review, an Executive Editor for the Michigan Journal of International Law, and the Articles Editor for RefLaw. He received his B.A. from the University of Chicago in History and Near Eastern Languages and Civilizations, Phi Beta Kappa, with honors, where he studied Byzantine history.
Latest Thinking, Firm News & Announcements
Firm News & Announcements