Biography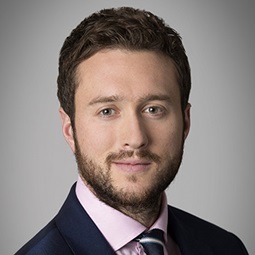 Matthew Akers is counsel in the International Dispute Resolution practice in London, and a member of the firm's International Arbitration and global Litigation groups.
Matthew acts for clients in a wide range of international commercial disputes across a variety of sectors, including banking and financial services, energy and natural resources, and hospitality. Matthew typically advises major international corporations and financial institutions in areas such as: noteholder disputes arising under structured finance products; shareholder disputes, fraud and corruption; regulatory investigations; cross-border insolvencies; and worldwide freezing injunctions.
Matthew acted extensively on the litigation arising from the special administration of MF Global UK, including: affiliate disputes with a combined value in excess of $1 billion; disputes with market infrastructure institutions; and creditor / debtor disputes in a variety of jurisdictions including the US, South America and Hong Kong. He also continues to act for the Lehman estate on various legacy issues.
Matthew's arbitration experience includes advising clients in a number of on-going institutional and ad hoc proceedings, with particular experience in LCIA, ICC, HKIAC and UNCITRAL arbitrations, including acting for 1MDB in a $6.5 billion LCIA arbitration against IPIC and Aabar. Matthew also advises on all aspects of drafting arbitration agreements in the context of private equity transactions, shareholders' agreements, joint ventures, hotel management agreements and commercial supply contracts.
Matthew acts on a pro bono basis through the Citizen's Advice Bureau at the Royal Courts of Justice, as well as representing a number of other charitable organisations in both domestic and international disputes.
Representative litigation and arbitration experience:
1Malaysia Development Berhad (1MDB) on its $6.5 billion dispute with IPIC and Aabar
Jinpeng Group in multiple cross-border disputes relating to its investment in the Aman Reports group of companies
Heis & Ors (Administrators of MF Global UK Ltd) v MF Global Inc [2012] EWHC 3415 (Ch): Acting for the special administrators of MF Global UK Ltd in a claim concerning the ownership of over $600m of US Treasury Bills
Napier Park European Credit Opportunities Fund Ltd v Harbourmaster Pro-Rata Clo 2 B.V. & Ors [2014] EWHC 1083 (Ch): Acting for Blackstone/GSO as collateral manager in a part 8 claim to determine whether reinvestment criteria had been met
Acting for the senior noteholder in relation to the £1.5 billion restructuring of General Healthcare Group, owner and operator of the BMI hospital chain
Citicorp Trustee Company Ltd v Barclays Bank plc & Ors [2013] EWHC 2608 (Ch): Acting for Barclays Bank plc in a trustee directions application as to whether certain notes were disenfranchised
Acting for a global hospitality company in relation to various arbitrations arising out of development projects in Europe, Central Asia, Asia and the Caribbean
Firm News & Announcements, Latest Thinking
Firm News & Announcements