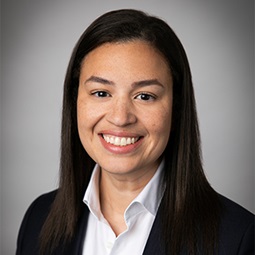 Martha E. Martir is an associate in the Restructuring Department of Weil's New York Office.
Martha has been involved in teams advising debtors, creditors, equity holders, investors, and other interested parties in the context of domestic and international corporate restructurings and liquidations, both in and out of court, with an emphasis on large chapter 11 cases. Martha has experience representing clients in all phases of bankruptcy litigation, chapter 15 proceedings, fraudulent conveyance litigation, asset sales, and contested plans of reorganization.
Prior to joining Weil, Martha was an associate in the restructuring group of an international law firm. Prior to law school, Martha was an active-duty Signal Officer in the U.S. Army.
Martha received her juris doctorate degree from Harvard Law School, where she was Technical Editor for the Harvard Journal on Legislation. Martha received her bachelor of arts in History from Princeton University. Martha has been recognized for her pro bono efforts, including her representation of asylum seekers. Fluent in Spanish.
M

artha

has been a member of teams representing various parties in a number of in-court restructurings and other matters, including:
Debtor/Company-Side Experience:
Briggs & Stratton Corporation, the world's largest small engine producer and a leading U.S. manufacturer of power generation, lawn and garden turf care, and job site products, in its chapter 11 case involving over $500 million in funded debt.
SpeedCast International Limited, and its affiliates, a provider of remote communications and IT services, in their chapter 11 cases.
RentPath Holdings, Inc. and its affiliates, one of the nation's largest apartment rental and digital marketing solutions companies with approximately $700 million in debt, in connection with their prearranged chapter 11 cases and sale to Redfin Corporation for $608 million.
Represented a women's footwear retail company in its chapter 11 case.*
Represented a media publication company in its chapter 11 case.*
Represented a historic African Methodist Episcopal Church in its chapter 11 case.*
Creditor/Acquirer/Other Experience:
Represented ICBCS Standard Bank, as prepetition intermediation facility provider to Philadelphia Energy Solutions (PES) Holdings, LLC, in the PES chapter 11 cases.
Represented a New York based private equity firm and its limited partners in fraudulent conveyance litigation in Alabama in connection with a dividend recapitalization of a portfolio company.*
Represented a Hong Kong based private equity firm in various enforcement actions in Hong Kong, PRC, and the U.S.*
Represented the indenture trustee for $4 billion of first lien notes in the chapter 11 case of an electric utility company.*
Represented the official committee of unsecured creditors in the chapter 11 case of an independent oil and gas exploration and production company.*
Represented holders of certain secured revenue bonds issued by Puerto Rico Electric Power Authority (PREPA) and Puerto Rico Public Buildings Authority (PBA).*
Represented a Hong Kong-based developer of Chinese real estate, in obtaining U.S. chapter 15 recognition for an international restructuring of $3 billion in debt. Deal was named "Restructuring Deal of the Year" for 2016 at the IFLR Asia Awards and "Deal of the Year" for 2016 by the China Business Law Journal.*
Represented investment funds and other entities in post-confirmation litigation over the enforceability of a contingent value rights agreement.*
Represented a large pharmaceutical company in an out-of-court workout of more than $100 million of debt owed by a specialty pharmaceutical company and sole source supplier.*
Represented a special committee of the board of directors of a publicly-traded independent oil and natural gas exploration and production company in the prepetition investigation of related-party transactions.*
*Prior experience before joining Weil.