Biography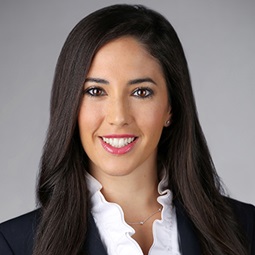 Lara Bach is counsel in Weil's Complex Commercial Litigation practice, where she has substantial experience in multidistrict litigations, consumer fraud and product liability class actions, alter ego and fraudulent conveyance litigation, and disputes arising out of restructurings and bankruptcy proceedings.
Lara has handled all aspects of complex litigation proceedings, including fact and expert discovery, depositions, motion practice, hearings, and trial proceedings. Some of her recent notable experience includes serving on Weil teams representing:
Repsol in complex environmental litigation concerning the pollution of the Passaic River in New Jersey involving claims of "alter ego" and fraudulent conveyance. The Weil team secured a victory on all claims involving over $1 billion dollars in potential liability while also succeeding on Repsol's $65 million counterclaim for Spill Act Contribution;
Procter & Gamble in the successful defense of a significant multidistrict litigation, In re Denture Cream Products Liability Litigation, in which more than 150 plaintiffs alleged that they were injured through their use of the popular denture cream, Fixodent, with Weil obtaining summary judgment that was affirmed on appeal;
Dometic Corp. in securing summary judgment dismissing a putative consumer class action in the Southern District of Florida alleging that the cooling units in several models of Dometic's refrigerators purportedly contained a latent defect; and
Various creditors and debtors in connection with bankruptcy proceedings, out-of-court restructurings, and related litigation, including Breitburn Energy Partners LP, Lehman Brothers Holdings, Paragon Offshore, and Tidewater Inc.
Throughout her career, Lara has been an active contributor to the community, representing children and victims of human trafficking, mentoring female law students, and participating in various philanthropic activities. She is the Immediate Past President of the Miami-Dade chapter of the Florida Association for Women Lawyers (MDFAWL) and earlier served as President (2018-2019), President-elect (2017-2018), Secretary (2016-2017), Treasurer (2015-2016), Newsletter Editor (2014-2015), and as a board member (2012-2014). Additionally, she serves as President of the MDFAWL Foundation, a 501(c)(3) that provides scholarships to law students demonstrating academic merit, financial need, and a commitment to advancing women in the law. Lara also serves on the Board of Governors of the Young Lawyers Division of The Florida Bar, and previously served on the Board of Directors of the Rollins College Alumni Association and the Diversity and Inclusion Committee of the Florida Bar. An advocate for professionalism and diversity in the legal profession, Lara is frequently asked to speak on panels about these topics.
In 2015, the Florida Association of Women Lawyers honored Lara as one of its annual "Leaders in the Law," an award bestowed on women who have made significant impacts in their communities. Also in 2015, Lara was selected as one of the 40 Under 40 Outstanding Lawyers in South Florida by the Cystic Fibrosis Foundation. In 2017, 2018, and 2019 she was recognized as a "Rising Star" by Florida Super Lawyers. In 2018, she was honored as one of just 25 recipients of Daily Business Review's "On the Rise" award, which recognizes attorneys under 40 years of age for "wielding influence and showing expertise in their practice areas and committing themselves to pro bono, charitable, and professional volunteer work," and in 2019, Lara was named as an "On the Rise – Top 40 Young Lawyers Award" honoree by the American Bar Association. 
Lara received a J.D. from the University of Michigan Law School, where she served as the Managing Editor of the Michigan Journal of Race & Law and President of the Latino Law Students Association. Prior to law school, Lara graduated from Rollins College with a degree in Political Science, summa cum laude.
Awards and Recognition, Latest Thinking, Firm News & Announcements
Lara Bach Recognized as 2019 "On the Rise – Top 40 Young Lawyers" Honoree

Award Brief — American Bar Association

Lara Bach Recognized as a Florida "Rising Star"

Award Brief — Super Lawyers

Lara Bach Recognized as 2018 "On the Rise" Honoree

Award Brief — Daily Business Review

Lara Bach Recognized with 2015 "Leaders in the Law" Award

Award Brief — Florida Association of Women Lawyers
Firm News & Announcements