Biography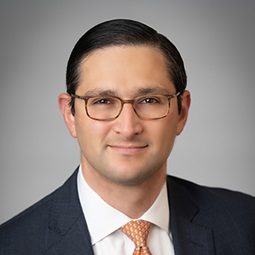 Justin D. D'Aloia is counsel in Weil's Securities Litigation practice group. Justin has experience representing clients from diverse fields of business in litigation at all stages of proceedings at the trial and appellate levels, in both federal and state court, as well as in private arbitration and mediation. His practice focuses on securities fraud class action litigation, lawsuits involving claims brought on behalf of a class of security owners, disputes arising out of mergers, acquisitions or other complex corporate transactions, shareholder derivative actions, and counseling boards of directors, board committees and senior management on a broad range of topics including corporate governance, securities, disclosure and regulatory issues.
Recent experience includes:
Representation of leading biopharmaceutical company in litigation arising out of indenture agreement involving earn-outs related to the production of two cell replacement therapies as well as FDA regulatory approval and worldwide commercialization of a biological drug for the treatment of multiple sclerosis.
Nationwide representation of investment bank and its portfolio company in multidistrict $4 billion class action for breach of fiduciary duties and breach of shareholders' agreement based on $22 billion acquisition of publicly-traded REIT with multi-tiered capital structure. All remaining claims disposed on summary judgment, unanimously affirmed by Tenth Circuit.
Representation of Sanofi in coordinated securities fraud class actions brought by holders of contingent value rights for statements regarding regulatory approval of Lemtrada. Motion to dismiss granted, affirmed in precedent-setting decision by Second Circuit.
Representation of interim CFO of Hertz in consolidated securities fraud class action alleging violations of SOX. Motions to dismiss granted, affirmed by Third Circuit.
Representation of food retailer and private equity owner in securities fraud class actions filed in connection with IPO and secondary offerings. Motion to dismiss granted.
Justin has received awards for his commitment to pro bono service, devoting a considerable amount of time to the representation of a wrongfully convicted man during special proceedings held in connection with his exoneration. He currently serves as secretary for meetings of the Lawyers' Committee for the Innocence Project.
Justin received his B.S. in Business and Economics from Rutgers University and holds a J.D. from Fordham University School of Law, where he was Editor-in-Chief of the Fordham International Law Journal. Before joining the Firm, Justin served as law clerk to the Honorable Mark Falk in the United States District Court for the District of New Jersey.
Firm News & Announcements
Firm News & Announcements