Associate

Washington, D.C.
Biography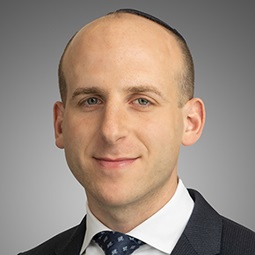 Josh Halpern is an associate in Weil's Appeals and Strategic Counseling and Complex Commercial Litigation practices, where he focuses on litigating appeals and complex disputes in state and federal courts, including the U.S. Supreme Court, as well as counseling on pre-litigation and other issues.
Josh joined Weil from the U.S. Department of Justice (DOJ), where he served as a Bristow Fellow in the Office of Solicitor General and represented the United States in cert-stage briefing before the U.S. Supreme Court. He also assisted with developing and executing the government's litigation strategy in the lower courts and successfully represented the government against California's number-one leading opioid prescriber through briefing and oral argument. See United States v. Lague, 917 F.3d 1032 (9th Cir. 2020), cert. denied, 141 S. Ct. 1695 (2021) (arg. Audio at 16:47).
Josh's litigation experience spans across industries and practice areas. His recent notable experience include serving on Weil teams representing:
Sanofi U.S. in a seminal antitrust appeal to the Tenth Circuit, concerning monopolization and exclusive dealing with respect to the EpiPen.
Comcast Corp. in a series of appeals against Promptu in the Federal Circuit, involving patents for voice-recognition technology in TV remotes.
Walgreens and its senior executives in a securities class action in the Middle District of Pennsylvania brought by Rite Aid shareholders relating to statements Walgreens made about a proposed merger with Rite Aid.
A U.S. Trustee in certiorari-stage briefing before the U.S. Supreme Court in a consumer bankruptcy case.
Regeneron Pharmaceuticals in a major antitrust appeal to the Second Circuit, involving Walker Process claims over a fraudulently procured patent.
A number of major global companies in connection with strategic evaluation of cutting-edge antitrust issues in pending civil and criminal litigations involving the U.S. Federal Trade Commission, the DOJ, and competitors.
Josh maintains an active pro bono practice and has helped to secured important civil rights victories on behalf of victims of religious discrimination. In Kurlansky et al. v. 1530 Owners Corp. et al., 2:21-cv-12770 (D.N.J.), he was a member of the Weil team that secured a settlement for Orthodox Jewish tenants, after their cooperative prohibited staff from assisting them on the Sabbath. After the case received international media attention, Josh and another team member published an article in the Harvard Journal of Law & Public Policy detailing their novel litigation strategy. Josh has also briefed, and will argue, multiple Religious Land Use and Institutionalized Persons Act appeals in state and federal appellate courts, including one on behalf a Rastafarian man whose dreadlocks were forcibly removed while in prison, Walker v. Baldwin, No. 22-2342 (7th Cir.), and another on behalf of a Jewish seminary that was prohibited from purchasing a property for a religious school, Ateres Bais Yaakov v. Clarkstown, 2020-00434 (N.Y. 2nd Dep't).
Outside of his active practice, Josh serves as a Lecturer on Law and part-time research fellow at Harvard Law School, where he teaches a course on the corporate and constitutional law issues involved in different boycotts and sanctions regimes.
Josh graduated magna cum laude from Harvard Law School, where he was a member of the Harvard Law Review. After law school, Josh clerked for Judge Jerry E. Smith of the Fifth Circuit and Judge Patricia Millett of the D.C. Circuit.
Latest Thinking, Firm News & Announcements
Firm News & Announcements