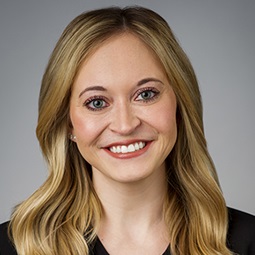 Jillian McMillan is an associate in the Restructuring Department of Weil's New York office.
Prior to joining Weil, Jillian served as a judicial law clerk to the Honorable Karen B. Owens of the United States Bankruptcy Court for the District of Delaware.  Jillian received her J.D. from American University Washington College of Law, where she served as a Publications Editor for the Journal of Gender, Social Policy & the Law. Jillian received her B.A. from the University of Delaware.
Jillian has played a role on a number of teams advising:
Debtor/Company-Side Experience:
Healogics, Inc., the nation's leading wound-care center operations provider, on a comprehensive restructuring of over $860 million in funded debt through an out-of-court debt-for-equity exchange, resulting in a $450m deleveraging that obtained 100% participation from its lenders and provided Healogics with $240 million in new equity financing. As part of the transaction, the Company also secured a new $30M revolving credit facility, in addition to a new $370 million first lien term loan.
VIVUS, Inc., a specialty pharmaceutical company with three approved therapies and one product candidate in clinical development, and its debtor-affiliates in their chapter 11 restructuring addressing more than $230 million of funded debt. VIVUS' restructuring involves, among other things, an innovative go-forward royalty structure between the reorganized company and pre-reorganization shareholders to address the highly speculative nature of value inherent to developmental drugs.
Creditor/Acquirer/Other Experience:
Eagle Hospitality Trust, in connection with the representation of Monarch Alternative Capital as the new-money DIP lender to the Eagle Hospitality debtors and purchaser for 10 hotels in the portfolio of Eagle Hospitality, a real estate investment trust holding diverse hotel properties in the United States.