Biography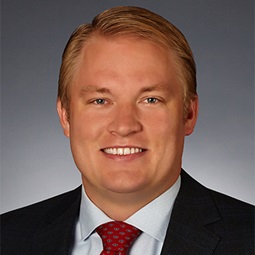 Jake Rutherford is an associate in Weil's Litigation Department, where he focuses on a wide array of complex commercial litigation disputes – including breach of contract, breach of fiduciary duty, business fraud – as well as bankruptcy-related litigation, in state and federal courts nationwide.
Among his recent notable experience, Jake has served on Weil teams representing:
Sears Holdings, a prominent global retailer, in various contested trial matters surrounding its chapter 11 bankruptcy proceedings, including obtaining approval of a $5.2 billion sale of all or substantially all of Debtors' assets, defeating Section 507(b) surcharge claims of between $500 million and more than $1 billion asserted by lienholders, and successful confirmation of the Debtors' contested Chapter 11 plan. (S.D.N.Y.)

Sheridan Healthcare Corporation and its subsidiaries and affiliates in multi-hundred million dollar reimbursement litigation involving underpayment of healthcare claims in South Florida.
EP Energy Corporation and its affiliated debtors in their chapter 11 cases involving approximately $4.9 billion in funded debt obligations, including in successful trials over contested backstop/plan support agreements and contested plan confirmation.

CEC Entertainment, Inc. and its affiliated debtors, a nationally recognized leader in family dining/entertainment with iconic brands Chuck E. Cheese and Peter Piper Pizza, in their chapter 11 cases in the Southern District of Texas.

Claire's Stores, Inc., one of the world's leading specialty retailers of fashionable jewelry, accessories, and beauty products, in connection with its chapter 11 bankruptcy reorganization in Delaware.

Kingfisher Midstream, LLC and its subsidiaries, a midstream oil and gas services business with substantial gas processing, crude oil gathering and storage, and produced water gathering and disposal assets in the Anadarko Basin in Oklahoma, in their chapter 11 cases, including

approval of a $325 million Section 363 sale.

J. Crew Group, Inc. and its debtor-affiliates with approximately $2 billion in funded debt and 13,000 employees in their chapter 11 cases in Virginia.

Speedcast International in contested litigation in connection with its chapter 11 cases in the Southern District of Texas.
He also has significant experience on Weil teams advising in connection with numerous internal investigations.
Jake has an active pro bono practice, and has devoted considerable time to pro bono matters where he has represented clients in both state and federal court in matters pertaining to FIOA requests, civil rights, and family law.
Jake was recently selected for the 2021 Dallas Association of Young Lawyers (DAYL) Leadership Class, in recognition and in furtherance of his commitment to community service. In 2022 and 2023, he was selected as a Texas Rising Star by Super Lawyers*.
Prior to joining Weil, Jake was a law clerk to the Honorable Justice Phil Johnson of the Supreme Court of Texas, and served as Editor-in-Chief of the Texas Tech Law Review.
*Super Lawyers recognition is a Thomson Reuters service.
Awards and Recognition, Firm News & Announcements
Jake Rutherford Named a Texas Rising Star

Award Brief — Texas Super Lawyers 2022-2023 (Super Lawyers recognition is a Thomson Reuters service)
Firm News & Announcements