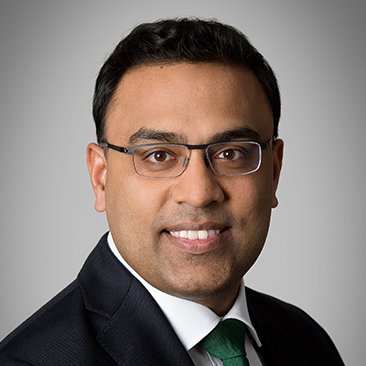 Jagannath Iyer is a senior associate in the Firm's Banking & Finance group in London. Jagannath has extensive experience of advising banks, credit funds, financial institutions and sponsors on a variety of financing transactions, including leveraged and acquisition finance, high-yield financings, share-backed financings and restructurings.
Prior to joining Weil, Jagannath was a member of the banking and leveraged finance team at a magic circle firm in London for over six years. He has also spent a total of 12 months on client secondments in London, spending six months covering the export credit and project finance team at Standard Chartered Bank in 2012 and a further six months covering the structured equity transaction group at Deutsche Bank in 2015.
Jagannath holds a B.A., LL.B. (Hons) from the National Law School of India University and a European Masters in Law & Economics (LL.M.) jointly awarded by Erasmus University Rotterdam and the University of Manchester.
Representative experience* includes advising:
Goldman Sachs, Park Square Capital and Partners Group on the first and second lien £1.22 billion-equivalent cov-lite refinancing package for IVC Acquisition Ltd (an EQT portfolio company)
Goldman Sachs, J.P. Morgan and the other mandated lead arrangers in connection with the €865 million first lien and €230 million second lien facilities for EQT's acquisition of Azelis S.A.
DNB Bank on the all-senior loan financing for Investcorp's acquisition of Cambio Healthcare Systems
The mandated lead arrangers on the first and second lien facilities to finance Cinven's acquisition of Envirotainer A.B.
Sumitomo Mitsui Banking Corporation in relation to the establishment of its €3 billion unitranche direct lending fund as a joint venture with Park Square Capital
Warburg Pincus on the financing for their acquisition of a joint-controlling stake in Computer Age Management Systems
KKR Credit on a PIK facility in connection with Investcorp's acquisition of Kee Safety Group
Ares Management on a £150 million second lien facility for Onex Partners' acquisition of Parkdean Resorts
Advent International on the $110 million-equivalent synthetic Indian rupee loan to refinance existing debt and equity in connection with the acquisition of a controlling stake in Crompton Greaves Consumer Electricals
IHS Holding Ltd in relation to a $120 million super-senior revolving credit facility entered into in connection with a $800 million 9.5% senior unsecured notes issuance
* Experience prior to joining Weil