Biography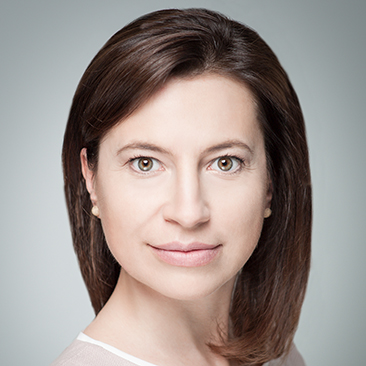 Iwona Her is a legal advisor admitted to practice in Poland and a partner in Weil's corporate department and the head of the Warsaw office's antitrust and competition law practice.
She graduated from the Faculty of Law and Administration of the University of Warsaw in 2001, also completing, with distinction, a course in English and European law organised by the British Centre for English and European Legal Studies at the University of Warsaw in co-operation with the University of Cambridge, and qualified as a legal advisor in 2008. She joined Weil in 1999.
In 2012, based on a recommendation from the Polish Office of Competition and Consumer Protection, Iwona became a non-governmental advisor to the International Competition Network, an association of competition agencies from all over the world devoted exclusively to competition law enforcement.
A specialist in anti-trust, M&A and corporate law, Iwona has significant experience in Polish and European Union competition law matters, including those with regard to merger control, cartels or abuses of dominance and consumer protection. She has also advised on distribution agreements (containing vertical restraints), co-operation agreements, joint ventures, and state aid.
Iwona advises companies from various sectors of the economy, including chemical goods, consumer goods, energy generation and distribution, heavy industry (steel and coal), books and multimedia, telecommunications, real estate, food, retail / wholesale operations, and internet sales.
Her recent experience includes:
Neuca in its $137 million acquisition in a consortium with BRL Center Polska of ACP Pharma.
Grupa Azoty in its approximately $584 million acquisition from the Polish Ministry of the State Treasury and other shareholders of 83.7% of the shares in Zaklady Azotowe Pulawy (ZAP) through a cash tender offer for 10.3% of ZAP's shares and the acquisition of 73.4% of the shares in ZAP in exchange for ZAT's own newly issued D series shares.
Netia in its acquisition of part of the network of a former cable operator Aster from UPC Polska, which was required to sell it based on the conditional antimonopoly clearance approving the acquisition of Aster.
Grupa Azoty in obtaining merger clearance for its acquisition from the Polish State Treasury of 85% of the shares in Kopalnie i Zaklady Chemiczne Siarki "Siarkopol".
Mid Europa Partners in its acquisition of Alpha Medical from Penta Investments.
ITI Media Group and TVN in the agreement with Vivendi through its Polish subsidiary Canal+, to combine their pay-TV operations in Poland in a joint venture reported to be valued at $1.7 billion named "n/C+".
Mid Europa Partners and Diagnostyka in their acquisition of Dr n. Med. Teresa Fryda Laboratorium Medyczne.
Netia in its acquisition of Telefonia Dialog from KGHM Polska Miedz.
Netia in connection its acquisition of Crowley Data System from Crowley Data and Crowley Poland.
TAURON Polska Energia in its $3.180 billion acquisition of Gornoslaski Zaklad Elektroenergetyczny and its subsidiaries, Vattenfall Distribution Poland, Vattenfall Sales Poland , Vattenfall Network Services Poland, Vattenfall Wolin-North, Vattenfall Generation Poland and Vattenfall Business Services Poland from Vattenfall.
Grupa Azoty in its $222 million rights issue and listing of the newly issued series C shares on the Warsaw Stock Exchange with proceeds used for the acquisition of 66% of the shares in another chemical company, Zaklady Chemiczne Police, by way of a public tender.
NFI Empik Media & Fashion in an appeal against the decision of the President of the Office of Competition and Consumer Protection to refuse to grant clearance for the acquisition by NFI Empik Media & Fashion of the controlling stake in Merlin.pl.
Kamis and its shareholders in the sale of 100% of shares in Kamis to McCormick & Company Incorporated.
Mid Europa Partners in its acquisition of a strategic stake in Diagnostyka.
Penta Investments Limited in the acquisition of a 100% stake in the Iglokrak Group.
Mennica Polska in its proposed $92 million tender offer for 54.95% of the shares in Ruch.
Samsung Electronics in its $70 million acquisition of Amica Wronki.
Dragados in its €116 million acquisition of a 65.53% stake in P.R.I. "POL-AQUA" through a tender offer.
CTL Logistics and its founder, Jaroslaw Pawluk, in the acquisition of CTL Logistics by Bridgepoint funds.
Argan Capital in the acquisition of AAT Group.
Enterprise Investors in its acquisition of Jaan/Nordglass Group.
The prestigious legal ranking publication Chambers & Partners has since 2013 ranked her for competition/anti-trust. According to the most recent report, "Iwona Her is a well-regarded antitrust specialist who assists clients with a variety of competition issues. Her experience includes assistance with merger control filings as well as antitrust, state aid and compliance [matters]."
Another prestigious legal ranking publication, The Legal 500, has since 2016 recommended Iwona for competition/anti-trust. The 2018 edition of another legal ranking, IFLR1000, singled Iwona out as one of a select few "Notable Practitioners".
Iwona is fluent in English and conversant in Italian.
Firm News & Announcements
Firm News & Announcements