Biography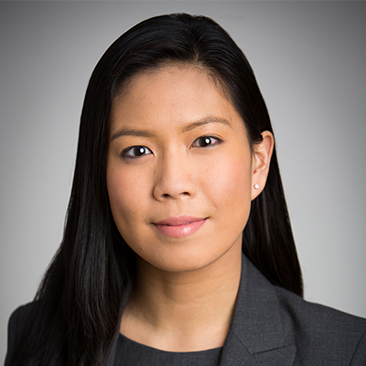 Irisa Chen is a senior associate in Weil's Securities Litigation practice, where she focuses on securities fraud class action litigation, litigation arising from mergers and acquisitions, internal investigations, and SEC and other governmental inquiries and investigations.
Ms. Chen's recent experience includes serving on Weil teams that:
Represent Willis Towers Watson and certain former directors of Towers Watson and Willis Group Holdings in ongoing fiduciary duty and securities litigations brought in the Delaware Court of Chancery, the Eastern District of Virginia, and New York state court relating to Willis's merger with Towers Watson.
Defended Signet Jewelers in a consolidated securities fraud class action in the Southern District of New York and related derivative litigation in Ohio state court concerning alleged sexual harassment allegations that were raised in an employment arbitration, and purportedly lax credit standards.
Secured two significant victories for Morgan Stanley, when the Second Circuit affirmed a complete defense verdict in a rare private insider trading jury trial, and the Appellate Division, New York Supreme Court, affirmed the dismissal of all claims on summary judgment in a related state-court fraud case.
Represented Lehman Brothers and the Archstone-Smith REIT, among 20 other defendants, in securing summary judgment, on the eve of trial, on all claims in a $4 billion investor class action arising from one of the largest REIT going-private transactions in history. The Tenth Circuit later affirmed.
Defeated over $70 million of claims filed by class members in post-trial proceedings in one of the few securities fraud class actions to be tried to judgment, by showing that the investment advisers who were responsible for a majority of the purchases during the class period understood the allegedly concealed risks.
Secured the dismissal of a securities class action in the Southern District of New York against Ollie's Bargain Outlet and several executives relating to statements the defendants made about sales projections and inventory pipeline following a major corporate expansion.
Represented the Audit Committee of American Realty Capital Properties in connection with an internal investigation into purported accounting irregularities and subsequent DOJ and SEC proceedings.
Ms. Chen holds a B.A. in Political Science and Legal Studies from Northwestern University, where she graduated with honors. She received her J.D. from Columbia Law School, where she was managing editor of the Columbia Journal of Race and Law and earned Harlan Fiske Stone honors. Ms. Chen served as a law clerk to the Honorable Ann Donnelly in the United States District Court for the Eastern District of New York.
Awards and Recognition, Speaking Engagements, Guides and Resources, Latest Thinking, Firm News & Announcements
Firm News & Announcements