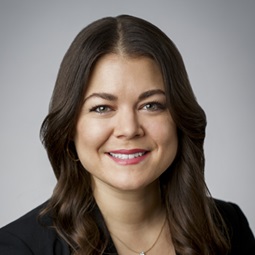 Hannah is an associate in the Restructuring Department of Weil's New York Office.
Hannah received her J.D., magna cum laude, from New York Law School, where she served as Executive Editor of the New York Law School Law Review, and was a member of the Criminal Defense Clinic. She received her M.A. in Global Entertainment and Music Business from Berklee College of Music, and her B.A. in French Language & Literature from the University of Vermont.
Prior to law school, Hannah volunteered for a number of organizations, including shesaid.so, a global community of women, gender minorities, and allies in the music industry. At Weil, Hannah has an active pro bono practice, with a particular focus on criminal justice-related matters.
Hannah has played a role on teams advising:
Debtor/Company Side Experience:
Ditech Holding Corporation, one of the nation's largest mortgage servicers, and certain of its affiliated debtors in their pre-arranged chapter 11 cases. Ditech and its subsidiaries had approximately $15-17 billion in debt and mortgage-related liabilities, including residential mortgage securities funding obligations. At the time of filing, Ditech filed a restructuring support agreement ("RSA") backed by holders of more than 75% of its first lien term loan debt. Ditech's RSA provides for a dual-track restructuring strategy that allows the debtors to evaluate various strategic alternatives with a backstopped emergence plan as they continue to provide customers with home financing solutions and high-quality service.