Biography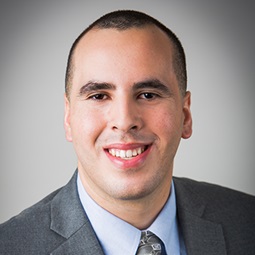 Eric Rivas is an associate in Weil's Antitrust/Competition practice group. Mr. Rivas's practice focuses on a broad range of antitrust and complex commercial litigation, trade secrets misappropriation, bankruptcy litigation, business and commercial torts, breach of contract, and internal investigations.
Mr. Rivas has experience with consumer and antitrust class action litigation, as well as antitrust lawsuits and commercial disputes between rivals or suppliers and distributors. He represents clients across a range of industries, including entertainment, pharmaceuticals, life sciences, advertising, fashion retail, agriculture, and technology.
Notable experience includes:
Successfully obtained the early dismissal of Showtime Networks from a series of putative class actions arising out of the August 2017 boxing match between Floyd Mayweather and UFC star Conor McGregor. This outcome followed a ruling granting Showtime Networks' motion to compel arbitration on an individual basis.

Representing Pilgrim's Pride in a series of federal class actions across the country brought by direct and indirect purchasers alleging the major chicken producers reduced output to raise the price of broiler chickens.

Representing a global pharmaceutical company as a plaintiff in ongoing antitrust litigation relating to the marketing of the EpiPen®.

Representing a leading television broadcaster in an industry-wide multi-district antitrust putative class action litigation regarding broadcast television spot advertising, as well as the resolution of a related DOJ Antitrust Division investigation concerning the alleged exchange of competitively sensitive information.

Representing Bio-Rad Technologies as defendant in antitrust counterclaims related to patent infringement cases.
Mr. Rivas is also involved in the Firm's pro bono program, representing a San Francisco resident in a civil rights action against the City and County of San Francisco and individual San Francisco police officers. He has worked on intake matters with the Innocence Project and represented a social security applicant in New York federal court, ultimately securing a favorable court ruling on a motion for judgment on the pleadings. He is an active member of the Latinos@Weil diversity initiative.
Mr. Rivas is a member of the American Bar Association's Section of Antitrust Law and has contributed to the ABA's Annual Review of Antitrust Law Developments. He is the Young Lawyer Representative for the ABA Antitrust Section Competition Torts Committee.
Mr. Rivas graduated from Loyola Marymount University with a B.A. in Sociology and earned his J.D. from Georgetown University Law Center, where he served as an executive editor on the Georgetown Immigration Law Journal. In 2020, Mr. Rivas served as law clerk to the Honorable Michael M. Anello of the U.S. District Court for the Southern District of California.
Speaking Engagements, Latest Thinking
Maximizing Your Remedies in Trade Secret Litigation

Speaker(s): Eric A. Rivas

September 20, 2018 — Webinar — In this episode of Weil's Trade Secret Webinar series, associate Eric Rivas discuss the available remedies under the Defend Trade Secrets Act (DTSA) and Uniform Trade Secrets Act and strategies for obtaining the best results for both plaintiffs and defendants upon a finding of misappropriation.